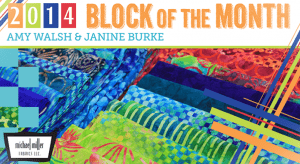 Color Blocking Class
Have you always wanted to learn the art of Color Blocking? Well here's a FREE and easy way to learn online. Craftsy.com is offering an online Color Blocking class! With this class you'll learn how to pick out inspiring color blocks for quilting.
Learn how to choose inspired color combinations for captivating quilts! Start with color theory basics and discover accessible techniques for combining colors. Create a soothing, low-contrast look with analogous colors, or an energetic, high-contrast effect using complementary colors. Add emotion to your designs with warm and cool colors, make your piecing pop with hexadic color schemes and create contrast with value. Along the way, you'll make six different blocks, sewing and arranging them into a vibrant 60″ x 90″ (152 cm x 229 cm) sampler quilt. Plus, you can develop your color confidence without having to worry about selecting fabrics.
What You'll Get From This Free Class:
8 HD video lessons with anytime, anywhere access
Downloadable diagrams, instructions, supplies and more
Over 90 minutes of close-up instruction
Answers from your classmates in our virtual classroom