Coffee K Cup Sale Round Up: K-Cups as low as $0.42 / Cup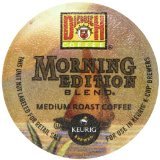 Coffee K Cup Sale
We've found some great prices on K-Cups if you're in need of some new ones to add to your collection & try out some new varieties as well! This sis the Wacky Wed. Coffee Sale at Cross Country Cafe, so these prices are good today only!
(These are for 24 Ct Boxes)
Note – Shipping is FREE when you spend $59 or more, so its the best deal if you plan to stock up!