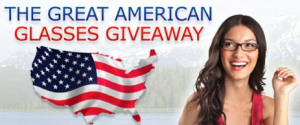 Coastal Contacts is once again offering FREE eye glasses, just pay shipping costs.  They are offering 5000 coupon codes for each state, picking several states a day. Today, Monday 2/28 is the day for Washington, Oregon & Nevada.  Sorry for the late notice as I just found out about  this (thanks FB Fan Crissy).  You can still take advantage of this, though, as there are  still over 1700 codes available for free glasses today.
Here's how it works:
Head to Coastal Contacts Facebook page & "like" the page
Click on the "Free Glasses" tab at the top
Select your state & then click on the green button – "Give me a code"
You will be given a coupon code to use on their site towards select eye glasses – write it down or copy & paste the code
Head to CoastalContacts.com & select your eye glasses
At checkout, use the coupon code to get your glasses for free & just pay shipping (which could be around $10-20)
*This is only open to those who have not received a free pair of eye glasses in the past from Coastal Contacts. One per customer.