(note – the offer was $9 shipped previously – but has now dropped to just $5 shipped)!
Citrus Lane – Coupon Code = Box for $5 Shipped!
This deal has gotten even better then it was when we got our box, and first shared with you. You can now get a Citrus Lane Box for just $5 shipped (Super Deal)! 
Sample boxes are very popular as it's a great way to get items at a significant discount and an opportunity to try some new products.  Citrus Lane is a company which provides sample boxes filled with baby and kids items (from newborn to preschool). You can sign up to get them for $29 for each month  &  pay either monthly or buy a subscription for 3 or 6 months to get a discount. They also have boxes for different ages and genders, so you will put in your child's age and gender to get appropriate products for them. You can choose from Baby, Toddler & Preschool ages.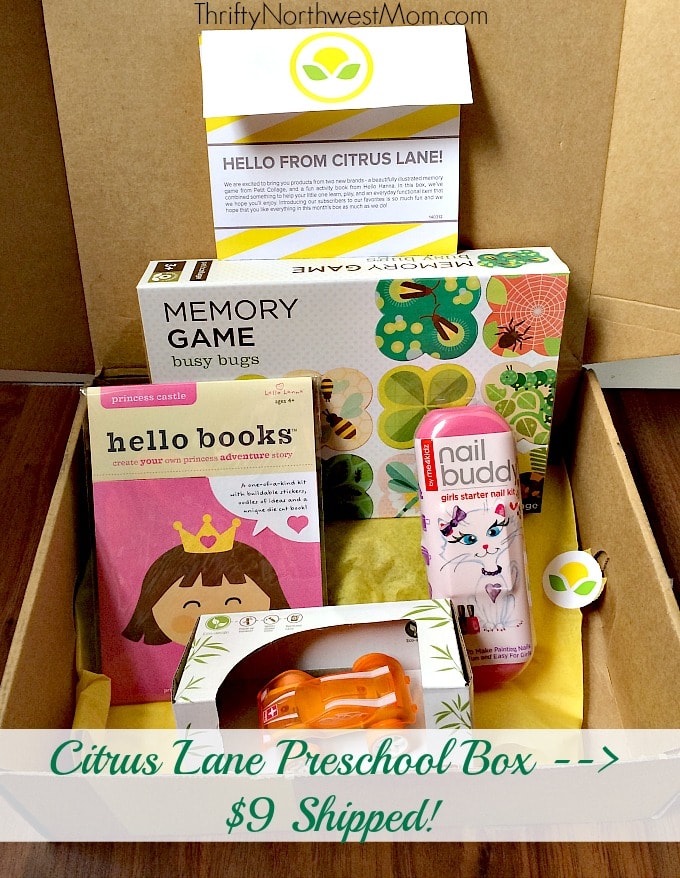 I got a Citrus Lane box in the mail and I wanted to show you the fun items that came in this box, all for just $9 shipped if you're new to Citrus Lane!  There's a fun Busy Bugs memory game, a Nail Buddy girls starter nail kit (my little gal LOVES doing her nails so she's going to have fun with this), a little princess adventure story/scrapbook, and a fun little car to play with. (Pretty much all things my 5 year old adores, so it's a great box to keep her entertained for just $9 (you can now get this deal for just $5 shipped though- even better!).
Get a Box for just $5 Shipped 
Right now, if you are a new customer, there is a *HOT* deal going on –  you can use the coupon code: NEWMOM to get your first box for just $5 shipped. This is the best discount I've seen on these Citrus Lane boxes!  If you decide you don't want to continue the service, then you can cancel after your first box arrives.
There are some great brands that are featured in these sample boxes including:
Skip Hop
Melissa & Doug
aden + anais
Plum Organics
Tea Collection
Seventh Generation
Hape Toys
Here's how it works: 
1. Go to Citrus Lane & sign up for an account. You will need to enter your info & your children's ages/date of births
2. Select the Monthly subscription – $29/mo + FREE shipping (after NEWMOM coupon code – will be $5 + FREE ship)
3. At checkout, use the coupon code: NEWMOM to get the first box for just $5 shipped!