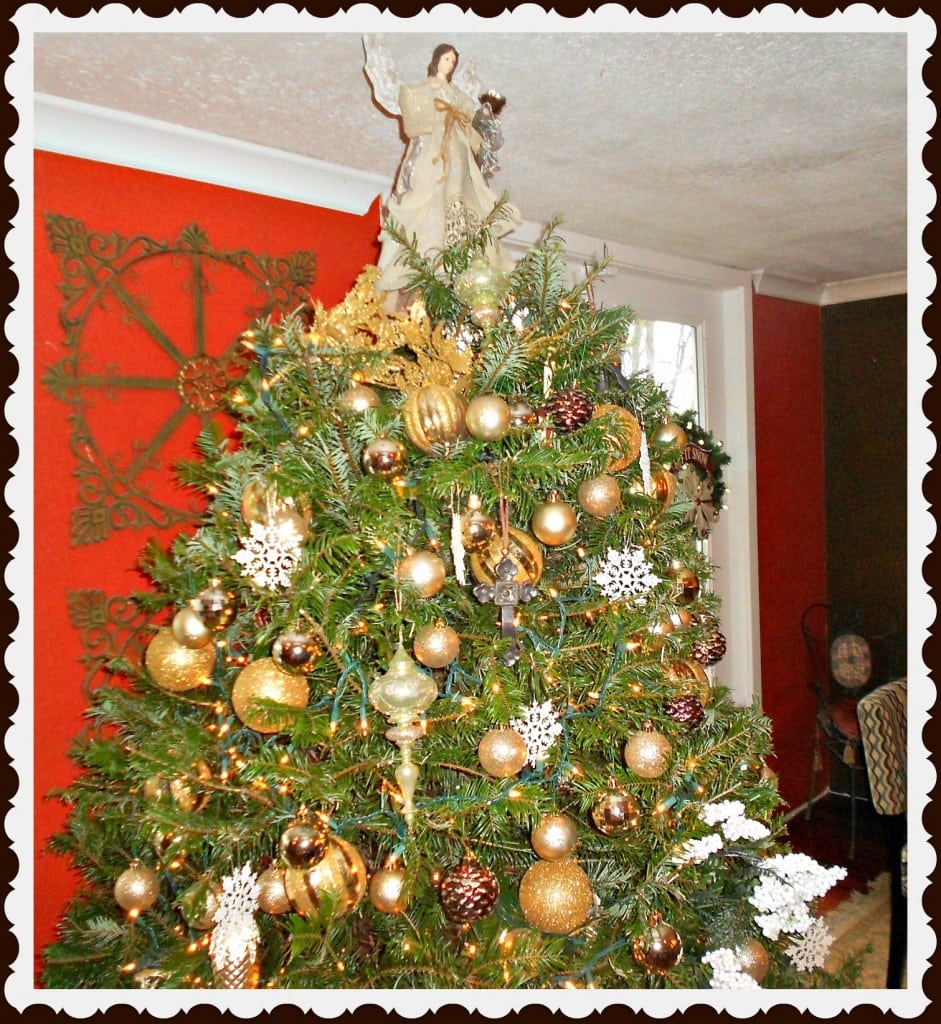 We got a late start to our decorating this year, but I had a few tips on decorating for Christmas on a budget. Although I love rustic – my kids love the glitz of Christmas – so for them we did lots of decorating this year. I don't have a large Christmas budget so here are some of the tricks I used:
Decorating the Christmas Tree –
(Why doesn't the tree look as pretty in pictures. I took over a dozen and just could not capture its true beauty!)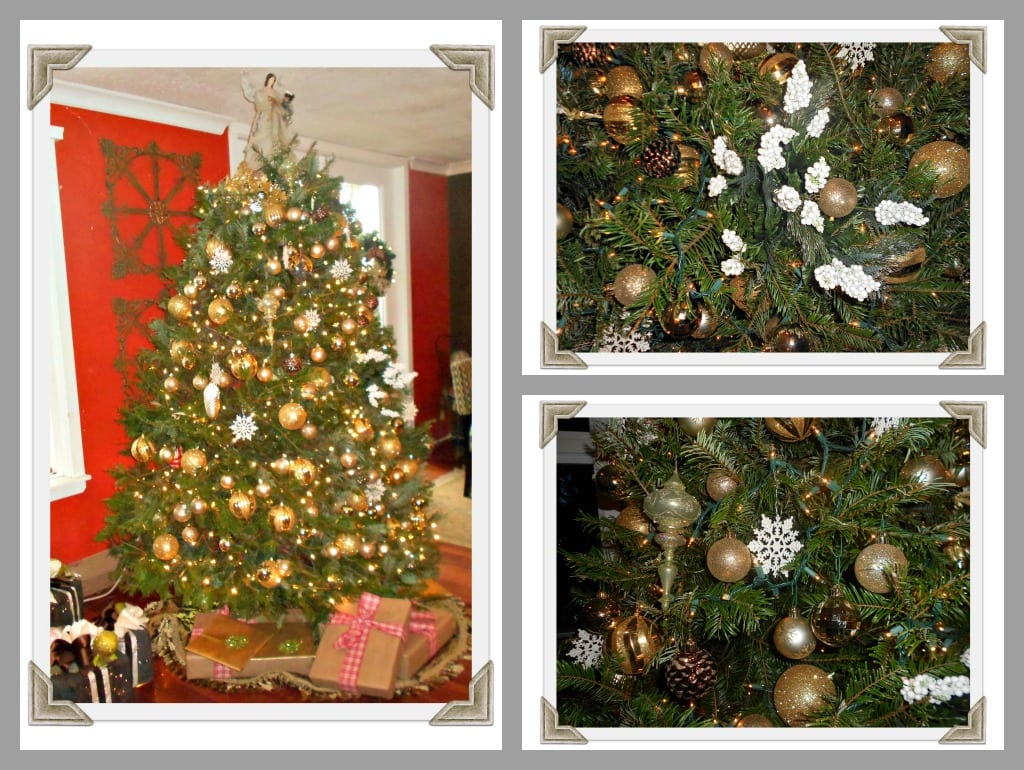 1) We started with a $20 tree that we got from a daily deal site. I saw that 6-8 ft firs are on sale for $16.99 at McClendons this week if you are still in need of a tree.
2) We used lots of dollar store bulbs and made it look nice by doing lots of layering.
3) We bought the snowflakes in packs of 4 for $1 at Target last year (I have not been in to check to see if they have them this year).
4) I say yes to hand me downs. Many of these gold ornaments are hand me downs. They are the plastic variety, and as folks have upgraded their tree decor I happily take their cast offs. By using the same color scheme and just adding different sizes and textures, we have been able to get a really great tree that feels like our own!
5) Lastly I bought a few bunches of white flowers at the dollar store to stuff in here and there for added depth.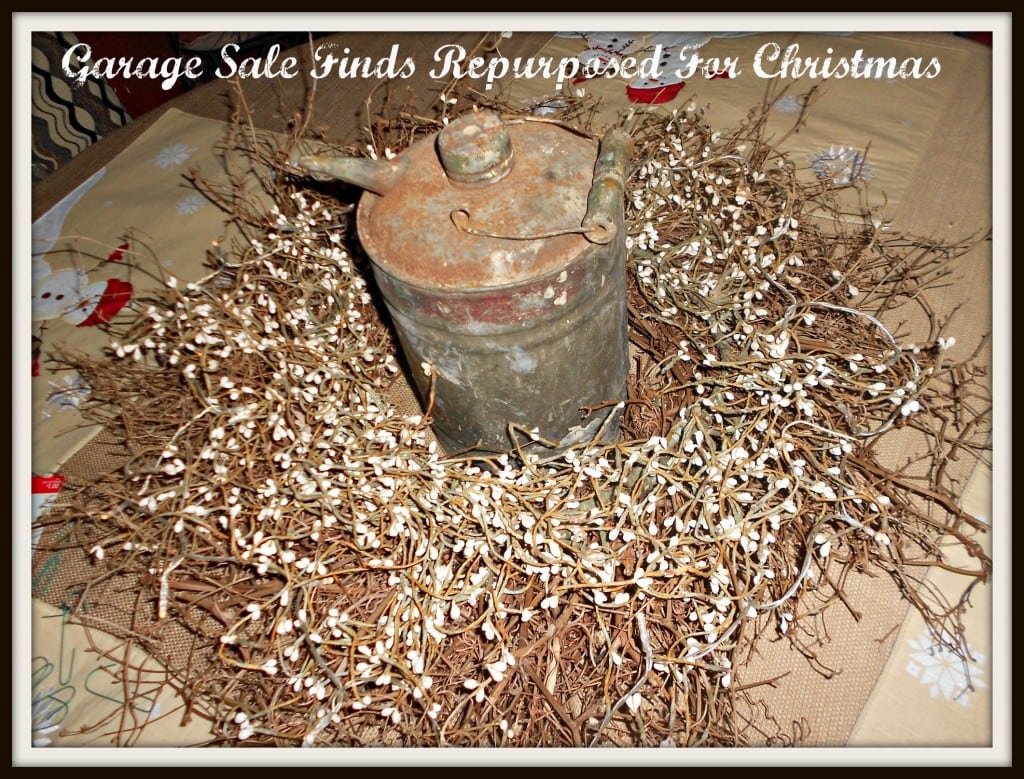 We made a table centerpiece by using items in places that they were not meant for.
We first throwing a burlap cloth over the table, then took the stick wreath off the front door this year and put it in the middle of the kitchen table. Next we added an old rusty water jug we found at a garage sale years ago. I had to get some of my rustic in there. Add some Snowmen place mats we picked up at one of the Kohls sales this year, and I got a centerpiece I was happy with!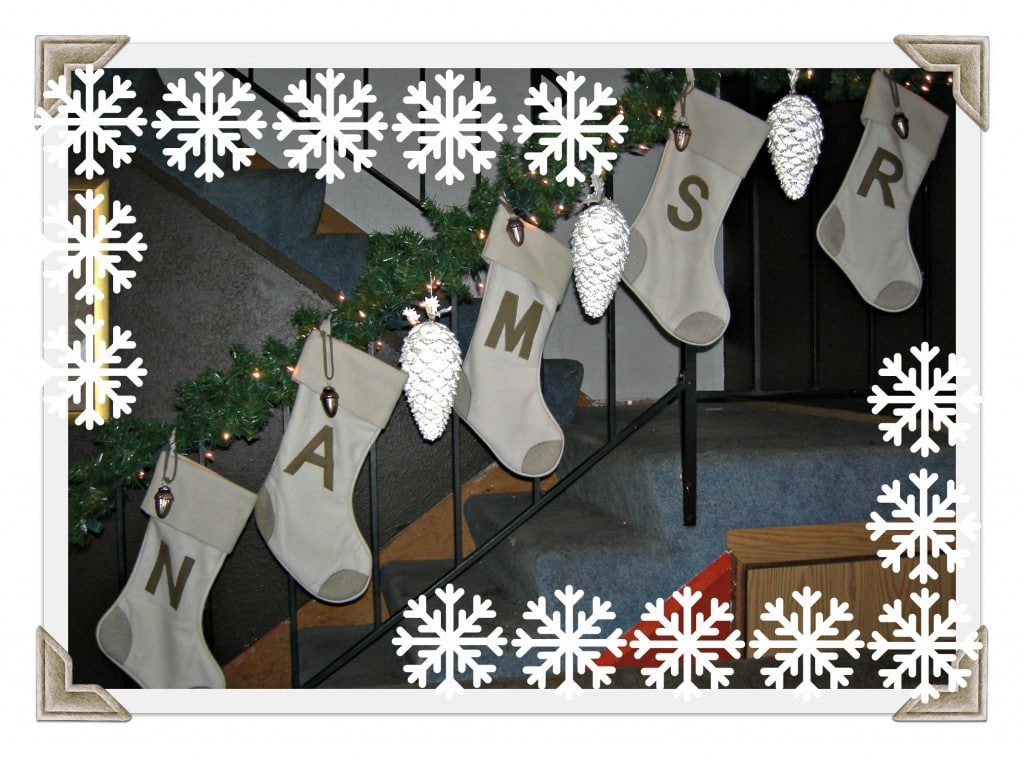 The stockings were my big purchase this year, when I came across a sale at Kohls. I have been looking for stalkings for years and either have not been able to find ones I liked, or they were too pricey. This year I got them for $5.60 ea after 20% off and Kohls Cash back! I was so excited about this find. We just added some garland, lights and spray painted pine cones, and then hung them on our stairway, rather then the traditional mantle location.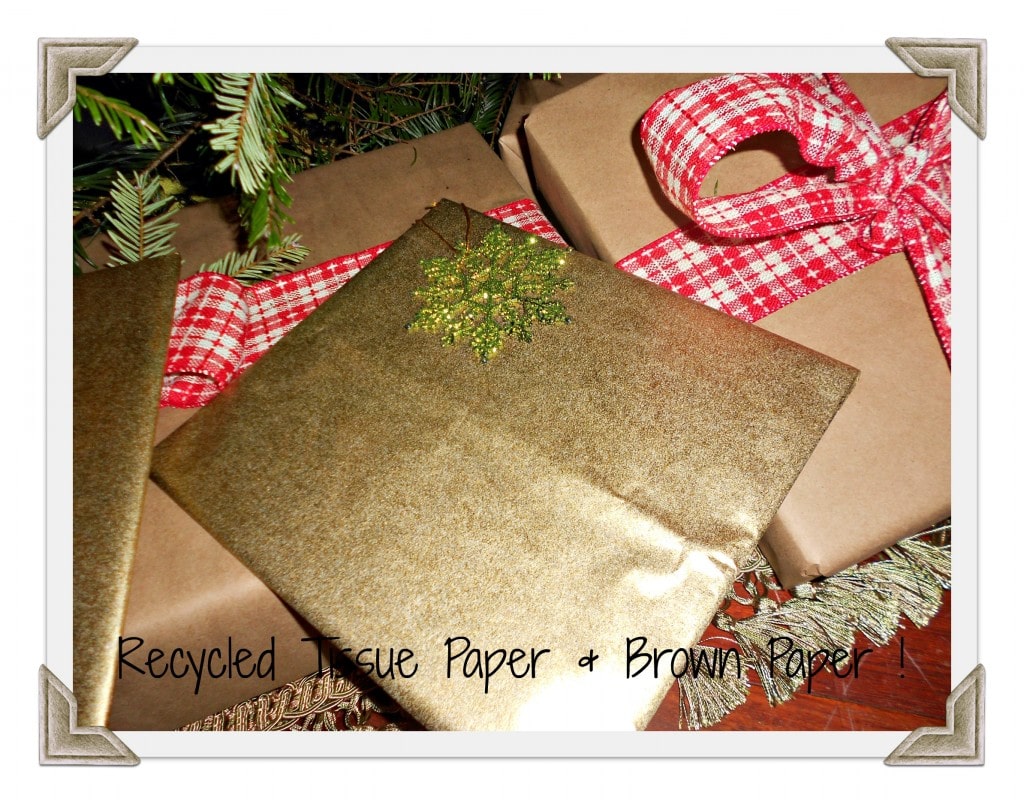 I have been saving Tissue paper over the year whenever I ordered packages online. I re-purposed it into wrapping paper by adding a $.25 green snowflake to the top (same Target buy I mentioned above for the white snowflakes on the tree).
Then I went to the dollar store and bought a $1 roll of brown paper packaging paper, in the mailing section. I wrapped the rest of my gifts in that, and added some red plaid ribbon I picked up at an after Christmas sale last year (I think I paid $1 for a huge roll).
All together my wrapping cost me $3 (and only $1 out of pocket this year!). I wanted to keep it simple so it would not compete with the tree.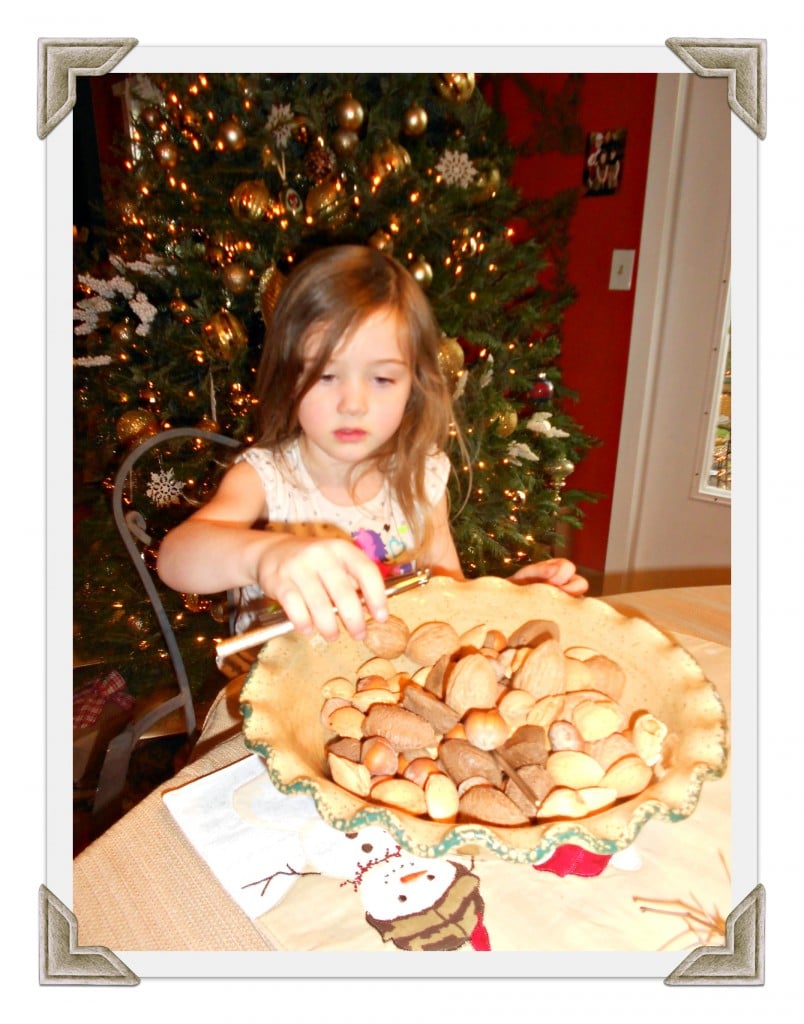 I still remember sitting at my grandparents and cracking nuts for as long as they would allow me too! Its one of my favorite memories over there. So this year we found the nuts for $3.99 per lb, and the nutcracker for $2.76 at QFC. I just added them to a snowman bowl we had, and it doubles as a decoration and a snack. Plus my girls have loved it – and we have had some great evenings just sitting together cracking nuts (I do have one child with a nut allergy, but he is 15 now, so this is the first year I have felt like I could keep the nuts from him and still enjoy with the rest of my kids).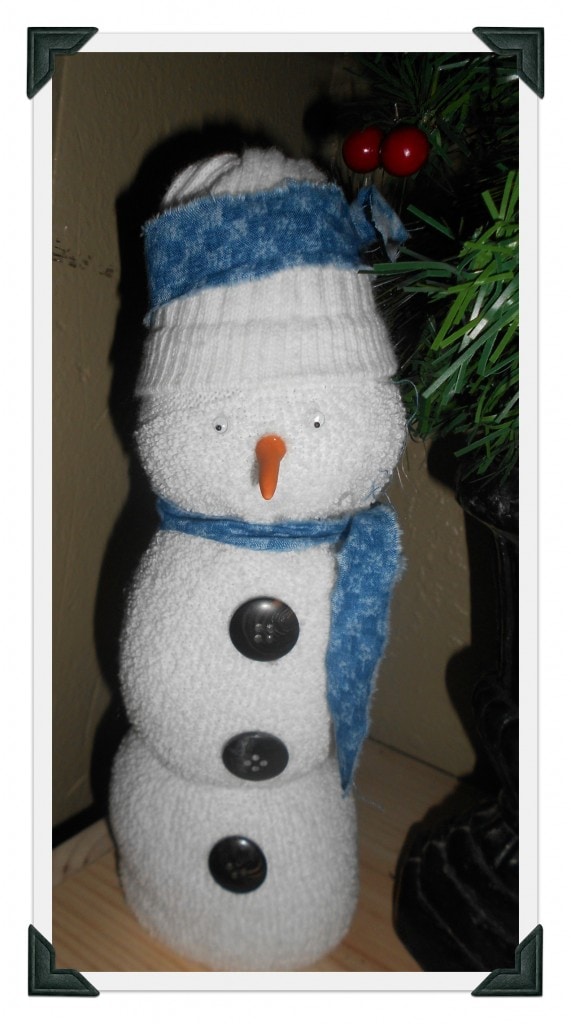 And my favorite – a snowman made out of a sock (my now 15 year old son made this for me in Kindergarden. They stuffed it with rice, partitioned each section off with a rubber band, and sewed on buttons).
More rustic fun by the fireplace. Took this box (a freebie find a few years ago) and just added pine-cones  You could go comb the woods (I have in past years), but this year I splurged on a bag of the cinnamon scented one – so not only do I love looking at it, but it makes my house smell good.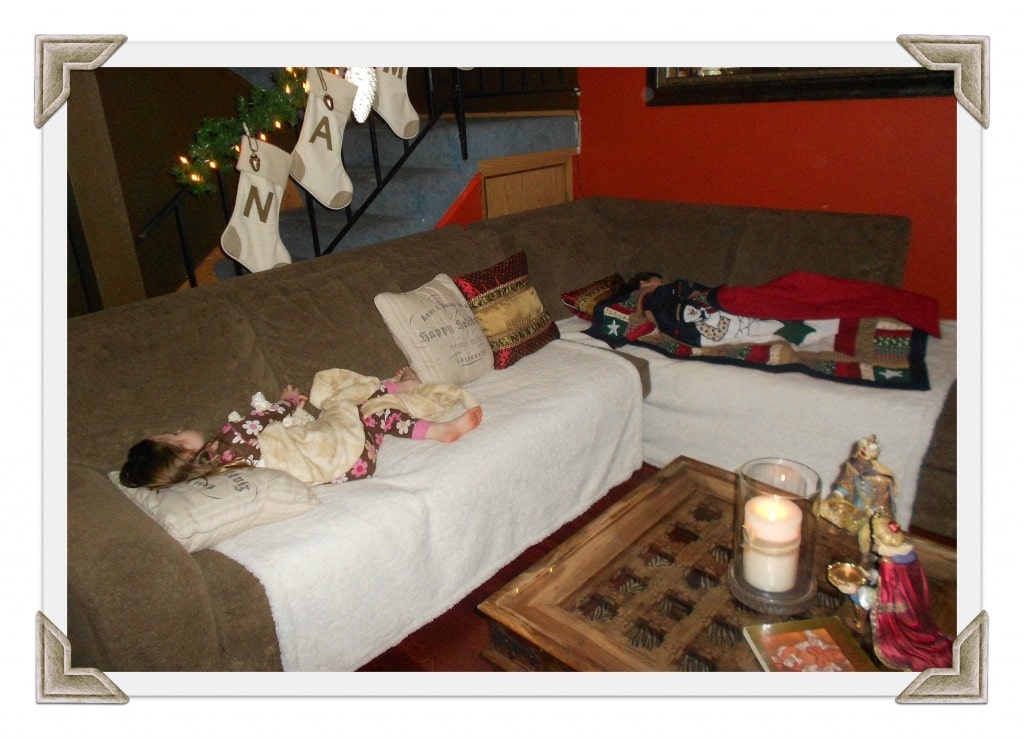 …and the reason why we do it all. So the kids can fall to sleep in front of the Christmas tree. Oh, the memories!