Brown Bear Car Wash – Free Car Wash + Cyber Monday Specials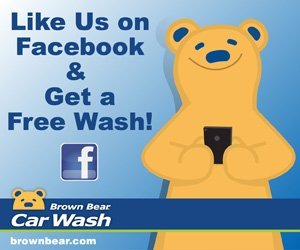 Brown Bear Car Wash, a local Puget Sound area car wash, is offering a FREE car wash for their Facebook Fans. All you need to do is head on over to the Brown Bear Car Wash Facebook page and "like" the page. Then fill out the quick form with your name and address and they will mail you a voucher for your FREE Beary Best car wash (valued up to $11). There are 21 locations around the greater Puget Sound area where you can use your voucher to get your car sparkling clean!
Brown Bear also is going to be offering a Cyber Monday special online on Monday November 26th. You can use the coupon code: WASHGREEN at checkout to discount your car wash by an additional 25% off the price. This 25% off price is in addition to some of the package discounts that they are already offering at BrownBear.com, so you could get some great savings. You will need to purchase your car washes online at BrownBear.com using the special Cyber Monday coupon code and then they will send them to you by mail.