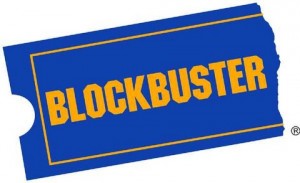 Blockbuster has had a promotion going on in its stores since before Christmas where you can get 3  previously viewed  DVDs (or Blu-Ray) for $14.99, which would be a good price, except that the selection is usually not all that good. In addition, you get a $5 gift card if you have the Blockbuster Combo Pass (unlimited in-store game and movie rentals which is $14.99/month), which would make it only $9.99 for three movies, or $3.33 each. The big news here, is that all the movies that were popular for the Christmas holiday season are now a part of this promotion. In our local store, I saw the following movies available:
The Help
King's Speech
Winnie The Pooh
Cars 2
Toy Story 3
Diary of a Wimpy Kid
Pirates of the Caribbean, ON Stranger Tides (as well as the first three)
Smurfs
Transformers
And there are many others, as well. I asked the store manager how many movies he thought they had for sale and he printed out a list 21 pages long! In all, it was over 900 movies (and those were only the ones in stock at this store – selection varies by store). So, if you were patient and waited to try to get a movie, head over to a blockbuster store and load up on your favorites!!