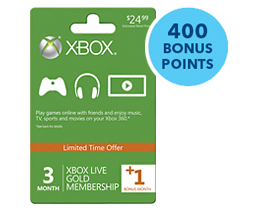 Do you have an XBox gamer in your house? If you don't already have XBox Live Gold Membership, you may want to snag this hot deal on a 3 month + 1 month bonus XBox Live offer. Plus you'll get 400 Bonus Points when you make this purchase. This package only costs $14.99 for the 4 months, plus the 400 point bonus, it is regularly priced at $29.98. That is one hot deal!
This would make for a great Father's Day gift for all the dad's out there that want to play their XBox Live, watch HD movies, TV shows or Sports!
Order this special 3+1 month Xbox LIVE Gold membership and start enjoying a wealth of entertainment options on your Xbox 360. Watch HD movies, TV shows and sports on your Xbox 360 with access to Hulu Plus, ESPN, Netflix, HBO GO and YouTube. Save $10 on this discounted package and receive an additional 400 Microsoft Points (a $4.99 value) at no extra charge.
What You'll Get:
3+1 month Xbox LIVE Gold membership lets you take your Xbox 360 online to play Kinect and controller games with friends wherever they are
Bonus 400 Microsoft Points to download additional games and keep games fresh
This package price will no longer be valid if you return one of the items. See the details.
Best Buy's Bundle Return Policy applies to this package purchase. Items in package may ship separately.
Special package savings of $14.99 (discounted from individual-item total: reg. price $24.99 Xbox LIVE Gold Membership + $4.99 400 Points = $29.98 – $10 savings – $4.99 400 Points savings = $14.99 final price)