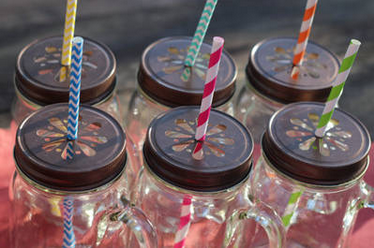 Summer is right around the corner, and that means get togethers, BBQ's and summer parties! Right now you can find these cute Daisy Cut Mason Jar Lids 12 ct. for only $10.99. Each comes with a pulp liner. Mason Jars are not included. They come in a few different finishes that will suit any event.

Plus, they have these 50 ct. Whimsical Paper Straws in different patterns to choose from that is sure to spice up any party!
They also have some other items that are sure to add a kick to your party….

Shipping fees start at $2.99!
Thanks Queen Bee Coupons!