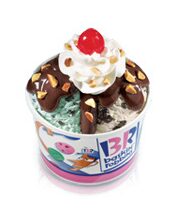 Baskin Robbins announced today that they will start offering Buy 1 Get 1 FREE two-scoop sundaes every Wednesday at participating Baskin Robbins restaurants through March.  If you purchase a "Build Your Own" Two-Scoop Sundae, you can receive another 2 scoop sundae of equal or lesser value for free!
I would definitely call your location ahead of time to make sure they are participating as I think there are occasionally franchises that don't participate.
So, what do you think – are you still up for going out for ice cream with the family in the winter or do you just prefer to eat ice cream on warmer days?
Thanks Coupon Cravings!