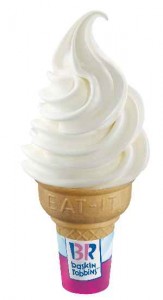 Baskin Robbins has a new coupon available – Buy 1 Get 1 FREE coupon for soft serve cones.   This coupon expires on August 8th, 2010.
Sounds like a yummy treat on a nice, warm day like today! And I know many of you in other parts of the country have been having a major heat wave! We're glad to finally have weather in the 80's & beautiful sunny skies.  :)
Thanks My Frugal Adventures!