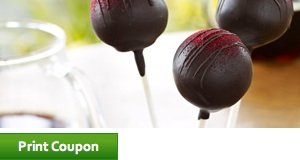 *Update: I'm hearing many reports of people not able to print this & I tried myself just now & can't print it. I've left a message on the Starbucks Facebook page to ask about this, so I'll let you know if I've heard anything. 
Starbucks is really helping us out with cheap and free deals this week!  First, the FREE handcrafted beverage (earlier this week) and now when you print this coupon you will get petite treats for just $1 with the purchase of any handcrafted beverage.
Thanks Centsible in Seattle!