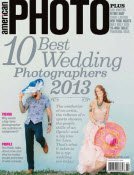 ValueMags is currently offering 6 free issues to American Photo magazine, No credit card info required to sign up (This subscription was purchased on your behalf by StartSampling.com). Allow 6-10 weeks for your first issue to arrive in the mail.
About the magazine:
At American Photo, images are everything. Each issue inspires and informs advanced amateur and professional photographers with blockbuster portfolios and step-by-step tutorials that showcase the art and swiftly changing technology of photography.
Thanks Free Stuff Times!