American Girl Sale – Marie Grace or Cecile Doll with Accessories – Just $50 (regularly $129) plus Canopy Bed $50 (reg $125)
*Update: This deal is now live! Use the coupon code: JILLOFFER at checkout to get each doll and Canopy bed for just $50 each on the American Girl website!!
***********************************
FB Fan Sarah shared a hot tip with us earlier today in the Thrifty NW Mom Christmas Deals group – tomorrow morning (Wednesday AM) American Girl dolls will be featured on the Today show during the 9am show (6am pst!) as they shared on their Facebook page. They are rumored to be sharing a special coupon code for the Marie Grace doll & Cecile doll as well as a canopy bed (if you read through the comments, that's what it shared, but it is a rumor) and the deals are supposed to be up to 61% off with this special coupon code! This is an unheard of discount for American Girl dolls (which were not part of the Cyber Monday sale)
I would definitely set your alarm & be up before 6am so you can be ready to go if you're interested in this deal. Jill's Steals and Deals are known to be very, very popular & with an American Girl sale, they are definitely going to go very fast & could be sold out in lightning speed!
Here's what their Facebook page says:
Discover a deal like never before when American Girl is featured on TODAY, Wednesday December 5. Watch the "Jill's Steals and Deals" segment during the 9 a.m. hour for this special savings opportunity.
Here are the dolls  on sale tomorrow: today: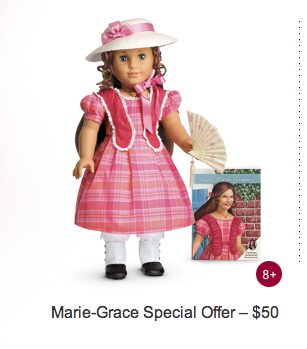 Marie Grace Doll– $50 (regularly $129) – this includes not only the doll and book but the accessories, too.
Cecil Doll – $50 (regularly $129) – includes the doll, book & accessories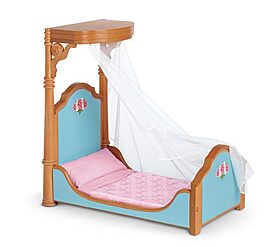 Half Canopy Bed – $50 (regularly $125)
 Thanks for the tip, FB Fan Sarah!