Pack a Blessing Bag to give to people in need – we've got a free printable checklist & free encouragement cards plus a list of all the items to include in your bag to give to people who are homeless, in shelters and more.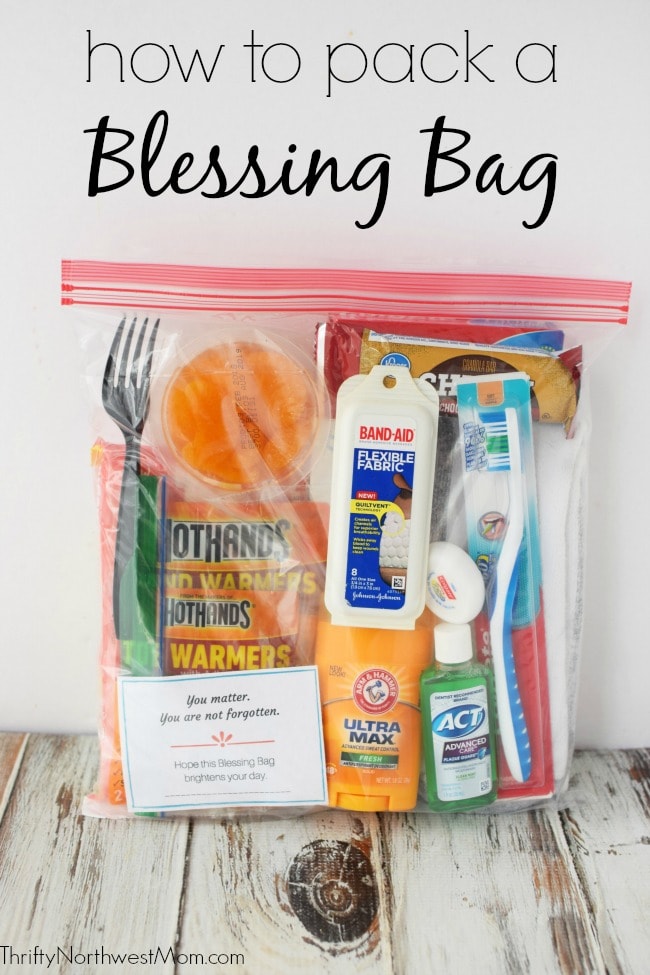 Blessing Bags – Helping those in Need plus
Free Printable Checklist + Encouragement Cards
In the past, we have shared a list of ways that you can give back to the community you live in & how to get kids involved and one of the ways we mentioned was to create Blessing Bag kits to hand out to those in need or to give to homeless shelters. We have made it even easier for you to put together Blessing Bags using this FREE printable Blessing Bag checklist too.
This is a very real, tangible way to help in a situation where you find someone who is in need and you really feel like you want to do something but are unsure of exactly what to do.  Handing out a Blessing Bag to someone gives you a very real way to meet their immediate needs by providing them with some basic supplies such as toiletries, water, food and warmth.
Blessing Bags are great to keep on hand in your car, so if you are in a situation where you find someone in need, you have the bag right there to hand to them.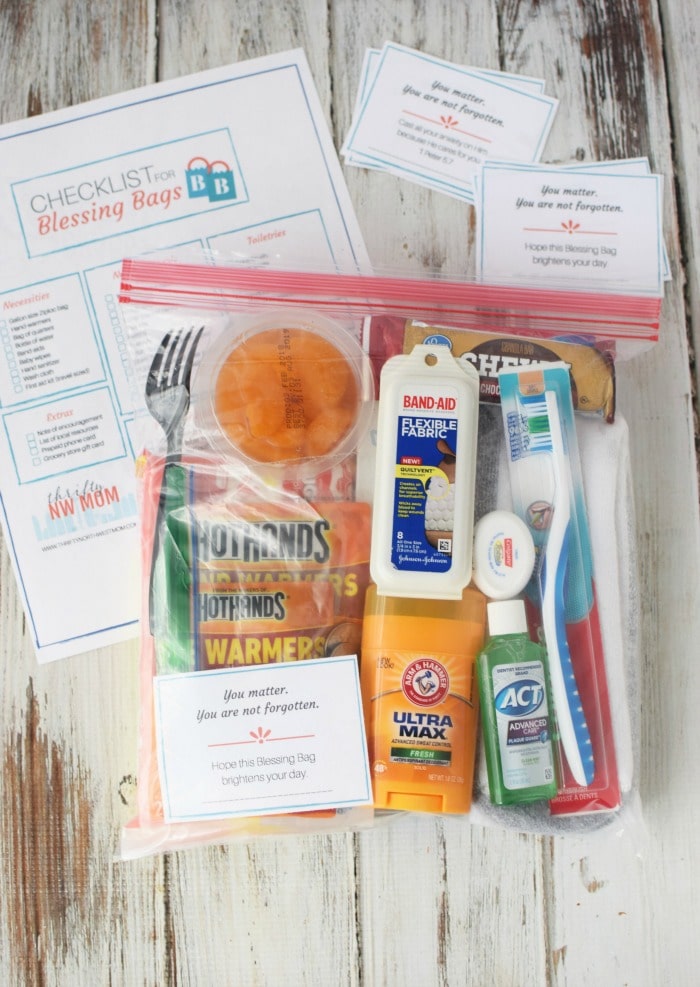 This is a way to demonstrate and teach your kids the act of giving in the face of a need instead of just driving by or walking away without responding.
The Blessing Bag kits are also very helpful to donate to homeless shelters (see our list of Northwest homeless shelters, food banks & more) & other organizations working with the homeless. They can pass these out after they provide a meal so that the men & women can have some new supplies to add to their backpacks. They stack easily in boxes so you can store quite a few in an area to keep them stocked & ready to hand out to those who need them.
Many of these items can be found at significant discounts when you use coupons & follow the sales as well as shop clearance sections, too. I keep a box in my closet to put these items in as I find them on clearance or with coupons & then when we're ready to make the bags, we've already got quite a few items. Get your kids involved in picking out items for the Blessing Bags & then they can help you stuff the bags & get an assembly line style going at home.  Teaching kids about helping people in need in real, tangible ways is an invaluable lesson!
Watch this Video to Find out what to Include:
Watch this short video to see how easy it is to put together a Blessing Bag!

Items to Include in Blessing Bag Kit:
**Get a FREE printable Blessing Bag checklist to print off & bring with you to the store with a list of all these items! Plus, a free printable note of encouragement that you can sign or customize with your own note.
Gallon Size Ziploc Bag – This is key for several reasons:
Helps to keep everything together & in one place so they can easily access the supplies in their bags/backpacks
Keeps the items from spilling/leaking onto their personal items in their bags
The bags can later be used for other storage options within their bags – storing toiletries, snacks, etc