50% off Tickets to Bellevue's Kids Quest Museum – 4 Tickets for $15
Today on Groupon, you can get 50% off admission tickets to Kids Quest Museum in the Factoria Mall in Bellevue.  You can buy 4 tickets for just $15 (regularly $30).  Remember that this is a one-day deal, as are all of Groupon's deals – and they could possibly sell out as well – so buy them soon if you're interested! You will have 1 year to use the tickets and you must use all 4 tickets in one visit.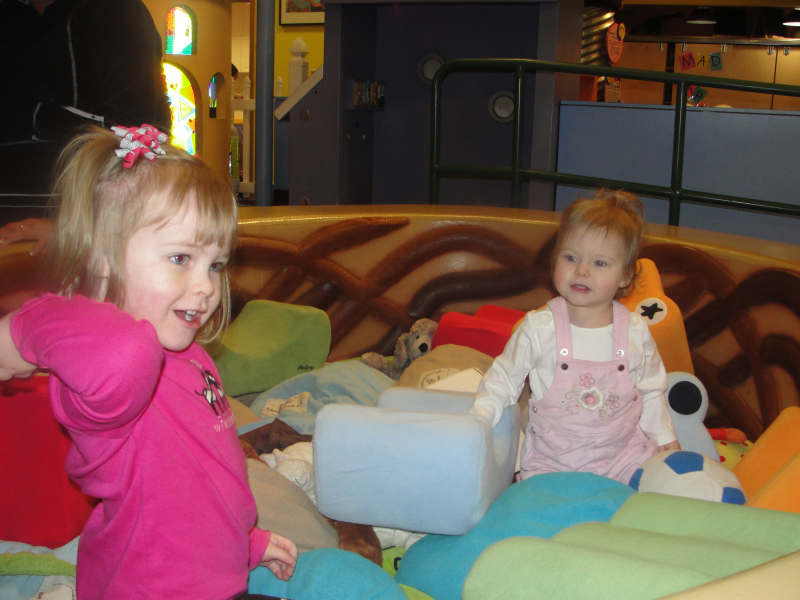 Here are my girls having a blast in the toddler area last spring!
We love Kids Quest Museum – we went there for the first time last spring & my girls loved it! They have an awesome, large baby/toddler play area, which I think sets them apart from the other area children's museum.  But, they also have so many fun features for all ages – I think my girls loved the Waterways area the best!  Make sure to check out Kids Quest Museum HERE.  I already bought my tickets this morning, so I can't wait to take my girls again soon. Great activity for our rainy months in the Northwest!
Here's how to take advantage of today's Groupon deal:
If you're new to Groupon, create an account & then click on "Visit More Cities" (on the top of the page) & select Seattle.  Look on the right sidebar for  "More Great Deals Nearby" You can then purchase the deal.
If you're already signed up for Groupon, sign into your account , click on "Visit More Cities" & select Seattle.  Look on the right sidebar for "More great deals nearby".  Then purchase this deal.