50% off one item under $30 at Ace Hardware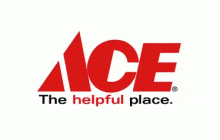 Ace Hardware has a printable coupon available for 50% off one item under $30. The catch is that it's only good on Saturday November 26th. However I doubt this coupon will be around until then, so I'd print it now & wait for that day.
If you do have an Ace Hardware nearby but would rather use this at Home Depot or Lowe's, you might want to check & see if they will accept the coupon. Our local Home Depot & Lowe's stores accept competitor's coupons & my husband has used Ace Hardware coupons there before.
Thanks Thrifty & Thriving!