$46 Worth of New Toy Coupons
This post may contain affiliate links and I may be compensated for this post. Please read our disclosure policy here.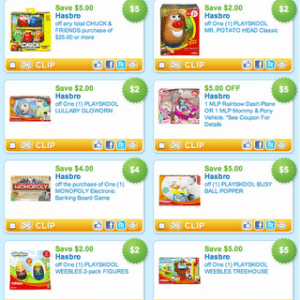 Coupons.com has just released new toy coupons today for Playskool & Hasbro toys! These will definitely come in handy for buying Christmas gifts & pairing up with upcoming store sales.  The popular coupons often go quickly at Coupons.com, so I suggest printing these soon.  They do expire at the end of October, though, so we won't be able to wait & use these for Black Friday sales unfortunately.
New Toy Coupons at Coupons.com:
$5.00 off Total Chuck & Friends purchase of $25 or more
$2.00 Playskool Mr. Potato Head
$2.00 off Playskool Lullaby Gloworm
$5.00 off Hasbro 1MLP Dash Plane or 1 MLP Mommy & Pony Vehicle
$4.00 off Monoploy Electronic Banking Board Game
$5.00 off Playskool Busy Ball Popper (watch Fred Meyer Sales for this one)
$2.00 Playskool Weebles
$5.00 off Weebles Treehouse
$5.00 off Playskool Sit and Spin
$5.00 off Playskool Explore and Grow
Thanks Coupon Connections NW!
My blog pal, Sarah at Give Me Neither, came up with the prices of toys if you brought these coupons to Target this week, so make sure to check out her list (prices may vary slightly in the NW).