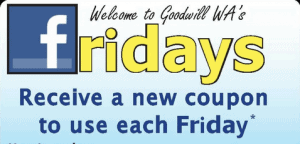 Today only, Friday June 22nd, you can get a 20% off coupon when you spend $20 or more for Puget Sound area Goodwill stores (there are 28 locations & not just in the Tacoma area). I just messaged them and they said they do this every Friday & you can find the coupon starting at 8am on Fridays.
Find a list of locations for the Tacoma Goodwill stores – there are 28 locations, including all the way over to Ellensburg, Yakima, Sequim & more!
I absolutely love going thrifting & used to do it quite often but I've slowed down in the last few years, but I definitely need to get back to it. My friends can find some amazing deals.
What's the best thrift store deal you've ever found?
Thanks Queen Bee Coupons!