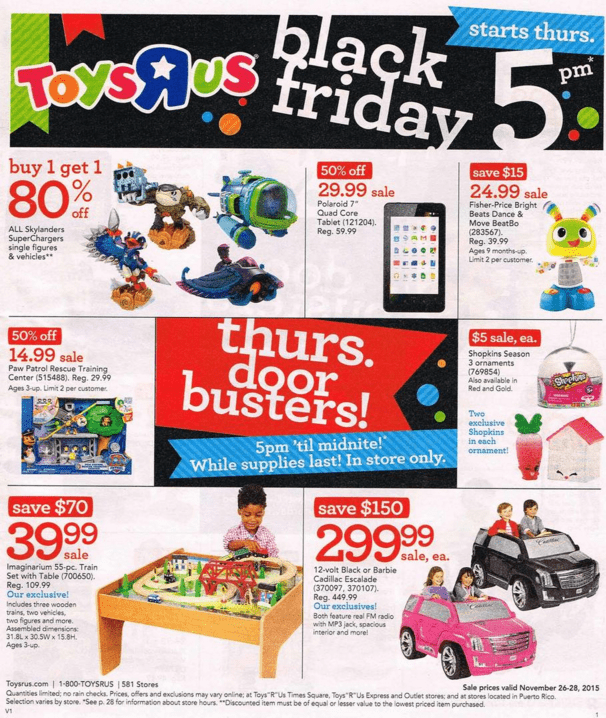 *Update:: Many of the Toys R Us Black Friday deals are now LIVE online!! There are some that are in-store only doorbusters & others that will go live tomorrow night online (as early as 5pm est – so possibly 2pm pst?), but I am finding many of the great deals available now!
*Free Shipping with purchase of $19 or more!
**************
Toys R Us opens it's doors at 5 pm Thursday (Thanksgiving) November 26th.  
Don't forget to check out our Black Friday deals page where we'll keep you up to date on all the latest Black Friday deals as they become available.
Shop Online at Toys R Us.com: 
Make sure to check out the deals online at ToysRUs.com , too on Thanksgiving/Black Friday, as many deals are often found online as well and that will save you a trip to the store in the rush on Black Friday.
You can find the Toys R Us Black Friday Ad Scan available online if you'd like to look at that, too!
Thanks Enza's Bargains for bringing us the Toys R U Black Friday Ad 2015.
Black Friday Deals at Toys R Us:
Tablets
Speakers, Music Players, and Instruments
Video Games, Consoles, and Electronics
DVDs and Blu-Ray Movies
Electronics – Other
Infant Items
Electronic Learning Toys
LEGO Sets, Blocks, and Building Toys
Cars, Vehicles, and RC Toys
Super Heroes and Action Figure Sets
Character Playsets
Dolls, Barbies, and Princesses
Pretend Play Sets
Infant and Toddler Toys
Bicycles, Ride-Ons, and Scooters
STEM Items (Science, Technology, Engineering, Math)
Games
Books, Puzzles, and Non-Electronic Learning Toys
Arts and Crafts Sets
Sports and Outdoor Items
Miscellaneous Items