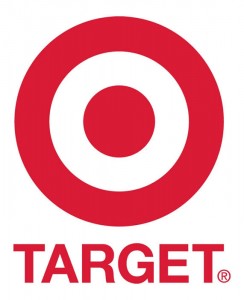 Here are this week's Target highlights for store sales & coupon matchups. Make sure to print the newest Target printable coupons at Target.com and sign up for Target mobile coupons!
Are you new to shopping at Target with coupons?
• Target allows you to stack 1 manufacturer's coupon with 1 Target store coupon. The total of the coupons must be less than or equal to the price of the product (they do not allow overage). They should mark the price down of the coupon if the coupon value is greater than the price of the product.
• Target Coupon Policy – I recommend printing off the coupon policy & keeping it in your coupon binder in case you run into any problems. Their policy says they do allow internet printable manufacturer's coupons.
• Target Price-Matching Policy- Target will match any competitor's printed ad price for the exact same product. You must bring in the complete competitor's ad & it must be local & current. This is another policy I recommend you print & keep in your coupon binder.
• Target Printable Coupons – Print Target store coupons & manufacturer's coupons
• Target Mobile Coupons – Do you have a smart phone? If so, sign up to receive exclusive Target store coupons on your mobile phone (scroll down to where it says "Coupon Alert" to provide your mobile phone number.) They will provide up to 5 messages per month. Standard text messaging rates apply.
Free Items:
Hershey's Simple Pleasures $2.99
Use $1/1 Target printable coupon
and use $2/1 coupon from 8/19 SmartSource insert
Final Price = FREE 
Bic Silky Touch Razors $2.59
Use $3/1 coupon from 8/5 SmartSource insert
Final Price = FREE 

Grocery Deals:
Clif Kid Z-Bar
 (6 pack) 
$3.14
Buy 2
Use 
$1/2 Target printable coupon
 (back to school category)
and use (2) $1/1 coupon from 8/19 SmartSource insert
Final Price =
$1.64 each
**Watch for some on clearance too, priced at $2.84!
Household Deals:
Method Cleaners $ 2.99
Use $1/1 Target printable coupon (household category)
and use $1/1 coupon from 8/12 SmartSource insert
Final Price = $ .99 each
Glade Oil Diffuser Starter Kit $5.99
Use $5/1 printable coupon (household category)
Final Price = $ .99 each 
Health & Beauty Deals:
Oral-B Kid's toothpaste $2.28
Use
 $1/1 Target printable coupon
 (back to school category)
and use $1/1 or $ .50/1 coupon from 7/29 P&G insert
 (coupon value varies)
Final Price = as low as
$ .28 each
Herbal Essence Shampoo or Conditioner $2.50
Buy 2
Use $1/2 coupon from 
Summer Beauty Bag coupon book
 (no longer available)
and use $3/2 coupon from 8/5 Red Plum insert
Final Price = $ .50 each
Right Guard Deodorant $2.00
Use $1/1 coupon from from 8/19 Red Plum insert
Final Price = $1.00 each 
Other Store Deals:
GIFT CARD DEALS
Buy (3) Dial Soap (10-pack) $3.99
Use (3) $ .35/1 coupon from 8/19 Red Plum insert
Pay = $10.92
Get $5 Target Gift Card
Final Price = $1.97 each after gift card
Buy (3) Mio Water Enhancer
Use (3) $1/1 printable coupon
Pay = $8.37
Get $5 Target Gift Card
Final Price = $1.12 each after gift card
Dr. Scholl's for Her in-soles $7.99
Buy 2
Use $5/2 Target printable coupon (personal care)
and use (2) $2/1 printable coupon
Pay = $6.98
Receive $5 Target gift card
Final Price = $ .99 each