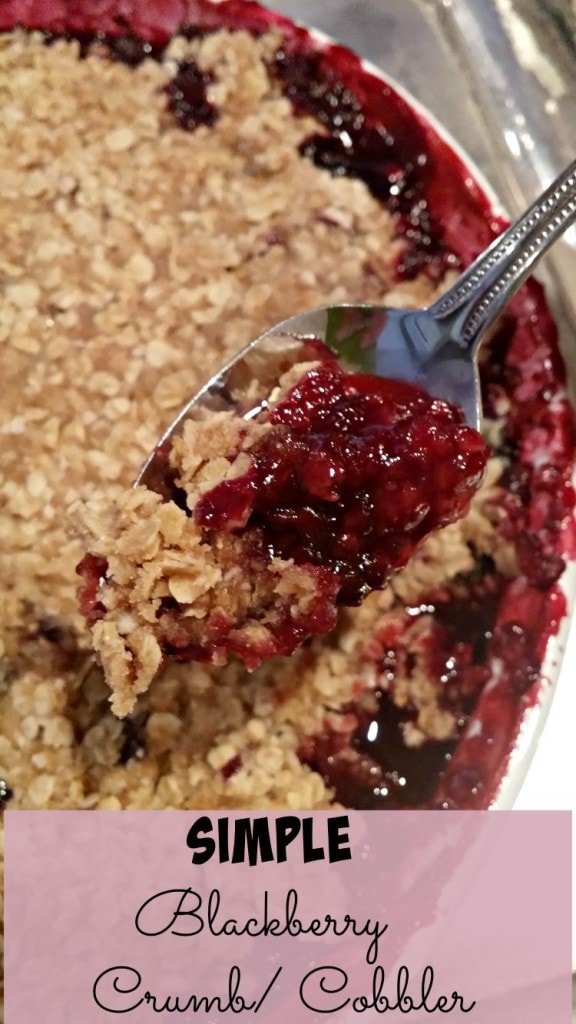 We are fortunate enough to live near many blackberry bushes. Each year around this time, I take my kids out and we will spent the afternoon picking blackberrys. One of our favorite things to do with the blackberrys (well the ones that make it home that is), is to put together this quick and easy blackberry cobbler / crumb (I know a cobbler is more of a batter top, but folks seem to call this recipe by both names, so just kept it easy). I love this dessert, because if you have those thorny blackberry bushes somewhere near you, you can usually get the fruit for free, and the remaining ingredients are fairly inexpensive. We pick enough blackberries to freeze some, so we can make it throughout the year. Its very forgiving too, so if you want to mix in other berries or fruit with this dessert – the more the merrier!
Step 1 – Have Fun! A little dramatic posing for the camera usually helps this process.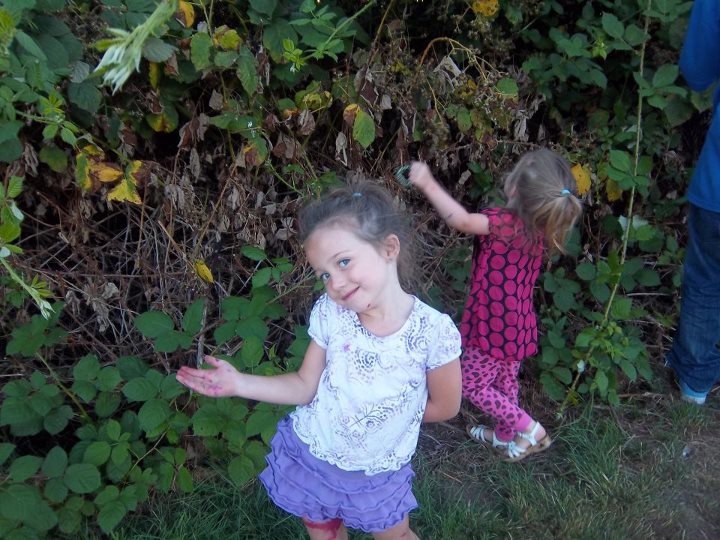 Step 2 – Eat As You Go! I know this step may gross some people out, but my family is just gross like that :)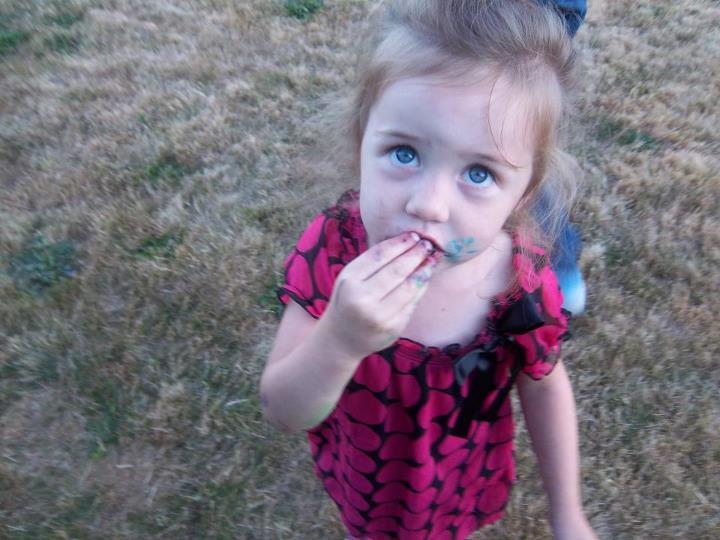 Step 3 –  Bring A BIG Bucket. When they are ripe, they are ready to be picked, and its so easy to freeze what you don't use.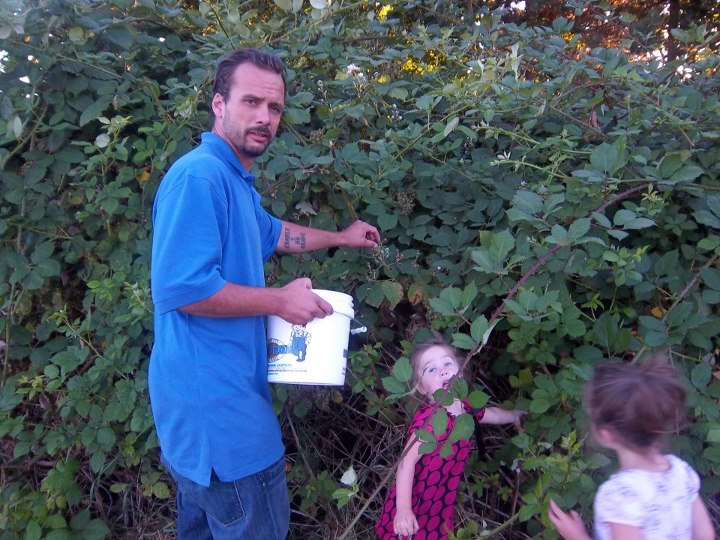 To freeze put your berries out in a single layer on a tray and add to the freezer for about 20 minutes. You can then transfer them to a storage container or freezer bag, without having them all stick together in one clump once frozen.
Now, to make the cobbler!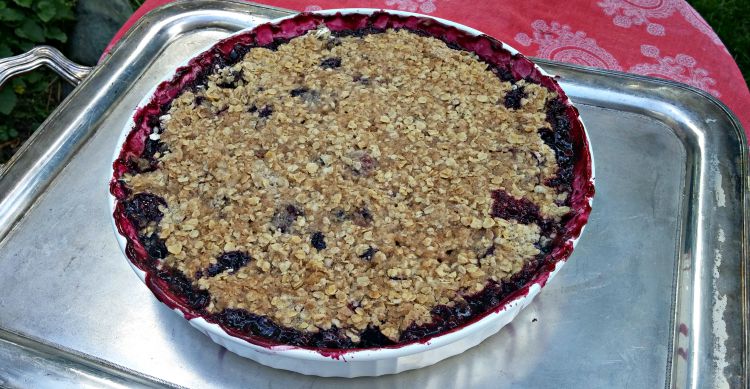 Blackberry Cobbler / Crumb Recipe:
Ingredients
3-4 cups of blackberries
1/2 cup of sugar
Package of yellow cake mix (only 1 cup is needed)
1 cup of instant rolled oats
1/4 cup of flour
cube of real butter (cold)
To Make the Berry Mix
We started by washing our freshly picked blackberries (you could substitute frozen berries, just thaw them), and filling the bottom of an 8 x8 dish with the berries (about 3 or 4 cups, if its a shallow pan, about half way up with berries).
Add a 1/2 cup of sugar to the berries and gently mix in (you can add more, I like mine slightly tart to contrast with the sweeter crust, and ice cream we always add).
For the Cobbler Topping:
Mix together –
1 cup of packaged yellow cake mix
1/2 cup of instant rolled oats
1/4 cup of flour ( you can substitute more of the yellow cake mix if you like your batter on the sweeter side, instead of the flour)
Cut in 1/4 of the cube of butter
I do this by using my cheese grater and grating the butter over the mixture, then using a fork to work it in.
Crumble the topping over the top of the berry mix so that it covers it all.
Take the remaining butter and using your cheese grater – grate a thin layer of butter over the top of the crumble mix. I usually end up with about 1/4 of the stick of butter left after this. This step is important, as it will turn that dry crumble mix you just sprinkled on the top, into the golden crust shown above. You will want your butter to be really cold, to grate easily.
All in all, it probably took me 5 minutes in prep time, once the berries were clean. Put in a 350 degree over for approx. 40 – 45 minutes, or until golden brown.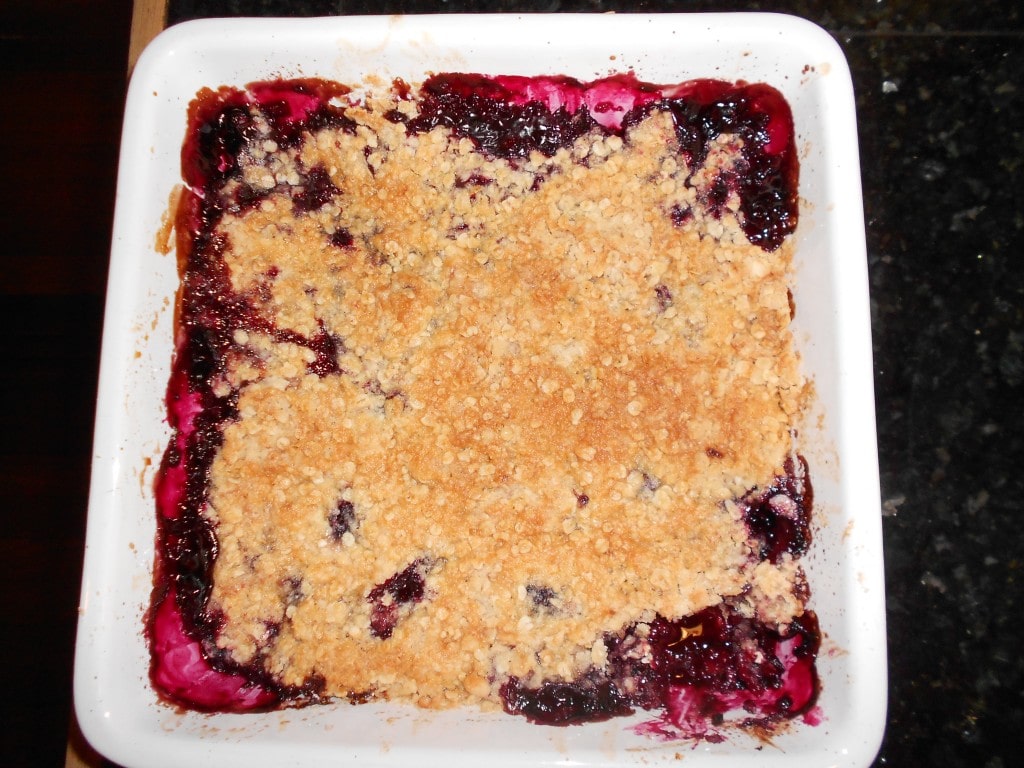 We served with some Fred Meyer brand vanilla ice cream we picked up for $1.59 last week. Talk about big taste bang for your buck.
More dessert ideas:
No Bake Cake (could use blackberries with this one too!)