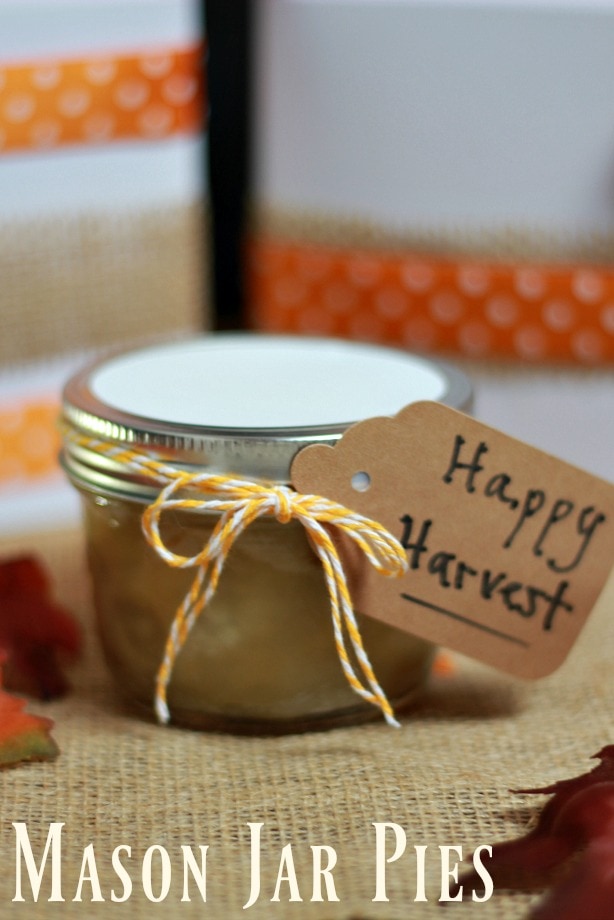 We are quickly approaching the holiday season & that means all sorts of get-togethers, whether it's with family, friends, work colleagues & more.  I love the idea of bringing a little hostess gift to get-togethers, so these Mason Jar Apple Pies are perfect for a hostess gift.  They also make fun little gifts for teachers if you like to give little gifts throughout the year, friends, neighbors, and more.
The single-serving dessert idea is perfect as they eat it in one sitting, without having to worry about storing leftovers and eating too much – it's just the right amount & they can choose when to eat it. You could freeze them after you prepared your pies (without cooking) & then your recipient could keep it refrigerated until they're ready to eat. Love that these mason jar pies are a frugal gift, too!
It's all about the taste & flavor with yummy food gifts like these little mini pies, but I think it's fun to get a little creative with the presentation of your little gifts, too. I am sharing a few ideas for packaging these up when you pass these out, too. The mason jar look is so fun & rustic and even more fun when you add a few extra elements to jazz them up for the autumn season or any season.
I am not the most crafty person, but I love ideas like these mason jar pies, as they seem like they'd be very time-consuming, but with a few simple shortcuts, they were really very simple & easy to make. I made these as apple pies, but the possibilities are endless, especially when you consider the different seasons – cherry pie, peach pie, apple crisp and more. You could also make Cheesecake in a Jar as a gift idea, too.  For a simple  shortcut, you could buy pie crust instead of making your own (which is what I did & the instructions I will share) but if you have a great pie crust recipe, that would be delicious of course.
Mason Jar Apple Pies::
Ingredients:
Pie Crust (homemade) or pre-made store bought pie crust
1 tbsp butter
Apples (small – medium apples) – I used Granny Smith apples (smooth bottom apples are best for baking)
Apple Pie Filling:
1/4 tsp pumpkin pie spice
1/8 tsp salt
1/4 tsp flour
1 tbsp brown sugar
Directions: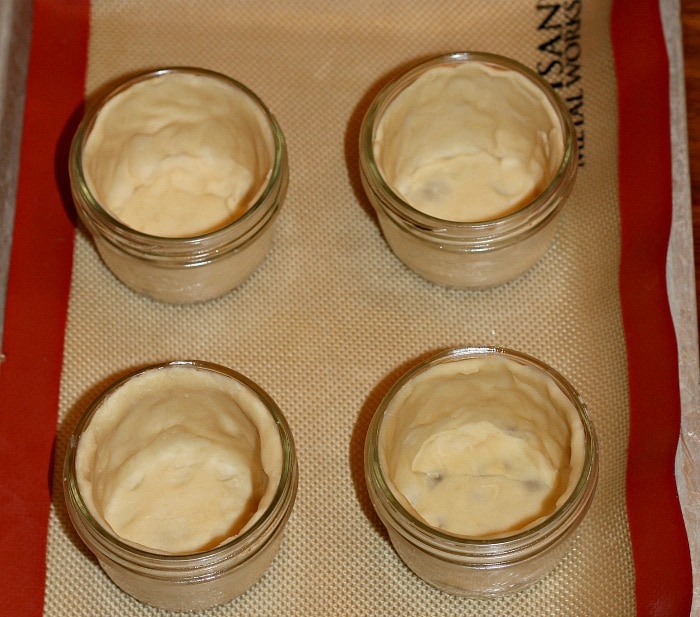 Make your pie crust (or buy a pie crust). Press the pie crust in the jar to fill the entire jar on the inside.
Mix the ingredients together for apple pie filling