Ozark Trail Tents on Sale
There are quite a few tents on sale right now at Walmart.com especially for the Ozark Trail tents, which get great reviews. Many of them have dropped up to $50 in price. If you sign up for the new Walmart.com Shipping Pass, you can get 2 day shipping as well (they have a 30 day free trial). This is what we did with the tent we bought below, so we could make sure it was here in time for our next camping trip. Here are a few of them that we found that have high ratings.
Ozark Trail 10 Person 3 Room Vacation Tent::
This Ozark Trail 10 Person 3 Room Vacation Tent with Built In Mud Mat for just $99 (Reg $151.97). This gets 4 1/2 out of 5 stars out of 300+ reviews, so it comes highly rated.  It sounds very large too – one of the reviewers said they use it with 2 queen air mattresses & 2 twin air mattresses & it has plenty of room.
We actually just bought this tent as my husband has been reading reviews for days & days. We had our last tent for years & years and it's got a lot of busted zippers, rain getting in, etc. So he's been doing a ton of research & came across this tent, which seems to get as good of reviews as the higher priced tents from REI, etc. I'll let you know how it does as we're taking it camping over Labor Day weekend. As he was checking it out, the price actually dropped down to $99 – score!
Camp out in style on your next outdoor adventure with the Ozark Trail 10-Person, 3-Room Cabin Tent. The design offers three separate living spaces that you can combine by removing the room dividers. In addition, this instant cabin tent has three points of entry, one in the center and one on either side. It also has six windows and a mesh roof for proper ventilation and panoramic views. The tent measures 20′ x 10′, giving you enough space to accommodate up to three queen size air mattresses. It also comes with an E-port, mud mat and convenient shoe storage. The Ozark Trail 10-Person 3-Room Cabin Tent is easy to assemble and includes a zippered carry bag for effortless transport.
 Ozark Trail 10 Person Tent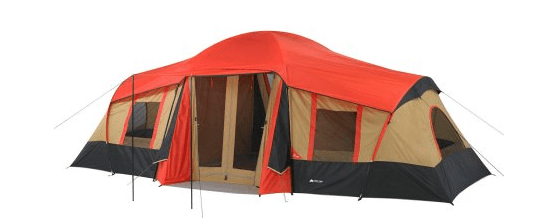 Walmart also has this Ozark Trail 10 person, 3 room vacation tent with a built-in mud mad for just $99 (reg $151.97), with 4 1/2 stars out of 600+ reviews.
Here's more info about the Ozark Trail 10 Person Tent::
With 184 square feet of usable floor space and 78-inch center height, you will have ample room for family and all the gear you can carry in the Ozark Trail 3-Room 10-Person Vacation Tent. Three rooms with removable dividers provide flexibility and privacy. This tent features seven inside zip windows and a mesh roof for excellent ventilation. A built-in front mud mat and canopy help keep the interior clean and provide weather protection at the entrance. The canopy zips down for privacy. This tent sleeps up to 10 people and can fit three queen-size air beds.