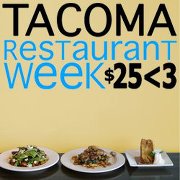 Just a reminder that the Tacoma restaurant week starts today!
Tacoma is running its second Annual Restaurant Week this week. It will run through October 14-18 and 21-25, and like the Seattle Restaurant Week you will have the opportunity to enjoy fine dining at a fraction of the price.
There will be 25 participating restaurants in this years Tacoma Restaurant Week including:
Stanley & Seafort's (This is one of my extended families favorites. I have yet to try it, but now maybe I can afford to do so!)
The Lobster Shop
El Gaucho in Tacoma
The Melting Pot
…and more. You can find a full list of participating restaurants here.