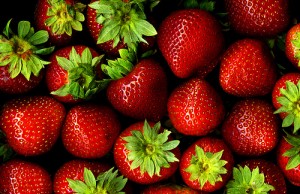 Have you been strawberry picking or just have a lot of strawberries you've found on sale? In that case, you might be looking for a new recipe to add to your summertime collection!  Last week, I asked the Thrifty NW Mom Facebook Fans what were some of their favorite ways to use strawberries & they responded with an awesome list of ideas.  I'll list some of those at the end…but for now, this is a yummy recipe that Facebook Fan Christi emailed me!
Strawberry Spinach Salad:
1 bag spinach
1 pint strawberries
1/2 Cup pecan pieces for garnish
Dressing:
1/3 Cup Balsamic Vinegar
1/2 cup Sugar
1 tsp dry mustard
1 tsp salt
1 1/2 tsp onion, grated
1 cup light olive oil
1 tbsp poppy seeds
Directions:
In a blender, combine vinegar, sugar, mustard, salt & onion. Slowly add olive oil & blend for 1 minute (can also be whisked by hand in a large bowl, just skip the extended blending step).  Refrigerate until chilled & then dress salad. (I usually won't wait for it to be refrigerated). We like our salad with minimal dressing, so I would be able to make 4 salads with just one dressing recipe.
Doesn't this salad sound so good? And simple to make – my kind of recipe! :)
Here's a list of some of the other ideas that the Facebook Fans shared for their favorite ways to use strawberries:
Strawberry pie (anyone have a good recipe for this – I've been looking for one!)
Strawberry & Rhubarb Jam
Chocolate-covered strawberries
Strawberries dipped in sour cream & then in brown sugar
Fruit Smoothies
Berry Crepes
Red, White & Blue Pie
Grilled halved strawberries with mango ice cream
Strawberry Tart with French Pastry Cream
So, what is your favorite recipe to use with strawberries (or any fresh berries, for that matter)? If you have a great recipe to share (& even pictures of your recipe), we'd love to hear it! Email me at thriftynwmom (at) hotmail (dot) com or just leave it in the comments & I can share with the readers!
Thanks Christi!