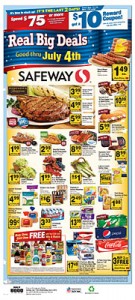 Here are the best deals from the 7/1 Sunday ad. This ad has deals good through Wednesday, July 4th.  View the Safeway coupon policy here.
***Shows the best deals (in our opinion)
Catalina Available:  Spend $75 in single transaction through Monday, July 2nd and get a $10 Reward Coupon (Catalina) to spend on your next shopping trip through Monday, July 9th.
{A catalina is a coupon that prints from the box next to the register that you can then use on a future transaction. These can be triggered by specific purchases or based on an advertised promotion.}
FOOD DEALS
Sweet Corn – 6/$1 (about $.17 each)***
Red, Yellow or Orange Bell Peppers – $.99
Nabisco Snack Crackers – $1.88
Buy 2
Use $1/2 printable coupon from smartsource.com
Final Price:  2/$2.76 ($1.38 each)
General Mills Cheerios, Cocoa Puffs or Dulce de Leche Cereal – $1.99 (with in-ad coupon, limit 4)
Use $1/2 printable coupon for GM kids cereals from coupons.com OR
$.50/1 coupon from 6/24 Smartsource insert OR
$1/3 coupon from 6/3 Smartsource insert
Final price = 2/$2.98 ($1.49 each)
C&H Sugar, 4 lb – $2.49 (with in-ad coupon, limit 3)**
Lucerne Ice Cream, 1.5qt – $2.50***
MorningStar Farms products – $2.99 (with in-ad coupon, limit 4)
Use $1/1 printable coupon from coupons.com
Final Price:  $1.99
Rancher's Reserve Beef Ball Tip Petite Sirloin Steak – $3.99/lb
Rancher's Reserve Boneless Beef Top Sirloin Steak – $4.99/lb
Lucerne Shredded Cheese, 32 oz – $4.99
Rancher's Reserve Beef Ribeye Steak – $5.99/lb
Safeway SELECT Party Size Meals – $7.99 (with in-ad coupon, limit 3)***
Non-Food Deals
$2.00 off Hefty Waste Bags with in-ad coupon (limit 3)
Use with $.55/1 coupon from 5/13 Smartsource insert
Final Price:  up to $2.55 off
$3.00 off any Floral Purchase $10 or more with in-ad coupon (limit 1)
Banana Boat Sun Care – $5.99 (with in-ad coupon, limit 4)
Use $1/1 coupon from 6/17 Smartsource insert
Final Price:  $4.99
Farmers Market Bunches – $5.00