Sniqueaway is offering a fantastic deal on a Northwest hotel – today's deal is for the Resort at the Mountain in Welches, Oregon, which is very close to Mt Hood.  They are offering rooms starting at $89/night and up. Rooms available through June 2013 currently.
Parking is complimentary, and they offer a free shuttle to the Ski Bowl, for lots more family fun! There is a $12 resort fee that will be added on to the deal at checkout too.
Jens Review of the Hotel: Hotel Room we stayed in during our stay 
Jens family stayed at the Resort at the Mountain a year ago on Mothers Day weekend (thru a Groupon deal) & really enjoyed it. Here is what she had to say about it: The resort was cozy & inviting & they did have a nice outdoor pool (unfortunately it was raining the weekend we were there). They have a number of amenities including a golf course, 18 hole putting course, 4 tennis courts, & an amazing spa. I got to do a massage as part of the deal that we had and I told the masseuse that it was the BEST massage I've had in my life & it's still the case – it was amazing & a beautiful spa! I did this on Mother's Day (which also happened to be my birthday weekend, and it was so nice to be pampered). The spa is not part of this package, but I would check with the hotel to see if they have any specials going on – you won't regret it!  We found some great hikes right there in Welches, too & it was not far at all to Mt Hood for lots of outdoor fun. Personally, we loved this resort & would definitely go back!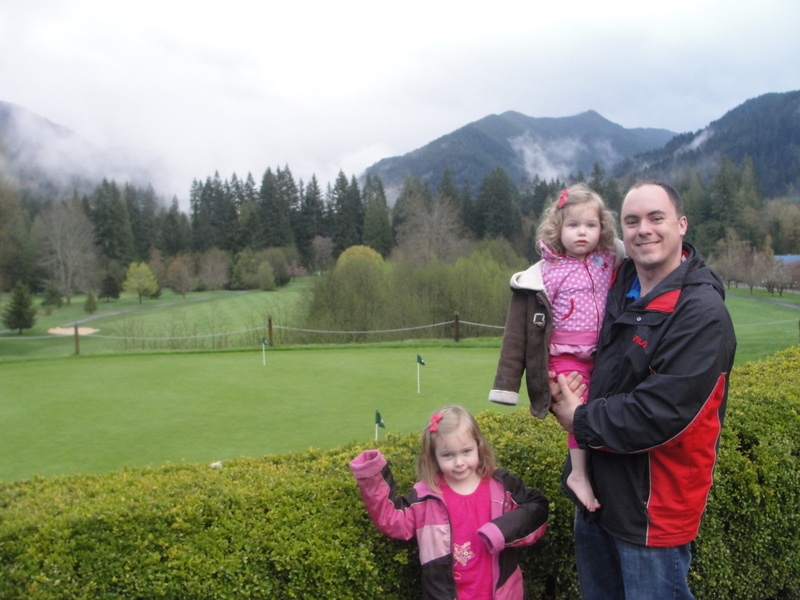 On the grounds of the Putting Course with the beautiful mountains in the background
Just as a side note, we headed to Wildwood Recreation Area right there outside of Welches, OR & my kids had a blast on this trail. My little gal was only 2 & my older daughter was 4, but it was the perfect kid-friendly trail for them to explore. As I mentioned, it poured the whole weekend we were there, but we didn't let the rain stop us from this beautiful hike along the Salmon River. They also have an underwater viewing area, where you can view the fish as they travel in the river. The underwater viewing area was definitely the highlight for my girls.
Underwater Viewing Area at Wildwood Recreation Area