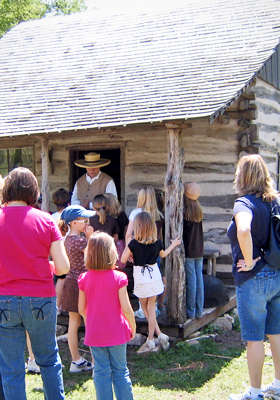 Living Social has a great deal available for the  Pioneer Farm, in Eatonville, WA. Pay $17 to gets two adults and two children in for a 90-minute tour of the farm. This interactive farm sounds like tons of fun. This is how Living Social describes the tour:
The "90-minute tour — held multiple times throughout the afternoon every day in the summer and then on weekends — takes you back to the 1880s and the families who lived and worked in the original homestead cabins on this lush farm. Led by a friendly guide, you and the fam can dress up like pioneers — even have hair curled with an old iron and faces shaved with a dulled straight razor — then participate in exciting chores that kept these old school farms running. From churning cream and scrubbing laundry to pounding out horseshoes and spudding bark from a log, the kids will have an old-fashioned good time while learning about olden days. Meet and pet farm animals, get educated in the school house, jump in the hay bales, and enjoy a snack at the trading post before returning to the present and trying to convince your kids that making the bed is as fun as gathering eggs. "
Thanks The Coupon Project!