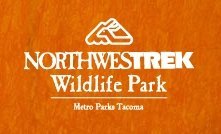 Northwest Trek, one of our favorite places to visit here in Pierce County, is offering half-price admission for seniors, adults aged 65 & over, for the month of September. You'll also get 10% off your food & beverage purchase at the cafe. The regular rate is $16.50 (or $14.50 for military/Pierce County residents), so that would be $8.25/person.
I think September is a great time to visit the park as the temperatures have cooled down a little bit so hopefully the animals will be out roaming around more than they might have been in the summer months – yet you still have some beautiful weather to enjoy the park! We were just there at the end of August & it is truly one of my daughters favorite places to visit.
And for those of you who are looking for a little adventure, Northwest Trek has now opened up 3 new zipline / challenge courses.  So, they now have 4 courses for a wide range of ages & sizes (kids as small as 3 feet, 3″ tall can participate). The prices will range from $19.95 – $59.95, in addition to the general admission to NW Trek.
 Here are the challenge courses & ziplines that are now offered at Northwest Trek:
Super Kid (ages 6 and up, minimum height of 3 feet, 3 inches): This is a relatively low-to-the-ground circuit with two sections of zip lines and nine challenges. The highest point on the course is 5.5 feet.
Discovery (ages 8 and up, minimum height of 4 feet): Greater challenges – higher into the trees, Discovery consists of two zip lines and 10 obstacles. It begins with a 14-foot-high climbing wall that must be scaled to get onto the course, which rises as high as 17.5 feet into the canopy.
Adventure (ages 10 and up, minimum height 4 feet, 7 inches): This zip line/challenge course, opened July 14, is already highly popular. It has a total of six "zips" or lengths of zip line, separated by an array of challenges that include cargo nets, swinging, slatted-step bridges and a tightrope. Zipliners must scale a 30-foot wall to get onto the course, which is 55 feet high at its tallest. That's nearly as high as a six-story building.
Emotion, or Extreme (ages 18 and up, minimum height is 5 feet, 2 inches): This is the big one. It combines all the elements of the Adventure course with two more zip lines, for a total of eight zips and 18obstacles. It soars to a height of 78 feet – think eight story building – and requires participants to climb up – and down – rope ladders that many people might find hair-raisingly high. Thrill seekers will find this course and its challenges both mentally and physically demanding as well as supremely fun.