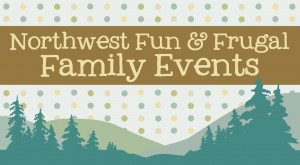 Here is this week's list of family-friendly free or frugal events for around the Northwest, as well as some events going on around the country.  There are some fun Valentine's activities for the whole family you'll want to check out, too.  Thanks to Sia from Centsible in Seattle for providing this extensive list of activities for us.   If you see a fun, frugal event that's not listed, feel free to leave a comment so we can add that event to our list.
PUGET SOUND AREA::
Friday February 18th:
*You Me We Festival- Kent – Showare Center; 2/18; 6:00pm to 9:30pm; Free family festival put on by the City Of Kent; offers a whole evening of entertainment including juggling, comedians, local performances by Kent youth, music, interactive booths, hands-on art activities, face painting, bounce houses and more. "Family friendly pricing" on concessions available.
*Imagine Children's Museum- Free Entrance- Everett; 2/18; 5:30pm to 9:00pm; Come enjoy Friday Night live at the Imagine Children's Museum. Entrance is free during the evening. Hot Dogs, chips and cookies will be for sale.
*Backyard Bird Count- Your Own Backyard; 2/18 to 2/21; Count and tally birds with free printable sheets and submit your results online for scientists world wide! You can search for events in your area or just count in your backyard! Thanks Sounds Fun Mom!
*Olympia Old Time Music Festival- Olympia; 2/18 to 2/20 from 12:00pm to 5:00pm. Music and Dance event that offers many free workshops (including one for kids on Saturday). Workshops are all free, but there will be concerts and dances in the evening that charge a fee.
Toy Story 3 At Meadowbrook Community Center – Seattle; 2/18 at 6:00pm; Free Popcorn Provided and all ages are welcome.
Free Indoor Cinema in Puyallup Friday at 7:00 PM -Puyallup; 2/18 at 7:00pm; Karate Kid shows on the inflatable screen in the gym of the memorial center, concessions offered for sale.  Thanks Sounds Fun Mom!
Grand Cinema Free showing of Ghostbusters – Tacoma; 2/18 at 10:30am; This is part of Click! family cinema. Thanks Sounds Fun Mom!
*FreeTête-à-têter At Frye Museum – Seattle; 2/18 through Jan. 2012; 11:00am to 5:00pm; Art lovers, did you know the Frye Museum is always free! Even better, they also provide free parking for visitors. Currently that are exhibiting Tête-à-têter,  featuring one hundred fifty paintings from the Frye Art Museum's Founding Collection.
*Free Entrance to Seattle Symphony's "Soundbridge"- Seattle, Beneroya Hall; 2/18; Soundbridge is a music discovery center and is free each Friday after 12 pm; Ages 2-5, 30 minute interactive storytelling with song & rhythm, dance & musical instruments.
*Free Mike Night at Tim Noah Thumbnail Theater – Snohomish; 2/18 at 7:30pm (sign-up at 7pm); Enjoy songs, instruments, skits & jokes – anything family-friendly
Saturday February 19th:
*Kids and Critters Event At NW Trek- Eatonville – 2/19 -2/21; 9:30am to 3:00pm; Free admission for up to four children ages 3 to 12 with each adult or senior paying full admission ($17 or $15 for Pierce County residents). Special Kids 'n' Critters activities are free with admission all weekend and include nature-themed arts and crafts and trailside encounters with Northwest Trek's smaller animals.
*Free Admission To Wing Luke Museum-Family Fun Day - Seattle; 2/19 from 10:00am to 8:00pm; Third Saturday of the month offers free admission to The Wing Luke Museum. From 1:00pm to 3:00pm they are celebrating the year of the Rabbit  with a family fun day including including – Personalize Red Envelopes with Mizu Sugimura with artist Mizu Sugimura to show you how to personalize this custom with a new twist. Free.
*Read With A Princess- Pierce County; 2/19; 11:00am and 2:00pm. The Daffodil Princesses will be at multiple library locations throughout Pierce County to read stories and be available for photos afterward.
*Snow Day Family Fun Trips- Tacoma- MetroParks; 2/19 from 9:00am to 4:00pm. The whole family can take a trip with MetroParks of Tacoma to the mountains to play in the snow and sled. Cost is $8 for the family.
*YoYo Championships - Seattle Center House; 2/19 from 10:00am to 6:00pm. Yoyo competition for all levels, pre-registration required. Free to spectators.
*Go Dog Go Story Time At The Twirl Cafe-  Seattle; 2/19; 11:00am; Recommended ages 3-7. Free story time allowing everyone will participate in a unique retelling of the classic children's book. Takes place at The Twirl Cafe, great local cafe/play opportunity for moms and kids.
*Get Crafty Saturday At The Bellevue Art Museum- Bellevue; 2/19 from 1:00pm to 3:00pm. Wood crafting event for all age. $2 material fee. They are also running a free printed screen T-shirts events for teenagers at the same time.
*Tour The Coast Guard Museum – Seattle – Pier 36; Free Everyday; Visit The Coast Guard Museum to view thousands of Coast Guard related items. Be sure to call ahead so they can clear you through the base gate!
*Water Weekends at the Marine Science & Technology Center (MaST) – Saturdays 10am – 2pm; kids can explore sea life with touch tanks & more. Thanks Sounds Fun Mom!
*Jack & the Beanstalk play at the Auburn Avenue Theater – Auburn; Saturday 2pm; Tickets are $6/each. Thanks Jessica!
Monday February 21st:
*Presidents Day Hike At Discover Park – Seattle; 2/21 2:00pm to 3:00pm; Free hike to learn about native medicinal and edible plants found along the way. Dr. Scott Moser, naturopathic physician at Thrive Natural Family Medicine, will focus on the medicinal uses of plants. At the end of the hike, participants can warm up with a cup of hot herbal tea.
*Family Movie Matinee From Kirkland Performance Center – Kirkland; 2/21 10:00am; Free showing of the movie. Tickets are free, but you will need to go here to get a ticket before attending. Film is a foreign film with English subtitles so may be more appropriate for older kids.
Free Matinees at North Bend Theater – North Bend; Mon 2/21 – Fri 2/25; 12 pm; Movies are: Mon – The Wizard of Oz, Tues – ET: The Extraterrestrial, Wed – Journey to the Center of the Earth (1969), Thurs- The Iron Giant, & Fri – Mary Poppins. Thanks FB Fan Nicole!
Wednesday February 23th:
*Celebrate Northern Lights – Seattle; 2/23 10:00am to 11:00am; Free event at the Nordic Heritage Museum to listen to the story Aurora by Mindy Dwyer and make a fun Northern Lights craft project. All ages welcome.
*REI – Free Bike Maintenance Class – Tukwila - ; 2/23 7:00pm to 8:30pm; if you ride a bike, you need this class! In this informative presentation you'll learn how to lube a chain, fix a flat tire in record time, and make other minor adjustments to your bike. No experience necessary! Class is free, but limited space. RSVP required.
PORTLAND AREA:
Friday February 18th:
*Free Coffee Friday At Caffe Vita- Portland; 2/18 at 10:00am to 2:00pm. Free Coffee Fridays through 2/25. One 12 oz beverage per person for free! (Thanks Portland On The Cheap!)
*21st Cascade Festival Of African Films- Portland; Current – 3/5; Times Vary; The African Film Festival kicks off this weekend. Entrance is free on a first come first serve basis. Visit website for movie showings, locations and times.
*Friday Family Flicks – Portland; 2/18; 6:30pm to 8:00pm; Shrek Forever After will be playing on The Hillsboro Main Library big screen. Movie is free, and popcorn will be served.
*Movie Night At Cafe Sip N Play – Portland; 2/18 & 2/19; 5:00pm; Free showing of 101 Dalmations.
Saturday February 19th:
*Sing-Alongs With Mr. Ben- Portland; 2/18 at 10:00am to 11:00am. Free interactive educational show for kids and parents.
*Family Fun Day At The Oregon Historical Museum- Portland; 2/19; 11:00am to 3:00pm; Take part in family craft activities throughout the day, as well as visit museum exhibits and watch a play. Two children admitted free with one paid adult admission!
*Kids Saturday Morning Skate Session At Oaks Park – Portland; 2/19 10:30am to 12:00pm; For $5.50 children 10 and under can skate (skates included). Parents free with paid child admission. You can also download a coupon for 2 skate for $8 on Monday 2/21 here.
Sunday February 20th:
*Sundays For Families – Friendship In Art- Portland – The Portland Museum; 2/20; 12:30pm to 3:00pm; Enjoy family tours, drop-in family art making, and story time every Sunday at the Museum. In February, activities are inspired by the theme "Friendship in Art." Free for children age 17 and under, members, and with Museum admission.
*Free Puppet Show At Oregon City Burgerville- Portland ; 2/20; 2:00pm; Enjoy free family friendly puppet show at Oregon City Burgerville from Mudeye Puppet Company.
Monday February 21st:
*Free Admission Day At Portland Japanese Garden- Portland ; 2/21; 10:00am to 4:00pm; Enjoy the Japanese Garden on this Free Admission Day. Guides will be stationed throughout the Garden to help answer questions and speak about the Garden's history, culture, and traditions.
Tuesday February 22nd:
*Be Academy "A Lesson In Fun"- Portland – The Warehouse; 2/22; 1:30pm to 2:30pm; Participate in  a workshop for the young explorer, gamer, story-teller, and all around kid. This interactive fun will cover many things from: theater game
Wednesday February 23rd:
*Honeybee Happenings – Portland – Leach Botanical Society; 2/23; 10:00am to 11:00am; Weekly nature-related story time and craft activities for young children (Ages 1-6)and their parents with short outdoor explorations if weather permits. $2 per child. No pre-registration required.
NATIONAL EVENTS:
*Michaels The Knack Events – Sat. 2/19; 10:00am to Noon; Family event – T-shirt event, turn a t-shirt into a bag. Ages 12 and up.
*Free Craft Activities at Lakeshore Learning Stores – Sat 2/19; 11am -3pm; ages 3 & older. Craft is "whats the weather forecast dial".
*Barnes and Noble Celebrates Black History Month – Sat 2/19; There are a variety of storytime and other events in celebration of Black History Month and B&Ns this month. Check your local store for details on upcoming events here.