We've been talking all about finding ways to help the dinnertime rush now that kids are back in school and activities are full swing ahead and I know that I have really been on the hunt for easy but healthy dinnertime recipes. We have really started a full-blown schedule this year for the first time with sports and church activities all a distance away, along with keeping up with working from home, so I am all about finding shortcuts to help with meal preparation so that I can spend less time in the kitchen.
I headed to Safeway earlier  today and took advantage of the deal for Pillsbury Grands Biscuits for just $.66 after coupon. We love Pillsbury biscuits and this is an awesome deal, especially when you can use these as part of your main dish!
Here's how the deal works at Safeway (through 9/23/13)
Since I bought 3 of the Pillsbury Grands Biscuits, I wanted to see if I could find a dinner recipe to use with the biscuits instead of just using them as a side item.
I found a number of delicious recipes on the Pillsbury site to use with the Grands biscuits, but decided to try out the Chicken Pot Pie Puffs as it combined the chicken, biscuits and some veggies too. Chicken or turkey pot pie are one of my favorite meals, but it can be very time-consuming to make, so I am all about finding a shortcut for a meal that I love!  I have a much better chance of getting my girls to eat more veggies, too, when I can combine it as part of the entree.
I changed up the recipe just a bit just to fit our family's tastes and it was a sure-fire hit! My husband and I loved it, too, especially because it kept our portion sizes smaller so that we didn't over-eat & put too much on our plate. I think this would make a great entree to serve to guests as it comes out looking so neat & pretty with it all contained within the little pot pie! The best part – it's super easy & very few ingredients! Most of these items you should have on hand!
You can use any kind of frozen veggies or if you have fresh produce to use up, just chop it up & throw in a mixture of broccoli, zucchini, corn, and more.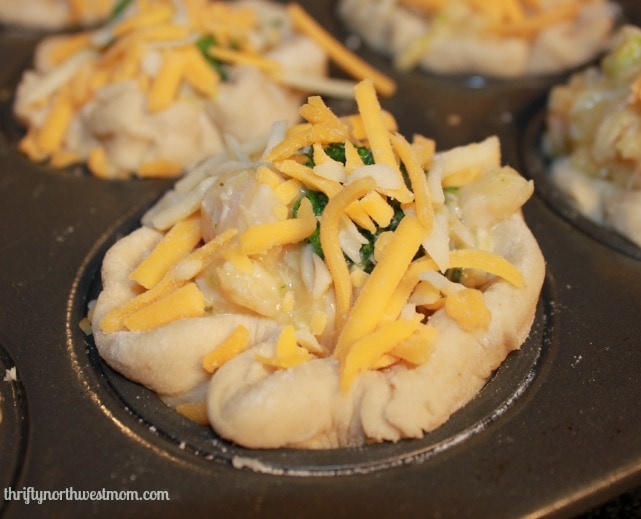 Getting ready to put the Mini Chicken Pot Pies in the oven
Ingredients
1 cup cooked, diced chicken
2 cups frozen mixed vegetables, thawed (I used a pack of frozen mixed veggies from Costco, which were bigger but I think the smaller mixed veggies would work better or just use your favorite fresh or frozen veggie)
1 can of condensed cream of chicken soup
1- 2 cans of Pillsbury Grands refrigerated biscuits (depending on how much you stuff each pot pie)
2 tsp Montreal Chicken Seasoning (you could also just use a combo of salt, pepper & onion powder to taste to add the flavor you want)
Shredded cheese (to sprinkle on top)
Instructions
Preheat oven to 375°F.
Combine thawed vegetables, chicken, soup, Montreal Chicken Seasoning in a bowl and mix well.
Roll out each biscuit into a 5 1/2 " round shape.
Grease a regular sized muffin tin.
Put each biscuit round into a muffin cup and press it down and then up along the sides.
Spoon some of the chicken mixture into each biscuit until full.
Pleat and pinch the dough at the top to help hold the mixture in.
Bake at 375 degrees for 15 minutes.
Take out & sprinkle cheese over the mini pot pies
Put back in oven for 5-7 more minutes until biscuits are golden brown.
Cool for several minutes and then remove from pan and it's ready to serve.
http://www.thriftynorthwestmom.com/mini-chicken-pot-pies-using-pillsbury-biscuits/
 If you're looking for some more yummy recipes like this using Pillsbury Grands biscuits as meal shortcuts, here are a few other yummy recipes I spotted:
You can also download the
Pillsbury Recipe booklet
for more delicious recipes from Pillsbury! Let us know what recipe looks like one you'll put on your meal rotation next!
What are your favorite recipes using biscuits? 
I was selected for this opportunity as a member of Clever Girls Collective. The content and opinions expressed here are all my own and are not indicative of the opinions or positions of General Mills. Compensation was provided by General Mills via Clever Girls Collective.