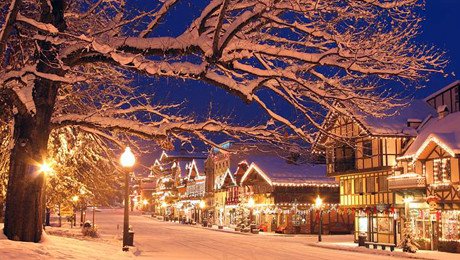 This deal is still available if you are looking for a fun Christmas outing!
If the Leavenworth Lighting Festival is on your to do list, but you don't want to hassle with the drive, you can book a trip there through Goldstar right now for half off. Tickets are currently selling for $60 (plus $8 service fee). Its a $120 value, so although its a splurge, it will help you save a bunch if this is something you have wanted to do.
The trip to and from Leavenworth is about two-and-a-half hours, so it would be nice to jump on a charter bus, and relax some before visiting Leavenworth. You will need to be able to board the charter bus downtown Seattle (by EMP).
Here is Goldstar's description of the event:
"Let Customized Tours take you to one of Washington's most popular annual holiday traditions for families: the Christmas Lighting Festival in the picturesque Bavarian-themed village of Leavenworth. During this full-day event, browse through the village's quaint shops, savor German food from the street stands offering savory creations, enjoy live outdoor entertainment, let your kids sled down the snow hill, take a horse-drawn carriage ride, and then gather at dusk (on Saturdays and Sundays) for the ceremony as the town becomes ablaze in twinkling lights. Afterward, relax back on the bus as you return home filled with the holiday spirit."
(note that things like carriage rides will cost you extra).
There are 3 dates available at this rate through Goldstar currently:
Dec. 1, Dec. 8 and Dec. 15th