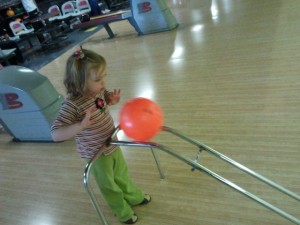 Love this option for  the younger bowlers! My 4 yr old quickly moved past using this but my 2
The Kids Bowl Free program is back again this spring & summer.  Your kids can each receive 2 FREE bowling games a day (on participating days for your local location).    All you need to do is sign up each of your kids into the Kids Bowl Free program.  You'll then be sent an email each week with coupons for 2 FREE games of bowling day for each child who's signed up.  (Make sure you've checked the box to receive the emails or you could just check in periodically on the website when you need to print off coupons).  Your individual bowling alley will have specific hours posted when you can use the free coupons. My local bowling alley allows these coupons Mon-Friday all day till midnight (or 2am on Fridays). So, you just wouldn't be able to go on Saturdays & Sundays.
You will need to still pay for shoe rental which is typically around $2 at most bowling alleys that I've gone to at least.  Make sure you check the age limit for your particular bowling alley (for example, at our local bowling alley, the age requirement is 15 & under).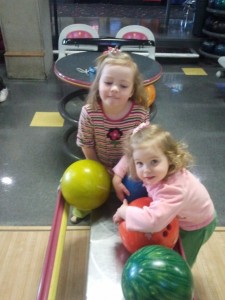 This is how a 2 year old bowls. She wants ALL the balls for herself! :)
Kids Bowl Free Locations:
There are a number of locations now in the Northwest – in Washington, Oregon & Idaho. I'm surprised to find so many more locations than when they first started a few years ago.  Find a participating "Kids Bowl Free" location near you.  This is also available in locations across Canada.
Family Pass – $24.95 for 2 Games a Day & up to 4 Adults:
If you'll be making quite a few trips to the bowling alley this summer, you will definitely want to think about purchasing the Family Pass.  This family pass is $24.95 for up to 4 adults. It's good for up to 2 bowling games a day for the whole summer.
This can work out to a significant savings, depending on whether you'll actually use it enough to be worthwhile or will regularly have several adults with you. At my local bowling alley, games run $4-5/game for adults.  So, you can see how that would add up quickly if you were playing 2 games each time you went to the bowling alley for a family with 2 adults. You'd surpass the amount of the Family Pass within just a few games.
(These pictures are from a recent trip to the local bowling alley with friends on a rainy Friday.  My 4 year old, Madalyn, has now been saying it was her favorite thing to do EVER! She's a bit dramatic & that will surely change with the next fun activity :) – but they did have a blast bowling with their friend! Definitely something fun to do on a rainy NW day!)