I recently hosted a small coupon class in my house and needed some frugal recipes for entertaining (and easy, since there was lots of planning involved in the days event). What I came up with were individual pot pies for each attendee, accompanied by some Asian salad, and then individual size apple pies for dessert.
I started by shopping at Walmart. One of the primary ingredients for the day was pie crust and I knew that they had a great price on the Great Value brand pie crust. I got each box of pie crust for $1.78! One of the things that I love about the pot pie recipe is how versatile it is. If you have leftover turkey (after Thanksgiving) or leftover chicken, this is a great way to rework it into a new meal. You can also make up the chicken and vegetable mixture (in recipe below), and top it with Great Value biscuits for an easy chicken and biscuits recipe. If you have the Great Value crescent rolls, you could use the same chicken and vegetable mixture, add to baking dish and top with rolled out crescent roll dough for more of a puff pastry style pot pie. For this party, I opted to use pie crust, as I could easily use it for mini caramel apple pie tarts too!
Both of these pie recipes were a great fit for my coupon party, because they allowed me to use more expensive ingredients more sparingly. Chicken is the most expensive ingredient in this recipe, and I would say that the chicken went twice as far in feeding people as it would have if I would have served it whole.
Here are the recipes I used for this coupon party (and stay tuned for my next post showing you how the coupon party and recipes turned out….)!
Easy Homemade Chicken Pot Pies
Ingredients
Great Value Rolled Out Pie Crust (found at Walmart) (2 boxes for mini pot pies, or one for family size pot pies)
2 cups of chicken stock
1 can of cream of chicken soup
1 lb of boneless, skinless chicken breast
2 medium potatoes - diced
1 small onion (or half a medium sized one) - diced
1 cup of carrots- diced
Half a can of corn (or 1 cup of frozen corn)
Salt
Pepper
Instructions
Boil chicken until cooked through, then shred and set aside.
In a pot add the 2 cups of chicken stock, diced carrots, diced onion and diced potatoes. Cook until soft. Add the corn, and chicken back into the mix. Add can of cream of chicken soup and a dash of salt and dash of pepper. Stir all the ingredients together and simmer, while the mixture thickens.
Preheat the oven to 400 degrees.
For one family size pot pie, roll out one sheet of pie crust and add to the bottom of a pie pan. Pat into sides, and then fill to the top with the chicken and vegetable mixture. Top off with second pie crust, and pinch sides together all the way around the pie. Cut slits in the top of the pie.
For individual sized pot pies, take six mini size pot pie tins and set out on a cookie tray. Use the top of the containers to cut two circles out of one sheet of pie crust. Line to individual size pies with it. Do the same with two more pie crusts to fill all six tins. Fill each tin with chicken and vegetable mixture. Cut remaining pie crust into strips and create a lattice top for each pie. Use a fork to press the sides into the side of the tin, for a finished look.
Bake in preheated oven for 30 minutes, or until golden brown. Remove and let cool for about 5 minutes before serving!
http://www.thriftynorthwestmom.com/great-value-pie-dough-easy-homemade-chicken-pies-and-mini-caramel-apple-pie-tarts/
and for dessert….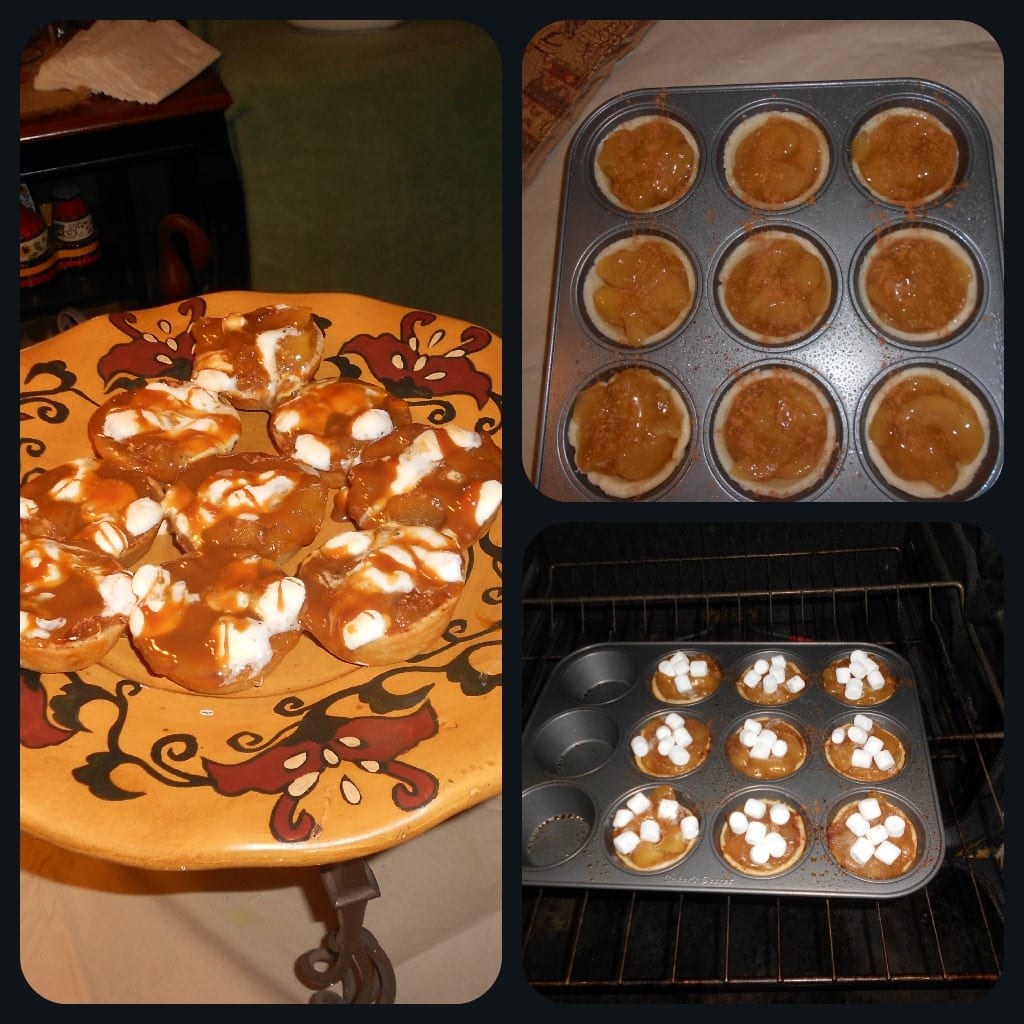 Mini Carmel Apple Pies Tarts
Ingredients
1 sheet of Great Value Pie Crust (makes 9 tarts)
1 can of apple pie filling (21 oz)
1 cup of mini marshmallows
Cinnamon
Caramel to drizzle with.
Instructions
Preheat oven to 350 degrees.
Cut 9 circles to fit in muffin tin. (I used a coffee mug, but you could also use a 3 inch cookie cutter)
Fit 9 of the circles into muffin tin to form tart crusts
Fill each pie crust with a table spoon of apple pie filling (or to top of crust)
Bake at 350 for 25 minutes, or until pie crust is slightly brown
Add around 4-5 mini marshmallows to the top of each muffin and return to over for approx. 3 more minutes (or until marshmallows turn golden in color)
Remove from oven, and drizzle each tart with caramel sauce (works best if you warm it for 30 seconds in the microwave)
Let cool for about 5-10 minutes, and you will be able to carefully remove tarts from the muffin tin and to a serving plate
Serve with whip cream!
http://www.thriftynorthwestmom.com/great-value-pie-dough-easy-homemade-chicken-pies-and-mini-caramel-apple-pie-tarts/
Disclosure: This is a sponsored post for Great Value products.  All opinions are 100% mine. See our disclosure policy  for more details.