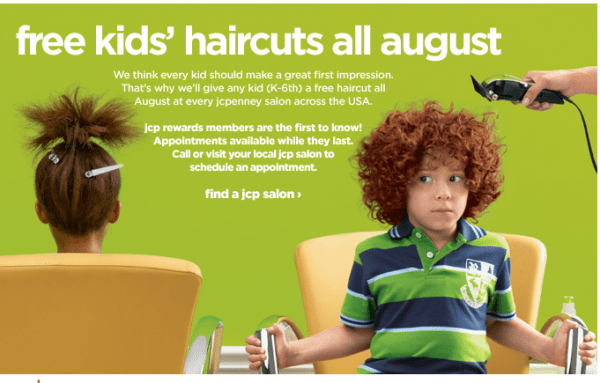 We are reposting this deal to make sure everyone gets a chance to see it. Its such a great deal, and it looks like all JCPennys are participating. FREE Haircuts through the end of this month (August)!
JCPenney sent out an email today announcing FREE haircuts for kids K-6th grade during the month of August.
This free offer is available by appointment only. Leave a comment below if you can confirm that your JCPenney location is participating! Make sure to check out our Facebook post, where readers have confirmed the following locations that are participating: Olympia, WA, Puyallup, WA; Tacoma, WA, Lynnwood (Alderwood Mall), WA; & Vancouver, WA (K-8).
Just a reminder to still make sure to tip your hairstylist for the free haircut!