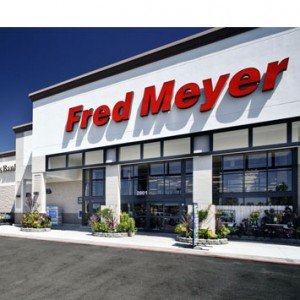 Here are this week's Fred Meyer weekly deals & coupon matchups through August 18th.
Make sure to check the store ad yourself & use the Thrifty NW Mom Coupon Database if there are specific sale items that you'd like to match with a coupon.
You can use E-coupons paired with Fred Meyer store coupons. So, make sure to load E-coupons from these sites to your Fred Meyer card before you go: Shortcuts.com, Cellfire.com & FredMeyer.com. You can no longer pair E-coupons with manufacturer coupons, though.
Fred Meyer Coupon Policy:
Fred Meyer has their coupon policy online, which means that you can print it off & stash it away in your coupon binder. One important change to their coupon policy recently – you can use Catalina coupons from other stores at Fred Meyer! Another recent change is that only 2 internet coupons per manufacturer, per customer, per day will be accepted.
Friends & Family Pass (8/10 – 8/16):
The Fred Meyer Friends & Family Pass is a  printable coupon you can print off & then use again & again throughout the 6 days for the Friends & Family sale.  Savings you can get include:
20% of Apparel, Accessories, Shoes
15% Home Dept, including School Supplies, Toys, Auto, Garden, and Sporting Goods
10% Home Electronics
10% Nutrition Center
10% Private Brand Products (Fred Meyer, Kroger, Big K, Private Selection, Mountain Dairy, and more)
20% off Fine Jewelry
20% off Clearance Jewelry (make sure to check out exclusions for jewelry)
$10 off $50 when you buy any mix of Home Electronics, Music & Video Games
*** These are our favorite deals of the week!
Produce
Cantaloupe – $.48/lb***
Red Cherries – $1.48/lb***
Fresh Selections Mushrooms, 8 oz – $1.50***
Dairy & Deli
Fred Meyer Large Eggs, 12 ct – $1.39 (with in-ad coupon, limit 2)
Fred Meyer Cottage Cheese or Sour Cream, 24 oz – $1.88
Meat & Seafood
Foster Farms Split Chicken Breasts, bone in – $1.49/lb***
New York Steaks – $5.97/lb
Other Grocery Deals
Chicken of the Sea Chunk Light Tuna – $.59 (with in-ad coupon, limit 4)***
Fred Meyer Tender Twist Bread – $.99***
Ragu Pasta Sauce – $1.50
Buy 2
Use $.50/2 coupon from 7/29 Red Plum insert
Final Price:  2/$2.50 ($1.25 each)
Ocean Spray Juice Cocktail – 3/$5 (about $1.67 each, with in-ad coupon, limit 3)
Doritos – $1.88 (with in-ad coupon, limit 2)
Cascadian Farm Organic Cereal – $2.99
Use $.75/1 printable coupon from coupons.com
Final Price:  $2.24
Household/ Health & Beauty
Hefty One Zip Storage Bags, 13-22 ct – $1.00
Buy 2
Use $1/2 coupon from 5/13 Smartsource insert
Final Price:  2/$1.00 ($.50 each)***
Kroger Bandages or Cotton Balls – $1.00
Speed Stick or Lady Speed Stick – $1.99
Use $1/1 coupon from 8/12 Smartsource insert
Final Price:  $.99
Arm & Hammer Laundry Detergent – $2.50 (with in-ad coupon, limit 2)
Buy 2
Use $1/2 coupon for Power Paks from 6/17 or 8/12 Smartsource insert OR
$.75/2 coupon from 7/15 Smartsource insert
Final Price:  as low as 2/$4 ($2.00 each)
Clean & Clear – $3.29
Use $1.50/1 coupon from 7/29 Red Plum insert
Final Price:  $1.79
Everyday Living Bath Towel – $4.49
Microfiber 2-Pack Bed Pillows – $5.99***
Apparel, Shoes & Accessories
** Bonus Coupon:   Extra 15% off Apparel, Shoes & Accessories for Men, Women & Kids**
Converse Shoes for Men, Women & Kids – Extra $10 off (with in-ad coupon)
Skechers – Extra $10 off (with in-store coupon)
* Earn $2 for your school when you buy Skechers this week
Kids Korner Mix & Match Playwear – $4.99 – $5.99
Men's Russell Tees, Tanks & Sleeveless Tops – 3/$18 ($6 each with in-store coupon, may need to buy 3 for this price)
Young Men's Fission Basic Tees – $6.99
Junior energie Basic Tanks – $7.99
Junior One Step Up Leggings – $7.99
Wallflower Lace Tops or Tanks – $10.99
Bras from Bali, barely there & Playtex – $18.99
Toys, Movies & Electronics
** Bonus Coupon:  Take an Extra 20% off Toys **
Toy Clearance Sale – Extra 40% off Lowest Marked Clearance Price
Home Electronics Clearance Sale – Extra 40% off Lowest Marked Clearance Price
The Hunger Games – $4.99 (DVD) or $9.99 (2-Disc Blu-ray Digital Copy) with purchase of (1) Schick Hydro Silk or Hydro 5 AND (1) Energizer Ultimate Lithium AA/AAA Battery 4-Pack (with in-store manufacturers coupon, valid through 8/25/12)
** Midnight Release Friday, August 17th – FREE Hunger Games poster to first 100 Customers**
Xbox 360 250GB Kinect Bundle – $399.99
* Get $50 Fred meyer Gift Card with purchase & in-store coupon
Seasonal
SUMMER/GARDEN/OUTDOORS
Patio Furniture – Extra 40% off Lowest Clearance Price
BACK TO SCHOOL
Top Flight 70-Sheet Spiral Notebooks – $.10 (Price Blaster, limit 10)
24-Pack Crayola Crayons – $.49 (Price Blaster, limit 4)***
100-Sheet Composition Book – $.50 (Price Blaster, limit 4)***
School Essentials (Crayola Chalk, Pencil Pouch, Memo Books, Mini Composition Books, Erasers & Pencil Sharpeners pictured) – $.50
School Essentials (Book Cover, Ruler, Scissors, Scotch Glue Sticks, Colored Pencils pictured) – $.99
Office Works Glue Sticks – $.89 (Price Blaster)
PNY 4GB Attache Flash Drive – $4.99***
Backpacks (regularly $30) – $14.99
Other In-Ad Coupons & Offers
Art & Craft Supplies and Sewing Notions – Save 20% (with in-ad coupon)
Dutch Boy Gallon Paint – $3 off regular price + $5 mail-in rebate