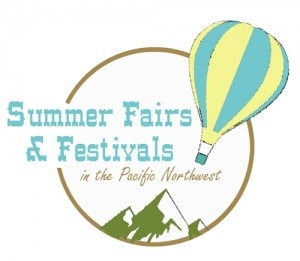 We're back this year with a roundup of the best festivals & fairs around the Northwest. I've teamed up again with Angela from Frugal Living NW & Karrie from Happy Moneysaver to bring you a list of all the summer fairs & festivals for Washington & Oregon!
There are a number of 4th of July events happening in almost every community & I only listed a few of the larger events, so make sure to check with your own community to see what they have going on. You can also check out this comprehensive list of 4th of July events around the Puget Sound area.
If you see an event that I missed, leave a comment & I'll add it to the post! Let us know what your favorites are, too, and what you like about them!
Here's what you'll find:
Thrifty NW Mom – Festivals & Fairs around the Puget Sound area (from Whatcom County – Lewis County)
Frugal Living NW - Festivals & Fairs  for southwest Washington & western Oregon
Happy Moneysaver – Festivals & Fairs for central/eastern Washington and central/eastern Oregon
Don't forget that you'll find the best frugal family events & activities going on around the Northwest, as well as national events, each Friday morning! 
King County:
Lake Union Wooden Boat Festival - June 30th- July 4th; Lake Union park; Free admission, free boat ride, food, music & more
Fireworks at Emerald Downs - July 3rd; Auburn; Come for the day & enjoy the races (only adults will pay admission) or just come after the races to enjoy the fireworks for free. 
Family 4th of July at Lake Union - Seattle; starts at noon with family activities, entertainment, & more. The fireworks show will be at 10pm
Kent Cornucopia Days - July 12th – 15th; Street fair, Dragon Boat races, Farmers Market & more
West Seattle SummerFest - July 13th – 15th; free 3 day street fair
Redmond Derby Days - July 13th – 15th
Chinatown International District DragonFest - July 14th & 15th; Seattle
Bite of Seattle - July 20th – 22nd; Seattle Center
Covington Days - July  20th – 22nd (doesn't show ending date on website, but it was 3 days last year); Covington;
Vashon Island Strawberry Festival - July 20th – 22nd
White Center Jubilee Days - July 14th – 21st
Enumclaw Street Fair – July  20th & 21st; street fair, entertainment, food, carnival
Renton River Days - July 27th – 29th; Entertainment, Art show & art market, food, kids zone, quilt show & more
Bellevue Festival of the Arts & Sixth Street Fair -   July 27th – 29th;  Bellevue; free admission, outdoor show
Scottish Highland Games - July  27th – 29th; Enumclaw
King County Fair -  August 2nd – 5th, Enumclaw
Seafair - August 1st – 5th; Blue Angels performance on Fri, Sat & Sun; Airshow, Parade of Ships (Wed) & much more
Lake City Pioneer Days - Saturday August 4th; parade, street fair, salmon bake & more
Festival of Mt Si - August 10th – 12th; North Bend
Auburn Good Ol' Days - August 10th – 12th, Auburn
Snoqualmie Railroad Days - August 17th – 19th; Snoqualmie
Renton Art & Antique Walk - August 25th; Renton
Bumbershoot – Seattle's Music & Arts Festival - September 1st – 3rd; Seattle Center
Pierce County:
Snohomish County:
Skagit County:
Island County:
San Juan County:
Whatcom County:
Thurston County:
Lewis County:
Kitsap County:
Grays Harbor County:
Mason County:
Jefferson County:
Clallam County:
Pacific County:
So, what's on your list to check out this year! What are your favorite festivals around the Northwest? Let us know if we missed an awesome festival we should share!