Disney on Ice is back in the Northwest this year with their "Dare to Dream" performance. This performance will be perfect for all of your little princesses as they will begin the show with an aerialist act with Rapunzel & Flynn Rider, then a royal ball with Cinderella, a beautiful lighting display in Tiana's New Orleans bayou & they will finish off with a grand finale with all the Disney princesses.  Now, Disney on Ice is definitely not a frugal experience, but we know that so many of you save in many areas of life so you can be able to do some of these special opportunities with your kids. However, since it can be pretty spendy, we are always looking for discounts & ways to bring the costs down for this fun experience.
Dates for the northwest Disney on Ice "Dare to Dream" Performances:
Kennewick, WA Toyota Center – October 18th – 21st
Portland OR Rose Garden – October 25th – 28th
Everett WA Comcast Arena – November 1st – 4th
Kent, WA ShoWare Center – November 7th – 11th
Spokane WA Spokane Arena – November 14th – 18th
Vancouver, British Columbia, Pacific National Exhibition – November 21st – 25th
Boise, ID, Taco Bell Arena – November 29th – December 2nd
Discounted Ticket Options:
Everett & Kent, WA Shows:
1) Discounted Kids Tickets: There are select shows offering discounted kids tickets for $12/ea on select seats. These are available for kids ages 2 – 12 and only available for the following shows:
Everett: Friday 7:30pm, Saturday 11:30am & Sunday 5pm
Kent: Thursday 7:30pm, Friday 7:30pm, Saturday 11:30am, Sunday 11:30am & Sunday 7:30pm
2) Two FREE tickets with donation to Wigs for Kids – Donate at least 10″ of your hair (either braided or in a ponytail to Wigs for Kids & you will receive a voucher redeemable for  2 FREE tickets to the Everett or Kent locations for Disney on Ice. You can donate your hair at a participating salon from October 18th through November 6th. Once you donate your hair, you're welcome to get a haircut at that participating salon. If you'd rather get your hair cut at another location, you can just drop off your hair at one of these salons. All of these donations for Wigs for Kids will benefit children suffering from medically-related hair loss.
Participating Salons:
Salon Azur – Seattle, WA
Absolut Hair – Everett, WA
Salon Bella Dea – Auburn, WA
Kennewick, WA (Tri-Cities) Shows:
1) $5 off Tickets - Use the coupon code: WANTED to get $5 off each online ticket. Thanks Happy Moneysaver!
Here are a few pictures from the Disney on Ice Toy Story show we attended last year:
We went to the Disney on Ice show last year which featured the Toy Story 3 Cast & my girls were completely enthralled with the performance. These shows are truly spectacular especially for those who don't have the opportunity to head to Disneyland or Disney World on vacation. You definitely feel a part of the magic of Disney when you attend one of these shows! I love watching their skilled ice skating skills while dancing in these beautiful costumes. They're just so graceful!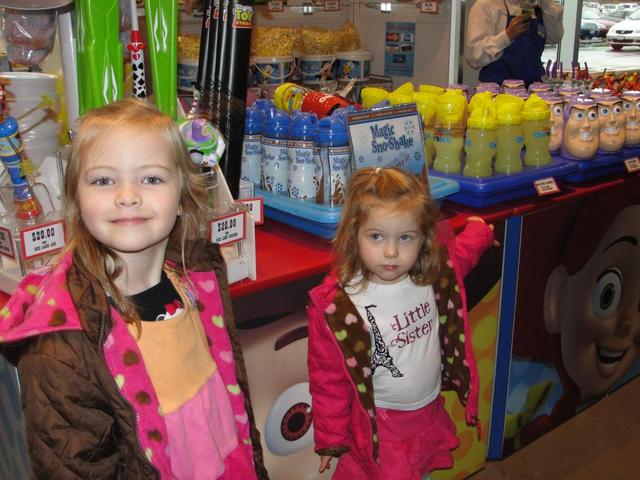 Saving Money at Disney On Ice:
If you have a specific budget for this event, make sure to consider beforehand whether or not you will be food or souvenirs. This is where you can really blow your budget by giving in to all the fun items they have featured before, during, & after the performance. We let our girls know ahead of time whether or not we were going to buy a souvenir & what the limit was if we did allow them to buy 1 thing. Otherwise, we would have dealt with the begging at the end (although they still insisted on wanting their picture in front of these fun items & wanted to look around).
Another idea is to buy something ahead of time from the Disney Store & then you can bring that to the show in a backpack & give the item to your child there if you really want to give your child a special gift to remember the experience, but don't want to pay the high prices you'll find at the venue.
We also make sure to eat before we leave (depending on the time of the performance) or maybe go out to lunch or dinner (using some restaurant coupons, of course) after the performance if we want to make it a special outing, but we're getting more options & paying less than the venue prices and the food is better, too! :)
How many of you are wanting to take your kids to Disney on Ice this year! Let us know if you hear of any other special discounts!