Coupons for Restaurant – Save on dining with these restaurant discounts & coupons!
Here are this week's best restaurant discounts if you're wanting to head out to eat this weekend! You'll find restaurant coupons (both mobile & printable), discounts & specials offered and more!
If you have a birthday coming up, make sure to check out our big list of birthday freebies you can sign up for now, to make sure you'll receive them in time for your birthday. You should allow at least several weeks to get into their system to start receiving your birthday freebies.
For the most recent restaurant discounts and coupons that we share, make sure to check out our category of restaurant deals, too.
Kids Eat FREE (or almost free) List around the Northwest:
If you missed it, make sure to check out our BIG Kids Eat Free list for restaurants around the Northwest and around the country!! We'd love to hear if you know of any local restaurants we should add to our list too.  You can get a FREE printable of our Kids Eat Free list by signing up for our email list, too – find out more details & what email lists we offer.
Restaurant Printable Coupons & Deals:
Applebees – $10 Bonus Card WYB $50 in Gift Cards (Expires 7/3/2016)
Carls Jr – Buy 1 Get 1 Free Grilled Burrito El Diablo + More (Expires 5/31/2016)
Chipotle – Buy $25 or More in Gift Cards and get a FREE Burrito, Bowl, Salad, or Tacos at a later date.
Chuck E. Cheese – $1.00 Off a Salad Bar or Lunch Buffet, $2.00 Off a Pizza, and More (Expires 6/6/2016)
Hardees – Buy 1 Get 1 Free Grilled Burrito El Diablo + More (Expires 5/31/2016)
Kidd Valley – Buy 1 Burger, Get 1 FREE (Valid on 5/28/6 Only)
Olive Garden – Buy One, Take One Promotion (Expires 10/4/2016)
Outback Steakhouse – $5.00 Off 2 Dinner Entrees (Expires 5/29/2016)
Outback Steakhouse – $10 Bonus Card WYB $50 in Gift Cards (Expires 6/19/2016)
Outback Steakhouse – Free Upgrade to a Larger Size Sirloin Steak (Expires 6/21/2016)
Panera Bread – $10 Bonus Card WYB $50 in Gift Cards (Expires 5/31/2016)
Red Lobster – $4.00 Off Any 2 Adult Dinner Entrees, $3.00 Off Any 2 Adult Lunch Entrees, $2.00 Off 1 Adult Dinner Entree, or $1.50 Off 1 Adult Lunch Entree (Expires 6/5/2016)
Red Robin – 50% Off ANY Gourmet Burger WYB an Additional Burger, Full-Size Salad, Sandwich, or Entree (Excludes Tavern Burgers and Cheese Lovers Lineup) with Red Robin Royalty Rewards Card (Expires 5/29/2016)
Subway – FREE Six-Inch Subway Breakfaasts Sandwich WYB Any Sub Before 9am – No coupon needed (Expires 5/31/2016)
Taco Bell – Free Doritos Locos Taco with $10+ Online Order (Expires 6/1/2016)
Cash-Back Savings:
Ibotta, a cash-back app,  rewards you for shopping at different retailers & buying specific products, also now offers some restaurant discounts & movie discounts. You'll need to make sure to save your receipt & check your Ibotta app when you're at the restaurant or theater to see if there are any special items you need to order.
Groupon Pages:
You all know how much we love Groupon and we're excited about a new feature that they have launched called Groupon Pages. Pages is a directory of businesses around the country, which includes thousands of restaurants. This is basically like a directory of information for that business or restaurant.  So, you can find everything you wanted to know about that restaurant without having to go to several other sites to find out all that info  – it's all in one place with general restaurant information, reviews & pictures of the food from the restaurant & surrounding businesses/places of interest.
The best way to find a Groupon Page for your favorite restaurant is to search for it in the "search" bar and make sure you list the city in the location. If they have a Page for your favorite restaurant, then it will show up with a grey bar and you just click the grey bar (pictured above) to head directly to that business' page.
Here's what each restaurant's page includes::
Basic information about that restaurant (address, whether they take credit cards, etc)
Tips for what to order
Reviews of that restaurant
Links to Groupon Deals
and more….
Follow a Restaurant for Deal Alerts:
My personal favorite feature of Groupon Pages is the alerts you will receive when you choose to "follow" your favorite restaurants. You can go through the list and find your favorite restaurants to follow and by doing that, you will be notified the next time they run a deal through Groupon. I love this as I have certain restaurants that I always hope to see a Groupon deal for and this way, you make sure you won't miss it!
Groupon Pages also provides a map of where the restaurant can be found and other places close by. This is super helpful especially if you are on a mobile device & traveling to the restaurant. You can see where you need to go without having to go to their website, find the address & go to your maps to get directions. You can look on the map to see a quick view of where the restaurant is located.
Plus check out pictures along with the reviews to give you an even better idea of the types of food you'll find at the restaurant. That's one of my favorite features of review sites, being able to see pictures of some of the food dishes to convince you to try that restaurant!
Here are a few popular Seattle restaurants to check out their Groupon Pages::
Veraci Pizza – Seattle
The Boars Nest – Seattle
The Shanty Cafe – Seattle
Let us know if you find any additional restaurant coupons we should add to our list!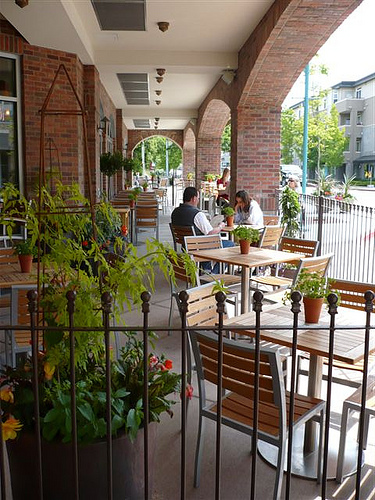 Disclosure: This post is sponsored by Groupon.  All opinions are 100% mine. See our disclosure policy  for more details.