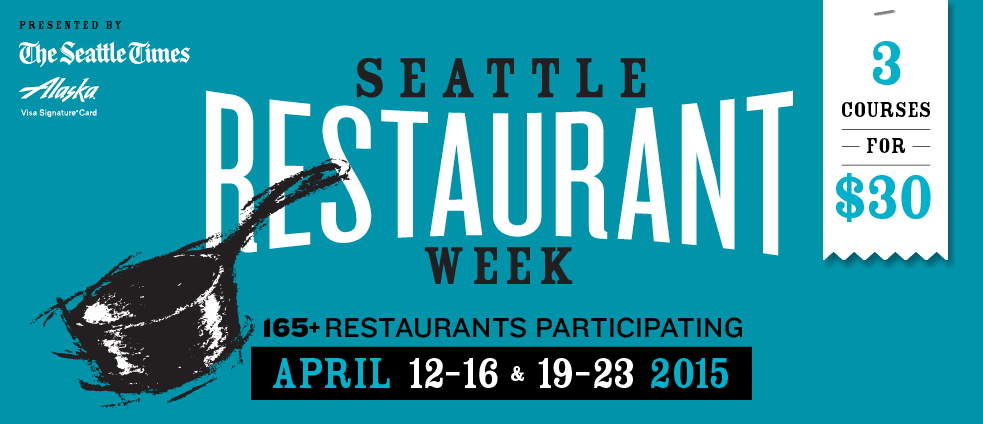 The Seattle Restaurant Week happens twice a year – every October and April & it's back again this April.   For 10 days, Sunday -Thursday (April 12th – 16th & April 19th – 23rd), over 165 Seattle area restaurants will be offering 3 course dinners for just $30 (and a number of them will offer 2 course lunches for just $15).
This is a chance to check out a restaurant that you've been interested in!!  Find out all the details over at the Seattle Restaurant Week website.  You can find out more on their Facebook Fan page as well. This event is very popular every year, so its a good idea to start thinking about making reservations now if you're interested in trying out one of the more popular restaurants.
Make sure to check out these other cities offering a special restaurant week / month:
Tacoma Restaurant week - this will be going on during the same timeframe this year at Seattle Restaurant week with over 25 participating locations
Portland Dining Month – This is the tail end of this, but it's going on for a few more days through the end of March. But make sure to mark it on your calendars for next March 2016, too.
If you have not participated in Seattle's Restaurant Week in the past here is how it works:
Seattle Restaurant Week is hugely popular around here so it is important that you make your reservations as soon as possible if you want to get in to some of the restaurants.
Examples of restaurants included:
Anthony's Homeport Shilshole Bay (this place has the most amazing view of the sunset over the water!!)
Barking Frog
Bastille Cafe & Bar
Bin on the Lake
Crow Restaurant (this is only a few blocks from Key Arena & it has amazing food! Great place to head before a concert or game)
BOKA Kitchen & Bar
CRUSH
Dahlia Lounge
The Melting Pot
Mortons Steakhouse
Salish Lodge & Spa
The Georgianne
Tilth….and many, many more!
If you are going or have checked out the list, what are some restaurants that  you would recommend?