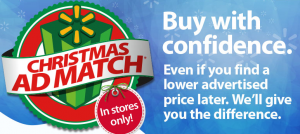 Walmart Online Christmas Ad Match Policy for 2013
As we mentioned earlier this month, Walmart is offering a special price-matching policy for the Christmas season called their  Christmas Walmart Ad Match program.  If you find a lower advertised price later, Walmart will give you the difference (in the form of a Walmart Gift Card).  This is in effect from November 1st – December 24th (excluding Thanksgiving Day and Black Friday)!
However, they have now announced that this policy is also in effect for those customers who purchase items on Walmart.com.  If you find a lower price at a local competitor store, then you need to contact Walmart and then you will receive a gift card with the difference between the two prices.
Here's how it works::
In Store at Walmart: If you make a  purchase at a local Walmart & find the price cheaper elsewhere between 11/1 & 12/24, bring in your receipt and a copy of the competitor's printed ad. You will then get a Walmart gift card with the difference.
Walmart.com: If you make a purchase at Walmart.com & find the price cheaper at another local retailer between 11/1 & 12/24 (with the exception of Thanksgiving/Black Friday), you can also get the gift card difference sent to you.
Here's how:
Send an email to christmasadmatch@walmart.com . Include the Order Confirmation # from your Walmart.com Purchase
Include in your email: the item name, the competitor's item price, name of the retailer, store zipcode, ad date range, page number featuring the item within the ad.
You will then get a Amazon Gift Card in the mail to use at school.
Fine Print:
You must send your email about the Christmas ad match during the time that the competitor's ad is current. (You cannot wait a week and then send the email after the ad is no longer valid )
This does not include online retailers or online prices. You can only get the Christmas Ad match for local competitor stores using the printed ads.
You must use the same email address to request the Ad Match that you ordered the item from Walmart.com
The deal from the competitor must be in the same zipcode as the ship-to address for your purchase from Walmart.com (I'm not sure how much of a stickler they will be on this or if it just needs to be in the general area for the zipcode. I know I do not have a store in my actual zipcode)
Price Match Policy for Thanksgiving / Black Friday only:
As we mentioned up above, this Christmas Ad Match policy will NOT work for Thanksgiving or Black Friday. However, they will be offering their standard price matching policy.  This means that you can bring in the Black Friday ads for other stores & if you find that exact product cheaper at another store, then Walmart will price-match that price on Thanksgiving/Black Friday. 
Make sure to read all the FAQ about the Christmas Ad Match policy online.