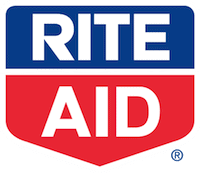 Here are the Top 10 deals from this week's Rite Aid ad starting Sunday.  Find the full list of  Rite Aid coupon matchups and store sales for this week.  You can use the full list to make your grocery shopping list, by checking the deals you're interested in & then sending the list by email or printing the list.
Find more tips for shopping at Rite Aid at the bottom of this Top 10 list.
Prices and sales may vary by store.
Rite Aid +UP Rewards
Buy $15 in participating Unilever products, Get $5 +UP, Limit 2; Offer expires 8/2/14
Axe Antiperspirant Deodorant or Body Spray – $4.00
2/$8.00 (or $4.79 Each)Excludes: Twin pk and Trial sizes
Out-of-Pocket Price:
$2.00
Buy 2 Body Spray & 2 Deodorant; Use (2) B1G1 Coupons; Includes $5 +UP Rewards
Simple Cleansers and Wipes – $5.00
Includes: Select varieties with regular retail $6.99 – $8.29
Out-of-Pocket Price:
$2.67
Buy 3 (1 must be wipes); Use (1) $2/1 Coupon and (1) B1G1 Coupon; Includes $5 +UP Rewards
Buy $7 in participating Nivea products, Get $2 +UP, Limit 2
Nivea for Men Shave Gels, Foams or Creams – $2.50
$1.00/1 Nivea Men Shave Gel or Foam, 7.8 oz – 7-27-14 RP – (exp. 08/10/14)
Out-of-Pocket Price:
$1.50
Buy 3; Use (3) $1/1 Coupons; Includes $2 +UP Rewards
Buy 1 participating BIC Razor, Get $2 +UP, Limit 2
BIC Disposable Razors – $5.99
Includes: All varieties
$3.00/1 BIC Disposable Razor; Excludes Trial and Travel Size – 7-27-14 SS – (exp. 08/23/14)
Out-of-Pocket Price:
$2.99
Buy 1; Use $3/1 Coupon; Includes $2 +UP Rewards
Buy 1 participating Crest or Oral-B product, Get $2.50 +UP, Limit 2
Crest 3D White 4 oz, Pro-Health 4.2 oz or Complete 4 – 6.2 oz Toothpaste – $3.00
$0.50/1 Crest Toothpaste or Liquid Gel, 3 oz or Larger; Excludes Trial and Travel Size, Cavity, Baking Soda, and Tartar Control; Limit of 4 Like Coupons Per Household Per Day – 7-27-14 PG – (exp. 08/31/14)

$0.50/1 Crest Toothpastes, 3 oz or Larger; Crest Rinse, 237 mL or Larger; Oral-B Glide Floss, 35 M; or Glide Floss Picks, 30 ct or Larger; Excludes Trial and Travel Size; Limit of 4 Like Coupons Per Household Per Day – 7-6-14 PG – (exp. 07/31/14)

$0.75/1 Crest Toothpaste, 3 oz or Larger or Liquid Gel; Excludes Cavity, Baking Soda, and Tartar Control; Excludes Trial and Travel Size; Limit of 4 Like Coupons Per Household Per Day – 7-13-14 RP – (exp. 08/31/14)

$1.00/2 Crest Toothpastes, 3 oz or Larger; Crest Rinse, 237 mL or Larger; Oral-B Glide Floss, 35 M; or Glide Floss Picks, 30 ct or Larger; Excludes Trial and Travel Size; Limit of 4 Like Coupons Per Household Per Day – 7-6-14 PG – (exp. 07/31/14)

$1.50/2 Crest Toothpaste, 3 oz or Larger or Liquid Gel; Excludes Cavity, Baking Soda, and Tartar Control; Excludes Trial and Travel Size; Limit of 4 Like Coupons Per Household Per Day – 7-13-14 RP – (exp. 08/31/14)

$2.00/3 Crest Toothpastes, 3 oz or Larger; Crest Rinse, 237 mL or Larger; Oral-B Glide Floss, 35 M; or Glide Floss Picks, 30 ct or Larger; Excludes Trial and Travel Size; Limit of 4 Like Coupons Per Household Per Day – 7-6-14 PG – (exp. 07/31/14)
Out-of-Pocket Price:
$2.25
Buy 1; Use $0.75/1 Coupon; Includes $2.50 +UP Rewards
Glide Floss, 38.2 – 54.6yds or Floss Picks, 75 ct – $3.00
$0.50/1 Oral-B Glide Floss or Floss Picks, 30 ct or Higher; Excludes Trial and Travel Size; Limit of 4 Like Coupons Per Household Per Day
$0.50/1 Oral-B Glide Floss, 35 m or Larger, or Oral-B Glide Floss Picks, 30 ct or Higher; Excludes Trial or Travel Size; Limit of 4 Like Coupons Per Household Per Day

$0.50/1 Crest Toothpastes, 3 oz or Larger; Crest Rinse, 237 mL or Larger; Oral-B Glide Floss, 35 M; or Glide Floss Picks, 30 ct or Larger; Excludes Trial and Travel Size; Limit of 4 Like Coupons Per Household Per Day – 7-6-14 PG – (exp. 07/31/14)

$0.50/1 Oral-B Glide Floss, 35 m or Larger or Glide Floss Picks, 30 ct or Larger; Excludes Trial and Travel Size; Limit of 4 Like Coupons Per Household Per Day – 7-27-14 PG – (exp. 08/31/14)

$1.00/1 Oral-B Glide Floss, 35 M+ or Glide Floss Picks, 30 ct or Larger; Excludes Trial and Travel Size; Limit of 4 Like Coupons Per Household Per Day – 6-29-14 RP – (exp. 07/31/14)

$1.00/2 Crest Toothpastes, 3 oz or Larger; Crest Rinse, 237 mL or Larger; Oral-B Glide Floss, 35 M; or Glide Floss Picks, 30 ct or Larger; Excludes Trial and Travel Size; Limit of 4 Like Coupons Per Household Per Day – 7-6-14 PG – (exp. 07/31/14)

$2.00/3 Crest Toothpastes, 3 oz or Larger; Crest Rinse, 237 mL or Larger; Oral-B Glide Floss, 35 M; or Glide Floss Picks, 30 ct or Larger; Excludes Trial and Travel Size; Limit of 4 Like Coupons Per Household Per Day – 7-6-14 PG – (exp. 07/31/14)
Out-of-Pocket Price:
$2.00
Buy 1; Use $1/1 Coupon; Includes $2.50 +UP Rewards
Oral-B Manual Toothbrush – $3.00
Includes: 3D White, ProHealth or Complete; Excludes: Proflex or Clinical
$1.50/2 Oral-B Toothbrushes; Includes Sensi, Pro-Health, Complete, or 3D; Excludes Trial and Travel Size; Limit of 4 Like Coupons Per Household Per Day
$1.50/2 Oral B Sensi, ProHealth Complete, or 3D White Toothbrushes; Excludes Trial or Travel Size; Limit of 4 Like Coupons Per Household Per Day

$0.50/1 Oral-B Pulsar, 3D White, Pro-Health, Complete, or Sensi-Soft or (2) Indicator or Cavity Defense Toothbrushes; Excludes Trial and Travel Size; Limit of 4 Like Coupons Per Household Per Day – 7-27-14 PG – (exp. 08/31/14)

$0.75/1 Oral-B Pulsar, 3D White, Pro-Health, Complete, or (2) Indicator or Cavity Defense Toothbrushes; Excludes Trial and Travel Size; Limit of 4 Like Coupons Per Household Per Day – 7-13-14 RP – (exp. 08/31/14)

$0.75/1 Oral-B Pulsar, 3D White, Pro-Health, Complete, or (2) Indicator or Cavity Defense Toothbrushes; Excludes Trial and Travel Size; Limit of 4 Like Coupons Per Household Per Day – 7-6-14 PG – (exp. 07/31/14)

$1.50/2 Oral-B Pulsar, 3D White, Pro-Health, Complete, or (2) Indicator or Cavity Defense Toothbrushes; Excludes Trial and Travel Size; Limit of 4 Like Coupons Per Household Per Day – 7-13-14 RP – (exp. 08/31/14)
Out-of-Pocket Price:
$2.25
Buy 1; Use $0.75/1 Coupon; Includes $2.50 +UP Rewards
Buy 1 participating Monistat or e.p.t. product, Get $10 +UP, Limit 1
Includes: All varieties; Pictured: Complete Home Fertility Kit
Out-of-Pocket Price:
$9.99
Buy Complete Home Fertility Kit; Use $5/1 Coupon; Includes $10 +UP Rewards
Buy 1 participating Oral-B Battery Powered Toothbrush, Get $4 +UP, Limit 2
Oral-B Complete or 3D White Battery Powered Toothbrush, 1 ct – $6.00
$2.00/1 Oral-B Adult Battery Toothbrush; Excludes Trial and Travel Size; Limit of 4 Like Coupons Per Household Per Day – 7-27-14 PG – (exp. 08/31/14)
Out-of-Pocket Price:
$4.00
Buy 1; Use $2/1 Coupon; Includes $4 +UP Rewards
Multi-Item Deals
Buy $30 in Participating P&G Products, Get A $10 Gas Card; Gas Cards will be sent via Mail; Limit 1 Offer per Household
Crest Clinical or 3D White Oral Rinse, 473 mL – $3.99
Buy 1 participating Crest Oral Rinse product, Get $3 +UP, Limit 2
$0.50/1 Crest Rinse, 327 mL or Larger; Excludes Trial and Travel Size; Limit of 4 Like Coupons Per Household Per Day – 7-27-14 PG – (exp. 08/31/14)

$0.50/1 Crest Toothpastes, 3 oz or Larger; Crest Rinse, 237 mL or Larger; Oral-B Glide Floss, 35 M; or Glide Floss Picks, 30 ct or Larger; Excludes Trial and Travel Size; Limit of 4 Like Coupons Per Household Per Day – 7-6-14 PG – (exp. 07/31/14)

$1.00/1 Crest Rinse, 327 mL or Larger; Excludes Trial and Travel Size; Limit of 4 Like Coupons Per Household Per Day – 7-13-14 RP – (exp. 08/31/14)

$1.00/2 Crest Toothpastes, 3 oz or Larger; Crest Rinse, 237 mL or Larger; Oral-B Glide Floss, 35 M; or Glide Floss Picks, 30 ct or Larger; Excludes Trial and Travel Size; Limit of 4 Like Coupons Per Household Per Day – 7-6-14 PG – (exp. 07/31/14)

$2.00/3 Crest Toothpastes, 3 oz or Larger; Crest Rinse, 237 mL or Larger; Oral-B Glide Floss, 35 M; or Glide Floss Picks, 30 ct or Larger; Excludes Trial and Travel Size; Limit of 4 Like Coupons Per Household Per Day – 7-6-14 PG – (exp. 07/31/14)
Out-of-Pocket Price:
$2.99
Buy 1; Use $1/1 Coupon; Includes $3 +UP Rewards; Additional Gas Card Savings wyb $30 in participating items
Crest Pro-Health Oral Rinse, 1 L – $3.99
Buy 1 participating Crest Oral Rinse product, Get $3 +UP, Limit 2
$1.00/1 Crest ProHealth Rinse, 500 mL or Larger; Excludes Trial and Travel Size; Limit of 4 Like Coupons Per Household Per Day
$2.00/2 Crest ProHealth Rinses, 500 mL or Larger; Excludes Trial and Travel Size; Limit of 4 Like Coupons Per Household Per Day
$1.00/1 Crest ProHealth Rinse; Excludes Trial or Travel Size; Limit of 4 Like Coupons Per Household Per Day

$0.50/1 Crest Rinse, 327 mL or Larger; Excludes Trial and Travel Size; Limit of 4 Like Coupons Per Household Per Day – 7-27-14 PG – (exp. 08/31/14)

$0.50/1 Crest Toothpastes, 3 oz or Larger; Crest Rinse, 237 mL or Larger; Oral-B Glide Floss, 35 M; or Glide Floss Picks, 30 ct or Larger; Excludes Trial and Travel Size; Limit of 4 Like Coupons Per Household Per Day – 7-6-14 PG – (exp. 07/31/14)

$1.00/1 Crest Rinse, 327 mL or Larger; Excludes Trial and Travel Size; Limit of 4 Like Coupons Per Household Per Day – 7-13-14 RP – (exp. 08/31/14)

$1.00/1 Crest Rinse, 500 mL or Larger; Excludes Trial and Travel Size; Limit of 4 Like Coupons Per Household Per Day – 6-15-14 RP – (exp. 07/31/14)

$2.00/3 Crest Toothpastes, 3 oz or Larger; Crest Rinse, 237 mL or Larger; Oral-B Glide Floss, 35 M; or Glide Floss Picks, 30 ct or Larger; Excludes Trial and Travel Size; Limit of 4 Like Coupons Per Household Per Day – 7-6-14 PG – (exp. 07/31/14)
Out-of-Pocket Price:
$2.99
Buy 1; Use $1/1 Coupon; Includes $3 +UP Rewards; Additional Gas Card Savings wyb $30 in participating items
Tide Laundry Detergent, 46 – 50 oz – $4.94
Limit 4
$1.50/1 Tide Detergent, 40 oz or Larger; Excludes Trial and Travel Size, Pods, Simply, and 10 oz; Limit of 4 Like Coupons Per Household Per Day
$1.50/1 Tide Detergent; Excludes Trial or Travel Size; Limit of 4 Like Coupons Per Household Per Day

$0.50/1 Tide Detergent, Boost, To Go, or Washing Machine Cleaner; Downy Fabric Softener; or Bounce; Excludes Trial and Travel Size; Limit of 4 Like Coupons Per Household Per Day, Tide Simply Clean & Fresh, Pods, Downy Unstopables, Single Rinse and Bounce Bursts- 7-6-14 PG – (exp. 07/31/14)

$1.00/2 Tide Detergent, Boost, To Go, or Washing Machine Cleaner; Downy Fabric Softener; or Bounce; Excludes Trial and Travel Size; Limit of 4 Like Coupons Per Household Per Day, Tide Simply Clean & Fresh, Pods, Downy Unstopables, Single Rinse and Bounce Bursts- 7-6-14 PG – (exp. 07/31/14)

$2.00/1 Tide Detergent; Excludes Trial and Travel Size, Simply Fresh & Clean, Pods, and Detergent, 10 oz; Limit of 4 Like Coupons Per Household Per Day – 7-27-14 PG – (exp. 08/31/14)

$2.00/3 Tide Detergent, Boost, To Go, or Washing Machine Cleaner; Downy Fabric Softener; or Bounce; Excludes Trial and Travel Size; Limit of 4 Like Coupons Per Household Per Day, Tide Simply Clean & Fresh, Pods, Downy Unstopables, Single Rinse and Bounce Bursts- 7-6-14 PG – (exp. 07/31/14)
Use $2/1 Coupon; Additional Gas Card Savings wyb $30 in participating items
What to know when shopping at Rite Aid:
Coupons to Use when shopping at Rite Aid:Video Values Coupons – watch short videos & then print off the coupons for specific products. These are all store coupons, so they can be paired up with manufacturer's coupons. New Grocery Savings Mobile App
Don't forget to check out the Favado app where you can find these same deals on your mobile device for when you're on the go! Compare prices for different products between stores and more! Read more about all you can do with the Favado app! How to Sign Up:
Enter your information at Favado.com to create an account.
Next head to the Android or iTunes store to download the app
Use the login information you used for Favado to sign in to your new account on the app