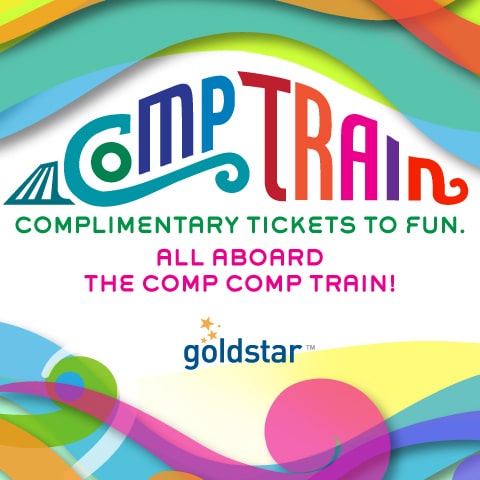 Free Tickets – Seattle
Goldstar is once again offering the popular Seattle Free tickets event called "Comp Train"! This is Goldstar's popular two-day promotion that features complimentary tickets to tons of fun events throughout the country. For just 48 hours, Goldstar will be offering literally thousands of free tickets to live theater, concerts, dance, comedy and more. And since all you pay is a small service fee (the amount varies depending on the event, but it's usually just a couple bucks), the Comp Train's a great way to discover new events in your area and treat your plus one, your family or even just yourself to something totally great — and totally unexpected.
 Here are the available shows with comp tickets in the Seattle area::
Into the Woods: Youth Production of Sondheim's Fairy-Tale Mashup  (service fees $4.50)

Comedy Sportz (interactive Comedy – so fun)! (service fees $4)
Find all of the Seattle Free tickets in the "Comp Train" here!
Here are the available shows with comp tickets in the Portland area::
When Animals Where People (service fees $6.50) – this one is already selling out!

The Invisible Hand: Pulitzer Winner's Taut Thriller! (service fees $9). This one is regular priced at $23!
Find more great deals on discount tickets at Goldstar too!