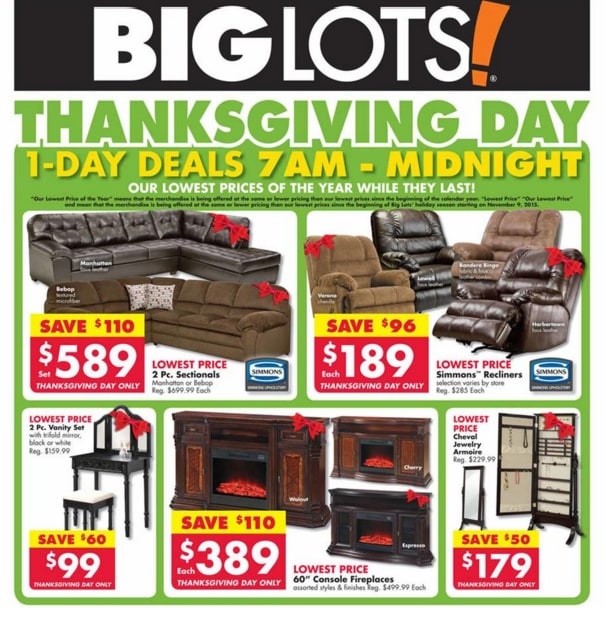 Big Lots has released their Black Friday Ad.  Here are the best deals. 
Doors open Thursday, Nov. 26th (Thanksgiving Day) from 7 am – midnight.  Doors open Friday, Nov. 27th (Black Friday) at 6am.  
All items are while supplies last and stock will vary by location.
Big Lots is also offering coupons for $10 Off Your Next Purchase of $50 or More, $20 Off Your Next Purchase of $100 or More and $40 Off Your Next Purchase of $200 or More. These coupons will be valid 11/29-12/4/15.
You can see the ad scan here.
Don't forget to check out our Black Friday page where we'll keep you up to date on all the latest Black Friday deals as they become available.
Thanks to Mommy's Money Saving Obsession for bringing us the Big Lots Black Friday deals. 
Thanksgiving (11/26) Only:
Simmons 2-pc. Sectionals (Select) – $589.00
Simmons Lowell Recliners (Select) – $189.00
Simmons Bandera Bingo Recliners – $189.00
Vanity 2-pc. Set with Trifold Mirror (Black or white) – $99.00
Console 60-in. Fireplace (Assorted finishes) – $389.00
Cheval Jewelry Armoire – $179.00
Deals Valid Thursday through Saturday (11/26 – 28):
Apparel
Buy 2, Get One Free

Activestride Leg Warmers (Assorted)
Activestride Leggings (Assorted)
Activestride Socks (Assorted)
Aerosoles Leg Warmers (Assorted)
Aerosoles Leggings (Assorted)
Aerosoles Socks (Assorted)
Ellen Tracy Leg Warmers (Assorted)
Ellen Tracy Leggings (Assorted)
Ellen Tracy Socks (Assorted)
Esprit Leg Warmers (Assorted)
Esprit Leggings (Assorted)
Esprit Socks (Assorted)
Fila Leg Warmers (Assorted)
Fila Leggings (Assorted)
Fila Socks (Assorted)
Mix & Match All Socks, Leggings & Leg Warmers (Assorted)
Umbro Leg Warmers (Assorted)
Umbro Leggings (Assorted)
Umbro Socks (Assorted)

Fleece Ladies 2-pc. Pajama Sets – $10.00
J-Animals Kids Wearable Stuffed Animals (Assorted) – $13.00
Memory Foam Ladies or Mens Slippers – $6.88
Electronics
Buy One Get One 50% Off:

Cell Accessories (Assorted)
iHome Electronics (Assorted)
iHome Tablet Accessories Polariod
Duracell Cell Accessories (Assorted)
Duracell Cell Chargers (Assorted)
Duracell Tablet Accessories (Assorted)
Duracell Tablet Chargers (Assorted)
iHome Cell Accessories (Assorted)
iHome Cell Chargers (Assorted)
iHome Tablet Chargers (Assorted)
Polaroid Cell Accessories (Assorted)
Polaroid Cell Chargers (Assorted)
Polaroid Tablet Accessories (Assorted)
Polaroid Tablet Chargers (Assorted)
Travelocity Cell Accessories and Cell Chargers (Assorted)
Travelocity Earbuds and Headphones (Assorted)
Travelocity Tablet Accessories
Travelocity Tablet Chargers (Assorted)
Duracell Earbuds (Assorted)
Duracell Headphones (Assorted)
iHome Earbuds (Assorted)
iHome Headphones (Assorted)
Polaroid Earbuds (Assorted)
Polaroid Headphones (Assorted)

Bluetooth Wireless Mini Tower Speaker w/ Remote Control – $15.00
Polaroid Bluetooth Wireless Speaker – $60.00
Polaroid Bluetooth Wireless Tower Speaker with Disco Ball – $30.00
Storage Memory (Assorted Sizes) – 25% Off
iHome 4-in-1 Travel Charging Kit – $15.00
Food
Folgers Classic Roast Coffee (30.5-oz.) – $6.99
Ghirardelli Cocoa Gift Set – $14.00
Gourmet Dipping Oils – $14.00
Hillshire Farm Sausage & Cheese Sets – $14.00
Holiday Food & Beverage Gift Sets (Assorted) – $14.00
Hot Sauce Gift Set (12-pc.) – $14.00
Multi-Count Candy Canes (Assorted) – 3 for $5.00
Naturally Wild Caught Smoked Salmon – $9.00
Victor Allen's Single Serve Coffee Cups (80-ct.) (Assorted) – $23.99
Holiday Items
Gift Boxes (3-pk.) – $40.00
Holiday Electrical (Assorted including 20 ft extension cords, and 3 outlet surge protector) – $6.00
Holiday Floral (Assorted) – 20% Off
Icicle 300-ct. Lights (Blue or Clear) – $8.00
Inflatable 6-ft. Shivering Snowman – $40.00
LED 60-ct. Light Sets (Assorted) – $8.00
LED 90-ct. Lights (Multi-Color or White) – $5.00
Lit Animated Deer Family (Set of 3) – $35.00
Lit Pop-Up Outdoor Decor 52-in. Gift Boxes – $50.00
Lit Pop-Up Outdoor Decor 54-in. Cracked Ice Snowman – $50.00
Lit Pop-Up Outdoor Decor 60-in. Tree – $50.00
Miniature 120-ct. LED Light Sets (Clear or multi-color) – $10.00
Miniature 350-ct. Light Sets (Clear or multi-color) – $10.00
Multi-Pack Glitter & Shine Ornaments (Assorted) – $4.00
Prelit 6-ft. Cashmere Tree (clear or multi-color) – $60.00
Prelit 6-ft. Mixed Needle Tree (Clear or multi-color) – $30.00
Prelit 7.5- ft. Pinecone & Berry Tree – $120.00
Prelit Hard Needle 7-ft. Pencil Tree – $50.00
Prelit Iced Hard 7.5-ft. Needle Pine Tree – $130.00
Prelit Single 4-ft. Decorated Urn Trees – $25.00
Prelit Urn Trees – 20% Off
Unlit 6.5-ft. Deluxe Cashmere Tree – $60.00
Home Items
Ameriwood 54-in. Media TV Stand with Swivel Mount – $149.99
Ameriwood 60-in. Media TV Stand – $229.99
Ameriwood Breakfast 3-pc. Set – $119.99
Ameriwood Single Door Storage Pantry – $69.99
Ameriwood Storage Wardrobe – $129.99
Aprima Luxury Velvet Plush Throws (Assorted) – $8.99
Arctic Trail Luxury Oversized Animal Throws (Assorted) – $8.99
Collapsible Storage Ottoman – $19.99
Dyson Refurbished Lightweight & Compact Upright Vacuum – $175.00
Faux Fur Body or Lounger Pillows – $9.99
Faux Fur Pillows (2-pk.) – $9.99
Glider Recliner with Ottoman – $189.99
Grand 62-in. Fireplace (Cherry or white) – $499.99
Living Colors Accent Rugs (Assorted) – BOGO 50% Off
Living Colors Supersized Soft Plush Blankets (Assorted Colors and sizes) – $14.99
Photo Frames (Assorted) – BOGO 50% Off
Simmons Bandera Bingo Loveseat – $289.00
Simmons Bandera Bingo Sofa – $289.00
Simmons Camouflage Rocker Recliner – $249.99
Simmons Harbortown Faux Leather Loveseat or sofa – $289.00
Simmons Lowell Espresso Sofa – $289.00
Simmons Matching Kids Camouflage Recliner – $44.99
Tray Storage Ottoman (Assorted Colors) – $29.99
Tub Chair – $85.00
Wall Mount 36-in. Fireplace with Remote Control – $119.99
Aprima 800 TC Hotel Luxury 6-pc. Sheet Sets (Assorted) – $10.00 – $15.00 Off
Aprima King 800-TC Hotel Luxury 6-pc. Sheet Sets – $29.99
Aprima Premium Multi-Piece Bedding Sets (Assorted) – $20.00 Off
Aprima Queen 800-TC Hotel Luxury 6-pc. Sheet Sets + 2 Bonus Pillowcases – $39.99
Buy Any Serta Perfect Sleeper Mattress, Get a FREE Matching Box Spring
Dan River 6-8-pc. Bed-In-A-Bag (Assorted) – $24.99 – $29.99
Faux Fur Comforters (Assorted) – $24.99
Rampage Full Sheet Sets (Assorted) – $12.00
Rampage Queen Sheet Sets (Assorted) – $14.00
Rampage Twin Sheet Sets (Assorted) – $8.00
Serta Perfect Sleeper Benson Firm Queen Set – $269.00
Serta Perfect Sleeper Benson Firm Twin Set – $169.99
Serta Perfect Sleeper Davis Eurotop Full Set – $329.99
Serta Perfect Sleeper Davis Eurotop King Set – $569.99
Serta Perfect Sleeper Davis Eurotop Queen Set – $369.99
Serta Perfect Sleeper Firm Full Set – $259.99
Serta Rest 4-in. Cushioned Gel Memory Foam Mattress Topper (Full) – $79.99
Serta Rest 4-in. Cushioned Gel Memory Foam Mattress Topper (King) – $119.99
Serta Rest 4-in. Cushioned Gel Memory Foam Mattress Topper (Queen) – $99.99
Serta Rest Jumbo Gel Memory Foam Bed Pillow – $9.99
Bella Novelty Cotton-Candy Maker, Hot Dog & Bun Toaster Cart, Popcorn Cart Maker, Quesadilla Maker – $14.99 each
Black & Decker, Crockpot, Oster, Sunbeam and Mr Coffee Kitchen Electrics (Assorted) – $14.99 Each
Kitchen Storage Carts (Assorted Colors) – $99.99
Oster 11-pc. Cookware Set with Glass Lids – $39.88
Movies and TV
High Speed 4-ft. HDMI Cable – $6.00
Assorted Blu-Ray Movies – $2.88
Assorted DVD Movies – $1.88
Assorted Multi-Feature DVD Movies (Assorted) – $3.88
Pet
Serta Ortho Foam Pet Bed – $30.00
Toys
Assorted Avengers Action Figures – BOGO 50% Off
Assorted Barbie Doll Playsets and Barbie Dolls – 25% Off
Assorted Kids 3-pc. Activity Table & Chair Set – $28.00
Assorted Fisher Price Preschool Toys – BOGO 50% Off
Assorted Games & Puzzles – BOGO 50% Off
Assorted Hide Away Pets Pillow – $8.00
Indoor Helicopter Z32 – $9.00
Assorted MegaBloks Toys – BOGO 50% Off
Assorted Military Action Figures, Vehicles & Playsets – 30% Off
Assorted Monster High Dolls – BOGO 50% Off
Assorted Play-Doh Sets and Singles – BOGO 50% Off
Radio Control Drone – $24.00
Assorted Teenage Mutant Ninja Turtle Action Figures – 25% Off
Assorted WWE Action Figures – BOGO 50% Off