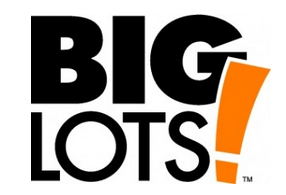 Big Lots has released their Black Friday Ad.  Here are the best deals. 
Doors open Thursday Nov. 22nd (Thanksgiving Day) from 7 am – 9 pm.
Spend $50.00, Get $10 Coupon to use on your next purchase.  Coupon valid from Sunday, Nov. 25, 2012 -Saturday, Dec. 8, 2012
Don't forget to check out our Black Friday page where we'll keep you up to date on all the latest Black Friday deals as they become available.
Thanks to Bucktown Bargains for bringing us the Big Lots Black Friday deals. 
Doorbuster Deals:
Thanksgiving Deals 7am-9pm:
Video Games (Assorted Selection) (Including: Game Party (Wii), Guitar Hero (x360), Mutant Insects (DS), Indiana Jones (DS), I Spy Fun House (DS) –  $4.88
6-Sheet X Cut Shredder – $16.88
Luxurious 600-Thread Count Queen or King Sheet Set – $28.88
Dyson DC25 Ball All-Floors Vacuum-  $299 
3-pc. Animated Deer Set – $38.88
5-ft. Cashmere Pre-Lit Urn Tree – $38.88 
Sauder Storage Cabinets – $99.00
Cheval Mirror Jewelry Armoire – $169.99
Large Espresso Jewelry Armoire – $169.99
Simmons Oversized Rocker Recliners – $189.99
Simmons Malibu Beluga Sofa Chaise – $399.00
Media Fireplaces with Remote $399.00
Simmons Manhattan 2-pc Tufted Sectional – $577.00
Trio Rhythm MP3 Player 4GB $8.88 Progressive Scan DVD Player $14.88 Assorted DVD and CD – Buy 1 Get 1 50% off
$10 off Electric Blankets (Reg. $28-$84) (Entire Stock) (Assorted Colors)
Friday Deals -open 6am to 11pm:
Assored DVD's – $1.88
Tree Skirt (Assorted Styles)  – $1.50-$12.00
Multi-Pack Color & Glitter Ornaments (Assorted Colors) – $3.50/ea.
Holiday Embossed Filled Popcorn Tin (Assorted Flavors) – $4.50/ea.
AC Delco 20-pk. Alkaline Maximum Power AA Batteries or AAA w/ Bonus AC Delco 20-pk. AA Heavy Duty Batteries – $5.00
Kodak USB Flash Drive or Memory Card 16GB- $5.88
eSource 6-in. HDMI Speed Cable - $6.88
Holiday Food Gift Set or Salmon Gift Set – $8.00
Craig Bluetooth Portable Speaker – $8.88
vtech V.Reader E-Reader System $24.88 vtech V.Reader Toy Story 3 or Dora The Exlplorer – $10.00
Sag Harbor Womens Winter Boots (Assorted Styles) -$10.00
Vivitar Mini Digital Camcorder (Assorted Colors) – $12.88
Lit Snowman 18.5-in. – $14.88
8 Function 80-ct. C6 LED Light Show w/ Remote – $16.88
3.5-ft. Urn Trees, Set of 2 – $19.88
Assorted Toys- $19.88 Including:
Phantom Monster Playset,
Nerf Swarmfire Dart Tag,
Barbie Champion Tawny Horse & Doll,
Pirates of the Carribbean Hero Ship,
Polly Pocket Stunt Style Jet Playset,
Polly Pocket Concert Playset,
Disney Plush 24″ Minnie Mouse,
Disney Plush 24″ Mickey Mouse,
Maxx The 38″ Sock MonkeyShark Steam Pocket Mop – $29.00 
Necklaces (Assorted Varieties) – $30.00
Sylvania 7″ Portable DVD Player – $34.88 
Singer QuikFix – $39.00
Emerson Android 4.0 Internet 4.3″ Tablet/MP3 Player – $44.88
IHome Portable Docking System Stereo System – $48.88
8-in. Inflatables (Assorted Styles) – $48.88
Ninja Blender – $49.00
Pre-Lit Sparkle Trees (Assorted Styles) – $58.88
Nextbook Android 4.0 8-in Tablet – $78.88
Electrolux Bagless Vacuum – $99.00
Char-Broil 4-Burner Stainless Steel 48000 BTU Gas Grill – $149.00
Video Games on All Platforms – Buy 2, Get 2 Free
Phineas & Ferb (Reg. 18.88) (DS)
Homefront (Reg. 18.88) (X360)
Dead Island (Reg. 18.88) (X360)
Batman Arkham Asylum: Game of the Year Greatest Hits (Reg. 18.88) (PS3)
Game Party In Motion (Reg. 18.88) (X360)
Video Games (All Platforms) (Assorted Selections)
Halo 3 (Reg. 18.88) (X360) Disney Universe (Reg. 18.88) (Wii)
Rio (Reg. 18.88) (DS) Darksiders (Reg. 18.88) (PS3)
Mass Effect (Reg. 18.88) (PS3)
LEGO Pirates of the Caribbean (Reg. 18.88) (Wii)
Disney Epic Mickey 2(Reg. 18.88) (Wii)
Electronic Accessories – Buy One, Get one 50% off
Headphones
Earbuds
Cases
Chargers
Stylus Pens
Toys (Select Variety) – Buy One, Get one 50% off
Play-Doh (Reg. $1.50 – $20),
Fisher Price Preschool Toys (Reg. $3 – $30),
Thomas & Friends Preschool Toys (Reg. $3 – $30),
Playskool Preschool Toys (Reg. $3 – $30),
Dora the Explorer Preschool Toys (Reg. $3 – $30),
Sesame Street Preschool Toys (Reg. $3 – $30),
RC Vehicles (Reg. $5 – $50),
Activity Sets or Puzzles (Reg. $5)
Mega Roll Gift Wrap – Buy One Get One Free
FREE Gift Wrap Accessories – Buy One, Get One 50% OFF
Saturday Only- 7am-11pm:
DVD Movies (Hundreds of Titles) –  $1.88
2 Pc Spa Set Bath wrap & Sponge – $5.00
Kodak 16GB SDHC Memory Card or USB Flash Drive – $5.88
Assorted Video Games – $5.88
Any Size Microfiber Sheet Set – $6.77
30″ Lighted Ice Snowman or Deer – $18.88
Polaroid Touch MP3 Plyer with Camera – $18.88
Pre-Lit 6.5 Ft. Tree with 200 clear lights – $48.88 
Pre-Lit 6.5-ft Urn Tree w/ 200 Clear Lights and Decorative Urn (Saturday) – $48.88
Armless Accent Chairs – $97.00
Bissel Pro Steamer – $99.00
Stratolounger Massage Recliners with Frosty Fridge (Saturday) – $288.00
Serta 10″ Queen Memory Foam Mattress -$388.00
All Board Games – Buy 1 Get 1 50% off