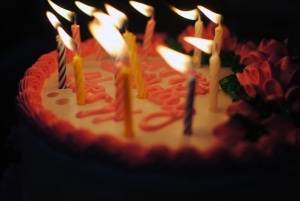 Who doesn't love fun freebies for your birthday? Even better if they're from some of your favorite restaurants & stores! Make sure to sign up for as many as you can ahead of time & then when your birthday rolls around, you'll start to see your inbox flooded with all sorts of fun freebie offers & discounts to celebrate your birthday!
Birthday Freebies for Adults:
National:
American Eagle – Sign up for AE Rewards and get 15% off the month of your birthday at AE or Aerie, Free Aerie Bras (buy 5 Bras Get the 6th Free) and access to members-only sales and events.
AMF Bowling – Join the e-Club and receive exclusive monthly offers and a special birthday offer.
Applebees – Free dessert when you sign up for their E-Club
Arby's – Sign up for their emails and receive a coupon for a free roast beef classic with the purchase of a drink, plus a special coupon on your birthday.
Aunt Annie's Pretzels – Sign up and get a BOGO free pretzel for your birthday.
Aveda.com – Sign up online for their E-Club & you'll get an exclusive offer on your birthday every year
A&W Restaurant – Receive a free root beer float on your birthday when you sign up for the Mug Club
Baja Fresh – Sign up for Club Baja and receive a free taco for signing up and a free burrito for your birthday.
Barnes & Noble – Join the Kids' Club and get a $5 reward for every $100 you spend on kids' stuff online and in stores and a Free cupcake from the café for all your children's birthdays.
Baskin Robbins – Get a free ice cream email on your birthday and a special discount on a birthday cake. Plus a BOGO scoop offer when you sign up and additional offers all year long!
Benihana – $30 birthday gift certificate.  Valid Monday – Thursday during dinner hours ONLY. Requires the purchase of a full-priced adult entrée before certificate is applied to additional items ordered.
Ben & Jerry's – Free single scoop of ice cream on your birthday.
Black Angus Steakhouse – Receive a free dessert for joining the Prime Club and a free steak dinner on your 1st birthday as a prime club member.
Boston Market – Youll receive $3 off your next purchase of $10 or more just for signing up plus a birthday offer.
Buca di Beppo – Macaroni Grill – Join the eClub and enjoy free pasta on your next visit (small spaghetti marinara, small fettucini alfredo, or small baked ziti) and a $20 birthday gift
Buffalo Wild Wings – Sign up for Buffalo Circle and receive a free order of snack size wings on your birthday plus other offers.
Carrabba's Italian Grill – Sign up for a birthday offer.
Champ's Sports – Sign up to be a VIP and receive special offers including a birthday offer.
Charming Charlie – Sign up for the email club to snag special offers throughout the year and on your birthday.
Chevy's – Sign up for the Chevy's Real Rewards program and during your birthday month you will receive a special reward to help you celebrate.
Cinnabon – Sign up for Club Cinnabon and receive a coupon for a FREE MINIBON plus a special present on your birthday.
Coldstone Creamery – Get a Buy One Creation, Get One Creation FREE Coupon delivered to your email inbox for your birthday when you sign up for the eClub.
Cost Plus World Market – Sign up for the Market Explorer Rewards program & you'll get a birthday surprise each year (in that past it has been a $10 off $10 coupon for World Market!)
CVS – Register your CVS ExtraCare card online and you'll receive an ECB (typically $3 in value) via email on your birthday.
Dairy Queen – Join the Blizzard Fan Club  & an extra-special coupon on your birthday and a surprise on your anniversary (+a free blizzard just for joining)
Del Taco – Sign up for the Raving Fan Eclub and get 2 Free Grilled Chicken Tacos plus a Free Premium Shake on your birthday.
Denny's – Free Grand Slam on your birthday
Designer Shoe Warehouse – Sign up to be a Rewards Member and you'll snag a $5 birthday gift certificate.
Disney Movie Rewards – Check your Inbox for a possible unique 100 point code on your birthday.
Driscoll's Berries – Sign up for the Rewards Program and get exclusive access to special offers, coupons, and giveaways including a special berry offer for your birthday.
Einstein Bros. Bagels – Sign up for their club and they will send you a special birthday offer to celebrate.
Famous Dave's – Birthday surprise (in the past it has been a certificate for free meal on your birthday) when you join the P.I.G. Club
Godfather's Pizza – Join the eClub and a possible offer for a free mini pizza when you buy breadsticks on your birthday.
Godiva – Sign up for the free Rewards Club and get a FREE piece of chocolate every month in participating GODIVA boutiques, FREE gift each month you spend $20 or more, Birthday Offer every year on your birthday and more.
IHOP – Free meal on your birthday (& a free meal just for signing up for their E-club & on the 1 yr anniversary of signing up)
Jamba Juice – Sign up and receive a free birthday smoothie or juice
Jersey Mike's – Sign up for the email club and you'll receive a free sub & drink coupon for your birthday
Joe's Crabshack – Sign up for Joe Mail and get a coupon for a FREE appetizer with the purchase of any adult entree upon sign-up; you'll receive this same coupon on your birthday as well.
Johnny Rockets – Join the Rocket e-Club and get a coupon for a free hamburger with purchase and also snag a free hamburger on your birthday
Kellogg's Family Rewards – Join and get a possible unique code valid for 100 points on your birthday.
Kohl's – Sign up for the Kohl's Rewards program – for every dollar you spend on qualifying purchases, you'll earn 1 point – and whenever you earn 100 points, you'll score a $5 reward in your inbox. Plus, you'll snag a special Birthday Offer!
Krispy Kreme – Sign up for a free coffee and donut on your birthday
Lofthouse Cookies – Join Club Lofthouse, enter your birthday, and you'll snag a free cookie on your birthday.
Menchies Frozen Yogurt – Sign up for the Smileage Club and receive special offers.
Mimi's Cafe – Receive a free 4-pack of croissants or muffins when you sign up plus special offers like free meals when you join.
Nestle Toll House Cafe – Join the Cafe Club and get a special birthday offer.
Nothing Bundt Cakes – Sign up to get a free bundtlet on your birthday.
Old Navy – Sign up for their E-Club & you'll get a free birthday surprise (+ a coupon for 20% off your purchase just for signing up)
Olive Garden – Sign up for their eClub and receive a free appetizer or dessert with 2 adult entrees plus a birthday offer.
Orange Julius – Join the OJ Quench Club and get a special offer just for joining plus an email coupon on your birthday.
Outback Steakhouse – Receive a free bloomin onion for signing up (freebie is good for exactly 3 days after you sign up) plus receive a free dessert on your birthday.
Panera Bread – Sign up for their  My Panera E-Club & get ar eward on your birthday!
Qdoba Mexican Grill – Sign up for the rewards program and receive a gift on your birthday.
Quiznos – Sign up for the Q-Club and receive a coupon for $2 off a regular or large sub plus get a coupon for a free cookie on your birthday.
Rainforest Cafe – Sign up and recieve a $25 Birthday Reward and more.  Must purchase your membership through Landry's.
Red Lobster – Sign up and get a surprise birthday offer.
Red Robin – Red Robin now has the "Red Royalty" rewards program. You'll need to sign up to receive your FREE rewards card & once you receive it, make sure to register it online at Red Robin. You can also pick one up the next time you're at the restaurant. You will get a coupon loaded to your card for a FREE burger to use during your birthday month, as well as many more great rewards.
Rock Bottom Restaurant & Brewery – Join the Rock Bottom Mug Club and get a special gift on your birthday (note: you must have a Mug Club card to register; if you need a card, you must join at your local Rock Bottom restaurant)
Ruby Tuesdays – Free handcrafted burger on your birthday when you join the So Connected E-Club
Sephora – Become a Beauty Insider to receive a free item from Sephora for your birthday (sign-up at top of page)
Souplantation & Sweet Tomatoes – Join Club Veg and get a coupon for a free buffet on your birthday
Spicy Pickle – Join the Pickle Club and get a coupon for a free entree on your birthday. You'll also receive a coupon for a free bag of chips with the purchase of any entree upon sign up.
Starbucks – Join Starbucks Rewards.  To earn your first rewards, just register a Starbucks, Teavana or La Boulange Card.  You'll receive a birthday drink or treat, a birthday coupon for 15% off a purchase at StarbucksStore.com, and more.
Subway – Must have a rewards card to sign up.  Receive 50 points when you sign up (good for a free 6″ sub) and a birthday gift (enough points to buy a cookie, drink, or chips).
Swagbucks – Join Swagbucks to earn gift cards & other gifts/prizes while searching the web (e.g, Amazon, Starbucks, & more).  On your birthday, they will send you an extra 50 swagbucks. Learn more about Swagbucks & sign up to start earning those gift cards. This is how I pay for many birthday gifts using Amazon gift cards earned from Swagbucks.
The Container Store – Sign up to become a POP! Star and get surprise perks, a birthday gift and more!
The Melting Pot – You'll receive a complimentary box of six of Signature Chocolate-Covered Strawberries with the purchase of $60 or more when you join the Club Fondue.
Tory Burch – Sign up for emails and get a possible offer for $50 off a purchase of $50 or more on your birthday.
ULTA Beauty Store – Sign up for the Ulta Rewards program for special offers throughout the year and on your birthday.
zPizza – Join the zTribe and get an offer for $5 off a $20 purchase and get a special offer on your birthday.
*
Landry's Select Club
– This club is a little different as it is a discount club for a number of different participating restaurants (including NW restaurants such as Claim Jumper, Rainforest Cafe, and McCormick & Schmick's) as well as restaurants around the country. You do have to pay $25 to join this select club. However, you will receive a $25 welcome reward automatically added to your account as soon as you join (so make sure to join right before you'll be heading to a restaurant so you can use it right away & make back your money). You'll then receive a $25 birthday reward. You'll also get priority seating which can be important at several restaurants like Claim Jumper where it gets to be a long wait or if you want special seating for Rainforest Cafe. You'll also earn 1 reward point for every $1 you spend as well as other benefits. We signed up for this several years ago through the Rainforest Cafe & have definitely gotten our money back & more, with the birthday $25 reward every year!
Kids Freebies:
Applebees – Kids will get a FREE Kids Meal – we had to sign up for this in-store to get it mailed to us, but you may also be able to put in your kids' info on the email newsletter.
Build A Bear Workshop – Sign up for the Stuff Fur Stuff Program and earn 1 point for every $1 you spend (reach 50 points and get a free accessory and at 100 points you'll snag a $10 certificate) and get a special offer on your birthday.
Burger King – Free kid's hamburger on their birthday.
Chuck E. Cheese – Join the Chuck E-Club and get up to a 30% dicount and the best token offers, a rewards calendar worth 10 free tokens, and member-only deals, including a birthday surprise.
Kmart – Sign up your kiddos for the Kmart Birthday Club and they'll receive $5 Birthday bucks, a birthday crown, a Happy Birthday certificate AND a birthday fun pack!
Little Tikes – Sign up for the Birthday Bonus Program and you'll receive special discounts, promotions and offers approximately 30 days before your kiddo's birthday.
Oakhurst Dairy – Kids ages 12 and under can join the Oakhurst Acorn Fan Club and every year, they'll receive a birthday card with a coupon for a free pint Oakhurst milk or juice along with other fun freebies throughout the year.
Radio Flyer – Sign up for the Birthday Club and Get a $10 gift card every year for your child's birthday.
Toys R Us – Join Geoffrey's Birthday Club and receive a special phone call from Geoffrey (optional) & special birthday card and gift from Geoffrey each year until they turn 10, plus special in-store recognition.  Come into the store on, or near, your child's birthday for some extra-special attention, including a birthday crown, Geoffrey balloon and a personalized announcement broadcast to the entire store!
The Old Spaghetti Factory – Free Kids Meal when you join their Birthday Club.
Local Birthday Freebies:
What are your favorite birthday freebies? If you don't see your favorite restaurant on the list, check out their website or call them to find out if they have a birthday club or E-Club you can sign up for to start receiving birthday freebies!