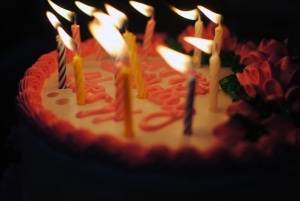 Who doesn't love fun freebies for your birthday? Even better if they're from some of your favorite restaurants & stores! Make sure to sign up for as many as you can ahead of time & then when your birthday rolls around, you'll start to see your inbox flooded with all sorts of fun freebie offers & discounts to celebrate your birthday!
Birthday Freebies for Adults:
National:
*
Landry's Select Club
– This club is a little different as it is a discount club for a number of different participating restaurants (including NW restaurants such as Claim Jumper, Rainforest Cafe, and McCormick & Schmick's) as well as restaurants around the country. You do have to pay $25 to join this select club. However, you will receive a $25 welcome reward automatically added to your account as soon as you join (so make sure to join right before you'll be heading to a restaurant so you can use it right away & make back your money). You'll then receive a $25 birthday reward. You'll also get priority seating which can be important at several restaurants like Claim Jumper where it gets to be a long wait or if you want special seating for Rainforest Cafe. You'll also earn 1 reward point for every $1 you spend as well as other benefits. We signed up for this several years ago through the Rainforest Cafe & have definitely gotten our money back & more, with the birthday $25 reward every year!
Kids Freebies:
Applebees – Kids will get a FREE Kids Meal – we had to sign up for this in-store to get it mailed to us, but you may also be able to put in your kids' info on the email newsletter
California Pizza Kitchen - Free Kids Meal during your birthday month when you sign up for CPK Kids Birthday Club
Denny's – Free Kids Entree & Sundae
Red Robin – Free Kids Meal  (12 & Under) + the free Sundae
Sonic - Free Wacky Pac Kids Meal when you sign up for the Kids birthday meal
Toys R Us – Special Phone Call from Geoffrey (optional) & special coupon by mail
The Old Spaghetti Factory - Free Kids Meal when you join their Birthday Club
Local Birthday Freebies:
Duke's Chowder House - Buy 1 Get 1 Free Entree for your birthday (plus B1G1 free entree when you sign up for their club)
Izzy's Restaurants- free buffet  for kids 12 & under during  your birthday month when you sign up for their birthday club (mainly located in OR)
The Keg - Fill out a form when you're in the restaurant to receive a FREE entree of your choice  (I've never done this, so I don't know the specific details on this)
The Ram - Sign up for the Ram MVP Club & get a Buy 1 Get 1 FREE World Famous Ram Burger & FREE Mile-High Mud Pie.  Also, kids can get a FREE kids meal when you sign up.
Taco Time NW - Free kids meal when you sign up for the Kids Club (this is for NW locations)
What are your favorite birthday freebies? If you don't see your favorite restaurant on the list, check out their website or call them to find out if they have a birthday club or E-Club you can sign up for to start receiving birthday freebies!