Here are this week's best deals for diapers & wipes. The Thrifty Couple has a complete list of diaper & wipes deals & I will be highlighting a few of the best baby deals at the stores!
Obviously Rite Aid is the place to be this week for free Huggies diapers! Most likely, your Rite Aid store is out of Huggies already, so make sure to find out when they'll be restocking. And remember that the best deal is on the Huggies Pure & Natural diapers; however, you can also get the other Huggies diapers free with the right coupons. Check out all the best Huggies diaper deals below & check out the complete list of Rite Aid Huggies diaper deals HERE.
Target:
Huggies Wipes – $1.99
For Huggies Pure and Natural Big Packs:
Kmart deal:
For Huggies Little Snugglers or Pure and Natural Jumbo packs:
And of course…. the infamous Rite Aid deals – there are a total of 8 different deals, but here are a few of the best (don't forget that you have to use your Rite Aid Wellness card for the diapers to be discounted to $8.99 & to receive your +UP rewards):
FREE Huggies Pure and Natural Diapers:
.49 Huggies Little Snugglers (size N -2) Jumbo Packs Diapers: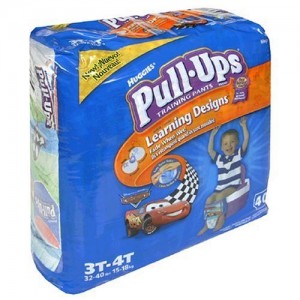 .99 Huggies Pull-Ups Jumbo Packs:
Buy 3 Huggies Pull-Ups for $8.99 each = $26.97
Then use $5/$25 Rite Aid coupon = $21.97
Then use three $2.00/1 Huggies Pull-Ups – $6.00 = $15.97
Then use one $1.00/1 Rite Aid video values coupon (one per month) = $14.97
Then receive a $2.00 +UP Reward (one per household) = $12.97
Then submit for the $10 Kimberly Clark rebate for spending $25 (#70) (before coupons and one rebate per rebate period) for the diapers and wipes  refill packs = final is $2.97 for 3 Huggies Pull-ups or .99 each

*Update: If 3 $2.00 +UP rewards print = final is a $1.03 money maker on 3 packs.
Make sure to head to The Thrifty Couple to see the full list of Huggies diaper scenarios at Rite Aid this week.