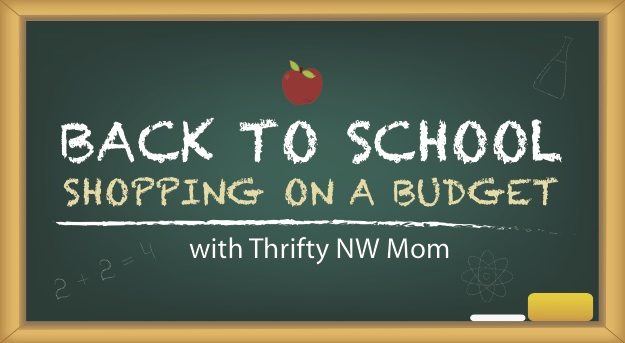 When I think of back to school shopping, shoes are one of the things that cause me the most "budget anxiety". Shoes can be expensive, especially when you have one kid in a size 13 mens shoe! Famous Footwear can have some great sales so we decided to head there for some shoe shopping. Both Jen and I will share with you some of our shopping tips for Famous Footwear, but Famous Footwear also wants to give two of YOU a $50 Famous Footwear gift card to shop for your family!
Rock Your School Contest:
Before sharing our shopping trips,  we want to tell you about an awesome contest that Famous Footwear launched called Rock Your School 2012. From now thru September 8th, Famous Footwear is inviting high school students & their parents to nominate their high school & share their dream enhancements for the school. The high school that wins the highest number of votes can win up to $75,000 & the person who submitted the winning school can win up to $25,000.
To nominate your high school, visit Famous Footwear's Facebook page or download the mobile app, Rock Your School on your iPhone or Android phone. You must share in 250 words or more how your school would use the funds to make it "rock". Fans will then be able to vote daily for their favorite entry.
For every vote cast, Famous Footwear will add $1 to the prize, up to $75,000 for the school donation and up to $25,000 for the entrant. Two instant win prizes including $10 Famous Footwear and Converse gift cards, tote bags, T-shirts and more will be given away daily to voters.
Here's the schedule for the contest:
August 5 – September 8: Nominate your high school
September 16 – October 5: Fans will be able to vote on their favorite finalists
On or about October 21: The grand prize winner will be announced
Sia's Shopping Trip:
You are able to get shoes for cheaper at stores other then Famous Footwear. One of the reasons I choose to shop at Famous Footwear is because I am able to get a great deal on name brand shoe brands. Name brands are certainly not always a priority, but when it comes to shoes I find that we get more value out of some brands, simply because they last longer. My kids are hard on shoes. Secondly, I have a teenage son. For teenage boys (at least mine), style is all about the shoes. He is really easy to shop for when it comes to everything but shoes. A happy medium for us is Famous Footwear, where he can get brands like Nike, for a fraction of what I would pay full price.
Here is how we save the most shopping at Famous Footwear:
Shop during the sales (I love the BUY ONE GET ONE HALF off sales when they are going on).
Use coupons. They had a 15% off coupon (or 20% off for Rewards Members) when we were there. You could use this with the sale!
If you are not already a Rewards member, sign up in-store. They gave us an extra 5% discount for doing this (so we got 25% off, with the coupon mentioned above). I cannot guarantee this promotion will be available at all stores, but its worth asking.
Shop those clearance racks. The sales and coupons apply to shoes that are on clearance too!
As much as I loved the clearance racks for my teen, their were some even better shoes deals on just the regular shoe racks for my younger kids, so be sure to shop the whole store.
Here is how it broke out for us. Each one of my kids got a pair of shoes. I found a pair of Nike high tops for my son on the clearance rack for $40, and Hello Kitty canvas shoes for one of my daughters for $20. My youngest fell in love with the Smurf shoes above for $12.99. Although I knew it was BOGO half off I did not want to spend the extra on a fourth pair this trip, so we just grabbed the three pairs. I was concerned they might take the half off the $12.99 shoes, but they take it off the closest comparably priced shoe that is less then the highest priced shoe.
Cost for 3 pairs of shoes:
1st pair full price – $40<
2nd pair half off – $10 (regularly $29.99)
3rd pair full price – $12.99
Subtotal before tax – $67.99<
Minus the 25% off (20% coupon, plus %5 for signing up for rewards program)
Final Price before tax-  $50.99
Tax brought us up to the mid $50 range. My store also gave me a rain check for half off another pair of shoes (by Sept. 8th), since I purchased the 3rd pair, and a $10 off $50 coupon! I am not sure if this offer is available at all stores, or just this specific one, but it means that I can head back in to score one more great deal in the next couple of weeks!
Just to illustrate the extra savings, I could go in and get all of the kids one more pair of shoes in the same price range I paid for the 3 above, and pay $40.99 this time after the coupons mentioned above. Thats an average of just over $15 per pair, and would include two pairs of Nikes! Not bad.
The fact that I got all three pairs for less then what it usually costs for one pair of the mens size 13 Nikes, I found it to be a great deal! It really is one of the best ways I have been able to find to save on shoes for my teen son.
Jen's Shopping Trip
As Sia mentioned, Famous Footwear is a great place to find name-brand, quality shoes and the Buy 1 Get 1 50% off sale going on right now can make for some great deals – even better when you pair with a coupon. The 15-20% off printable coupon from last week was no longer available this week when I headed to Famous Footwear, but I was able to get a survey on the bottom of my receipt to fill out & print a $10 off $50 coupon when I bought a small purchase first at Famous Footwear (I needed some toe inserts to help my shoes fit a bit better). I only spent about $4 on the purchase & still got the survey for the coupon, so it should be available with any purchase.
Here are a few of the name-brand shoes that I found for boys & girls in some cute Back to School styles:
Loved the variety of these Converse Shoes – ranged from $28 – $32 for boys & girls
Boys Asics Athletic Shoes – $30 on the clearance rack
Boys Crocs – $20 on the clearance rack
Dressier Girls Shoes – $20 on clearance rack
Vans Girls Shoes – on sale for $21.99
Here's a scenario for you:
Converse shoes – $28
Vans Girls Shoes – $21.99 (half off would be $11)
Girls Dress Shoes – $20
Use $10 off $50 printable coupon (after doing survey on receipt)
Pay $49 for 3 pairs of shoes or $16.33/each
Make sure to check out the socks too – they are also on sale for Buy 1 Pack, Get 1 50% off! Many of the sock packs I saw had 6 pairs for $9.99.  So, if you buy 1 at $9.99 & get the 2nd pack for $4.99, then that's 12 pairs of socks for around $15 or $1.25/ea.
Special Discounts:
*Don't forget to use your Famous Footwear Rewards card or sign up for a card in store while you're there. You will earn $1 reward point for every $1 you spend on your purchases. If you spend $200 or more a year, you'll be a Gold Rewards member & can get FREE shipping online, birthday offer, advanced sale notices & more. All Rewards members will get special discounts & coupons as well!
*Sign up for the Famous Footwear email newsletter & you will get a $5 off printable coupon (Find the email sign-up at the very bottom right of the page or it will show up as a pop-up).
Shop Online:
If you'd prefer to do your shopping online, Famous Footwear is also having the same sale online for Buy 1 Get 1 50% off on shoes or socks. You'll find a much bigger selection & more sizes by shopping online. Plus you can go thru a cash-back site like Ebates.com which is offering 9% cash-back on your purchases right now!
Giveaway – 2 Winners Will Win a $50 Famous Footwear Gift Card!
Famous Footwear is generously providing a  $50 gift card for two Thrifty NW Mom readers! So, 2 of you will get the chance to head out to Famous Footwear to check out the great sales they are having right now!
This giveaway will end on Monday, 8/27, at 9pm pst.
The winners will be drawn using "And the Winner Is" plugin and announced on the blog.  I will also email the winners. The winners will have 48 hours to contact me, otherwise a new winner will be drawn. US residents only & you must be 18 yrs or older to enter the giveaway. This giveaway is not affiliated with Facebook in any way.
Here's how to enter this giveaway::
1st Entry (required entry): Leave a comment below on what is your favorite type of shoes from Famous Footwear or why you are excited to shoe shop there!
Extra Entries : (make sure these are all separate comments, with a comment for each entry)
2) Subscribe to the Thrifty NW Mom feed via a reader of your choice or email (must be verified)
3) Leave a comment here saying you "like" the Thrifty NW Mom Facebook page (on this post – not on Facebook! )
4) Leave a comment here saying you "like" the Famous Footwear Facebook page.
Disclosure: Famous Footwear has sponsored this giveaway, and provided the gift cards for our shops, as well as two that will be given to 2 Thrifty NW Mom winners randomly chosen.  All opinions are 100% ours. See our disclosure policy  for more details.