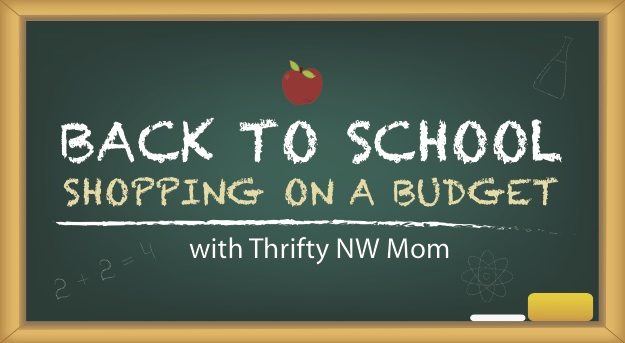 Target is a great one stop shop option, for back to school shopping. If you have put your school shopping off until this weekend, Target offers some great discounts, but they also offer the convenience of being able to shop for all of your back to school needs in one spot (from clothes, to school supplies, to lunch box items and snacks!).
I stopped in at Target two days ago to finish up my kids shopping. I will tell you that the school supplies at my store are selling fast, so you may want to finish your school shopping sooner then later.
Here are some tips for shopping Back to School deals over the weekend at Target:
Use Coupons To Save At Target.
Target is one of the few stores in the Pacific Northwest area that you have the opportunity to "stack" coupons. Here is the nitty gritty:
Target allows you to stack 1 manufacturer's coupon with 1 Target store coupon. The total of the coupons must be less than or equal to the price of the product (they do not allow overage). They should mark the price down of the coupon if the coupon value is greater than the price of the product.
Target has coupons for their store brand, Up and Up products! This is great because you can not only get the low prices that you find when you buy store brands, but Target often has coupons available for this brand, sometimes making the products as low as FREE!
You will find Target store coupons to stack with manufactures coupons -
1) Online -  Target Printable Coupons can be printed out right from your computer.
2) From your Mobile Device - Target Mobile Coupons can be delivered directly to your smart phone.
3) In the Sunday Papers (there are sometimes Target store coupons in the same coupon flyers you find the manufactures coupons in).
4) Flyers Mailed Out – If you live near a Target you may receive seasonal mailers from them full of store coupons!
If you have more questions on how to use coupons at Target, you will find the Target Coupon Policy here.
Price Match at Target
This really goes along with the idea that Target can be a great one stop shop spot. Not only can you get everything from clothes to school supplies, and food in the same spot, but you can also get Targets competitors best deals.  Target will match any competitor's printed ad price for the exact same product when you bring in the complete competitor's ad (it must be local & current). You will find the full Target Price-Matching Policy here.
Shop Those Clearance Racks
This is another tip that applies to many stores, but works really well at Target for a couple of reasons:
You can still use coupons on clearance items. For example Target often offers apparel coupon items. I have gotten more then one pair of jeans or tops for under $3, by grabbing those apparel coupons when they are available, and then using them on an item on the clearance rack!
Targets Clearance Sales are more predictable them most store. Target generally runs their clearance sales on a regular schedule. Get to know your local store, and you will have a general idea of when the clearance sales will start. For example you will want to check back in around a week or two for school supply deals. If there are school supplies remaining, this will be a great time to pick them up for up to 70% off (they usually start being marked down at 30% off, then moving to 50% and finally 70% if there is anything left, in this region).  All Things Target has more info on additional Target clearance sales you can expect to find this month.
Target generally has a number of racks with clearance items. Chances are there is enough clearance inventory in the store, that you will find something that might work for you at a bargain price!
Here are some current back to school deals I found at my local Target:
I took my teenage son out to finish up his back to school shopping the other night. Here are some deals we found in the store!
Lunch boxes have already hit 30% off at many local Targets (confirmed at Kent and Issaquah, see photo above).
Up and Up Binders are $1.29 ea. No coupon needed for this price, but we also found a coupon insert in one binder for $1/2 Up & Up Binders (total of $5 or more). There were big binders priced at $2.79 ea, so we got two of those and used the coupon, to bring those down to $2.29 ea. Great price for those binders!
Loose leaf Up & Up paper is $.82 per pack, no coupon needed.
We found bound notebooks and composition books for $.75 ea, no coupons needed.
Crayola Crayons for $.50 ea (ok, my teen did not need these, but I did pick up a few packs at this price for my kindergartner and for home!).
Depending on the size of your child, we found clothing racks with items marked down from 30% to 75% off. There were also lots of great values on the Circo brand of clothing at our store for younger kids ($5 price point). This will vary by store, but there are some affordable clothing options for sure.
Find a full list of this weeks Back To School deals at Target, and coupon match ups here! You will also find our regular weekly Target match ups here, with grocery deals and more.
Disclosure: Target provided us a $50 gift card to shop their back to school sales, so we could report on the best ways to stretch your dollar while back to school shopping. All opinions are 100% mine. See our disclosure policy  for more details.