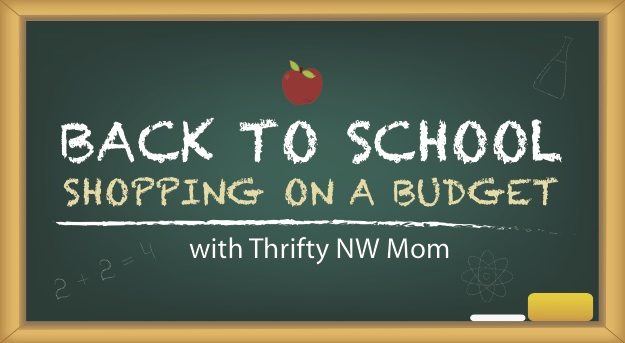 Today we are featuring a guest post from Tara Poulsen, owner of Savvy Style NW, a personal shopper & wardrobe consultant. Tara has years of experience in working as a personal shopper for high-end retailers, yet she loves a great deal as much as the rest of us! Stay tuned as we will be featuring a special Thrifty NW Mom reader deal & giveaway this week from Tara, so you can have your own chance to have a special Closet Detox with Tara & freshen up  your Fall wardrobe!
Shopping for school clothes doesn't have to break the budget. In order to cut down on extra clothing that we don't need, clothe our kids, and save money, I did this little project with my daughter. Before heading out to take advantage of the "Back to School" sales, try this and you might find you don't need as much as you think.
Back to School Tips to Save on Clothes:

1. Inventory the closet. Find out what still fits and is in good condition. I found we had many things that were still too big from the year before so they still fit.
2. Fix anything that needs a repair, missing button etc. Toss anything with a stain that doesn't come out.
3. Make some outfits out of what is left. Match tops and bottoms together. If you have a cute piece, try and use it in several different ways. I lay everything out on the floor then write down what needs a top or sweater etc. I do the same when I go through my adult client's  closets.
4. Make a list of what you need. I found that after we put some outfits together, that my list shrunk. Yeah!
5. We really only needed one pair of pants, some new tees, and a cardigan. She can wear sandals till the end of September, then we'll buy some closed toe shoes and new boots.
6. Sometimes our best weather in the Northwest is September and October, so they can still get away with summer outfits until October. If you shop after school starts, the first round of fall merchandise will start to be on sale by October.
7. To make mornings easier, we took pictures of all the outfits we put together. We are going to make a collage to hang in the closet so Taylor knows what matches. Some of you might think this is borderline crazy, but it made me realize she didn't need as much as I though she did. Instead we filled the holes in her closet.
Here are some of the outfits Tara & her daughter put together: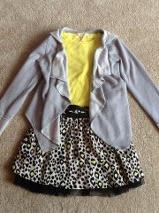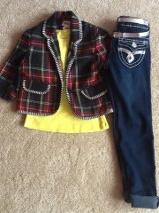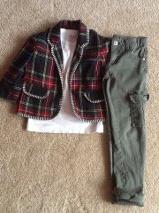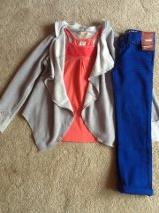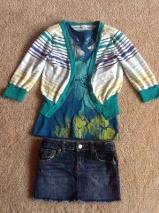 When all is said and done I will have spent $15 on the bright blue jeans. Everything else pictured, was clothing she already had that just needed a fresh new twist. I figured these outfits, plus some summer dresses will get her through till the weather changes, then we'll add a few more long sleeve tops and a closed toe shoe. This made shopping for my kids way less expensive and not overwhelming……..Happy Shopping!
Tara Poulsen is a personal shopper & wardrobe consultant who has worked in the retail industry for years in high end retail locations as a personal shopper, wardrobe consultant & fashion stylist. She now owns her own personal shopping & wardrobe consulting business, Savvy Style NW, based out of southwest Washington. Tara works with clients in the northwest Oregon/southwest WA area, and she can travel to the Puget Sound area to give women confidence in their own personal style & help in revamping their wardrobe.