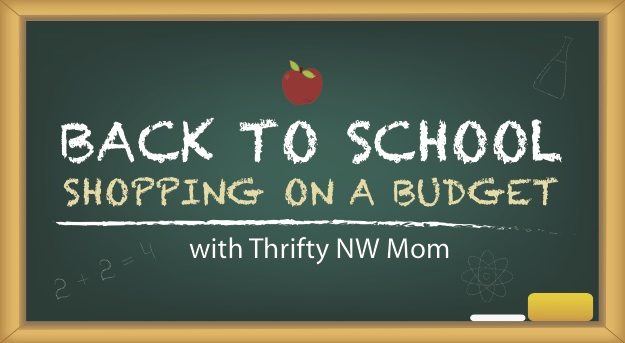 We've been showing you different ways you can shop on a budget when doing back to school shopping & shopping at a store like Ross Dress for Less is definitely a way to really stretch your budget while buying quality, name-brand items. Heading to Ross for your back to school shopping is a smart choice as they have such a wide variety of items available that you could check off a number of items off your list -everything from clothing, shoes, accessories & more. The best part is that you'll find these name-brand items at  20 – 60% off their regular prices.   Both Sia & I had the chance to check out our local Ross Dress for Less to see what kind of deals we could find for back to school savings.
Jen's Shopping Trip:
I love the variety of deals you can find at Ross – I was specifically checking out the back to school deals, but boy, it was easy to get distracted by all the great deals I found in the store including some cool toy deals (definitely going back for a few of those as my younger daughter's birthday is coming – I just take pictures of the items I'm interested in to remember & go back & find them).  But for the back to the school deals – there were definitely deals in every department & the nice thing about Ross is that they get in new shipments 6 times a week, so if you are looking for items, make sure to check back later in the week, too.
Clothing Deals:
Juniors jeans for just $10.99
Matching sweatshirt & pants – $10.99 for the set
3 pairs of socks for $3.99  - they had a lot of options for name-brand socks at great prices – definitely a good place to stock up on socks!
 Shoes:
Kids Sneakers – $16.99
 Cute Girls Shoes – $12.99
Back to School  Accessories:
I was surprised to find some great deals on accessories for tech gadgets – if you have a high school or college student, needing some fun yet functional accessories for their laptop, tablets, etc – definitely check out the selection at Ross. They had a pretty good selection & some nice prices on some of the items I checked out.
Fun laptop bag for just $9.99
*This is one of those padded bags & honestly, I think you could use this for a number of different options, not just for a laptop – even just a cute bag for school supplies, etc.
Tablet cover – $12.99
Backpacks – these were all around $10.99 .
They did have quite a few name-brand, high quality backpacks too- just do your research on these to know your price point before you go shopping & you could find some great deals
This last item is not back to school related at all but this is where I get sidetracked with all the awesome home items that Ross has in their stores. :)
I love unique beverage containers for parties & get-togethers, but they can get so pricey – and this large beverage container is just $19.99 – such a unique look, too. I love it! :)
Sia's Shopping Trip:
My local Ross is a very popular back to school shopping destination. It was full of back to school shoppers, seems everyone loves a great Ross deal! One of my favorite things about Ross, is that I can find a great discount for all three of my kids (pre-schoolers to teens, and boys and girls), on brands that they like to wear. Not only that, I often find a dish that I just have to have for the kitchen for me too! They carry everything from kids and adult clothing, to home decor and toys.
My first stop at Ross is always shoes. I find they have great prices for my teenage son, and my husband. I can usually find a pair of name brand tennis shoes for them for around $20. Many of the shoes start at $9.99 and we have found them for less before too!
They also have great prices on dress clothes for men. When my son needs a button up collar shirt and slacks, Ross is always our first stop. I found him a nice black button up collared shirt for $9.99, and slacks for $14.99 for a dress outfit.
There was a great section for teens. We  found these fun colored jeans and shirt collections for girls (shirts under $7 ea).
Another great find for us was winter coats starting as low as $9.99 (many were in the $19.99 – $29.99 price range, still not a bad price).
If possible, I recommend shopping during the week day. Less crowds make it easier to hunt for the best deals. It will also cut down those lines that can get long at checkout!
Ross does have clearance racks too, and they will mark down their already low prices for some great deals.
Learn your stores restocking cycle. I think this is the biggest tip to get the best merchandise for less. I love to buy home decor at Ross, and if I hit it when they have received a recent shipment of new items I have found deals like 5×7 area rugs for $7.99, throw pillows for $5.99 and more!
If an item has some damage to it, but you would still be willing to purchase it, ask if it can be marked down any more. Sometimes they have given me an extra 10-20% off.
Learn your price points for items you are interested in. I shop for dishes at Ross from time to time, and when you are in Ross and all of the prices are low, you might not realize what a deal it is. On one recent trip we started looking for dishes at the Goodwill first, and then went to Ross. I was able to find more affordable prices at Ross, and I would not have realized how great that deal was had I not just comparison shopped at other locations I was hoping to get a great deal from.
Giveaway –$50 Ross Gift Card
Ross is offering a $50 gift card to 1 lucky Thrifty NW Mom reader so you'll have a chance to head to the store & see what fabulous deals you can find! This giveaway will end on Thursday September 6th  at 9pm pst.The winners will be drawn using "And the Winner Is" plugin and announced on the blog.  We will also email the winner. The winner will have 48 hours to contact me, otherwise a new winner will be drawn. US residents only & you must be 18 yrs or older to enter the giveaway. This giveaway is not affiliated with Facebook in any way.
How to enter this giveaway::
1st Entry (required entry):  Tell us your favorite item to shop for at Ross Dress for Less.
Extra Entries : (make sure these are all separate comments, with a comment for each entry)
2) Subscribe to the Thrifty NW Mom feed via a reader of your choice or email (must be verified) 3) Leave a comment here saying you "like" the Ross Dress for Less Facebook page.
Disclosure: Both Sia & I received a Ross gift card to facilitate our review. A $50 Ross gift card also will be given to one Thrifty NW Mom winner randomly chosen.  Ross Dress for Less asks that we not mention any specific brand-names in our post. All opinions are 100% ours. See our disclosure policy  for more details.